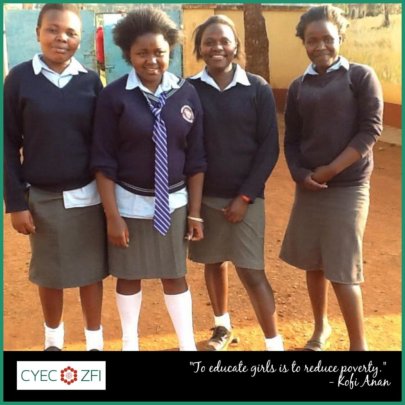 'Education is the most powerful weapon you can use to change the world.' Nelson Mandela
Education can be a ladder to lift a child out of poverty, but the financial burden to pay for school can push children in the poorest families further down the ladder. Steve excelled at school, but when his mother could no longer pay the fees, he was forced to drop out and fend for himself on the streets. After spending two years on the streets of Nanyuki and Nyeri, Steve heard that he could have a safe home at the Children and Youth Empowerment Centre. The CYEC took him in, and he worked hard at school to make up for the lost years. Two years ago he received a highly competitive scholarship for high school, and thanks to the opportunities given him by the CYEC, he continues to excel.
Education is the foundation of our program to prepare young people of the CYEC to be successful, healthy, contributing adults. From nursery school through college and vocational programs, we give our children and youth the knowledge and skills they'll need to succeed as individuals and as members of society.
Our children recognize the value of education and work hard in the classroom – they are regularly recognized for excellence in academics and co-curricular activities. While primary education is free in Kenya, we have to provide students with a uniform, school supplies, exam fees and sometimes desks. Secondary school fees average $500/year – well beyond the abilities of most Kenyan families and a challenge for us.
Your support provides hope for these children who will change the world for the better!
Gifts made today will be matched at 50% and recurring gifts made between now and the end of the year will be matched at 200% on the fourth month. Make your gift of hope go further today!
Links: