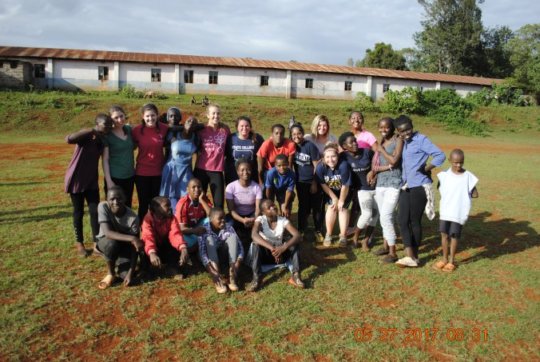 This summer, the CYEC opened their doors to students from Penn State University and Kansas State University, offering these students the opportunity to learn and grow in ways they could not on their home campuses. Of course it wasn't all work. There was lots of football (soccer) including a game with women from both schools and the Centre.
Eight students from Penn State worked in several teams – the business team helped youth develop business plans for their existing or planned enterprises, the leadership team worked with the prefects and staff, and the agriculture team developed a forage management plan to improve nutrition for the dairy cows and identified ways to stabilize the soil on sloped plots. All the students worked with some of the youth to fence in an area and plant napier grass to be used for forage. The teams were excited to see on-going progress in the agricultural program, providing milk and vegetables for the children, and to see the youth developing their own businesses as they seek to become independent.
Four students from Kansas State spent nine weeks at the Centre this summer. The K-State students worked closely with the prefects, the student leaders who help carry out tasks and enforce Centre rules, with aid from the staff. K-Staters gave the prefects leadership workshops that helped them with the daunting task of leading their peers. Additionally, the K-Staters worked with the staff to reinstate the Zawadi Points system. The children earn points by doing their chores and other jobs, and then they can spend their points in the Zawadi Shop for little treats. This helped add more structure to the daily lives of the children and gave the prefects some leverage in awarding and taking away points. Finally, the K-State students up-dated and consolidated the official rules of the Centre, and posted them in places the children can easily see. This will ensure the children become more familiar with the rules and should help the prefects with discipline.
Both groups of students enjoyed their time at the Centre and appreciate the opportunity to get to know the children, youth and staff at the Centre! While the students worked hard, they know they gained more than they gave.