As 2014 begins, Raising A Reader is celebrating 15 years of building, practicing and sustaining home literacy habits for children and their families.
Over the years, Raising A Reader has heard from programs across the country about the impact of the program on children and families. Quotes from the archives represent the children, parents and teachers that have made the program successful.
"My favorite thing is the books. My favorite book is a Raising A Reader book and it is called In the Small, Small Pond. I like all the animals. I like all the Raising A Reader books and I like it when I get books and put them in my bag and check them out. I like the turtle at the library and I like to listen to the books. The Blue Book bag party was really fun." -participant
"Raising A Reader gives Spanish speaking parents the ability to practice reading basic English in the privacy of their home which begin to build confidence to read outside the home." Aspen Preschool teacher
"The RAR program has allowed our students to have daily access to books. Not all our student have library cards but the program has instilled responsibility in our students so when the time comes to get a library card they we will be confident in their role as a reader. The students are excited every Monday afternoon to receive their new collection of red bag books. I have heard from families that they are appreciative of the activity they can share with their child every night." -Principal (Arizona)
"I like this program because it has books in English and Spanish. My child can hear me reading in Spanish and he tries to read in the same way with emotion." -Parent
"Raising a Reader is really good because it helps teach my child responsibility. He has to put the books away each night when we have finished reading and he has to return the bag each week." Parent
In 2014, Raising A Reader will support thousands of families in developing reading routines, practice early literacy skills by sharing award-winning books, and sustain home literacy habits through libraries by arming families with a love of reading.
A generous donor from 2013 has continued their matching pledge for 2014! All gifts to support Raising A Reader will be matched at 100%! That means that a $35 pledge to support one existing child will turn into TWO children served through Raising A Reader.

Thank you for your ongoing generosity and all you do to support children and families across the country. We couldn't do it without you!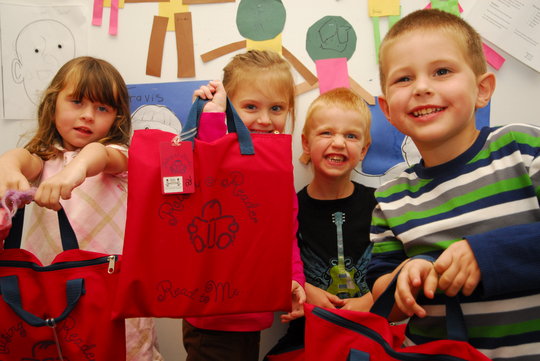 Links: