The project has recently been involved with several incidents of abuse against women:
Mrs. Usha Annasaheb Mhaske, a 48 year old woman, lives in Kaij Block of Takali village. After marrying Annasaheb Mhaske some 20 years ago they moved to Kaij. M Mr. Annasaheb owned a bicycle repairing shop and they lived happily with there 3 daughters and a son.
However Annasaheb developed a drinking problem loosing control and turning violent against his wife and children on a daily basis. Eventually he prevented Mrs. Usha from leaving the house to go to work and she started to become very weak both physically and mentally. It was at this point that Usha came into contact with one of the Spmm community workers who provided support and guidance, they explained the importance of taking a stand against the abuse and later that day when Anna returned they managed to avoid the cycle of abuse , Annasaheb went to live on his own for a few days and was also visited by the community worker. The support given in this case meant that after a few days Annasaheb could return home with the assurance that things would change. He is now living back with his family. Poonam Ghatge was a 16 years old girl, living with her grand parents after her parents migrated to Mumbai for employment. She was studying in 10th standard. A group of boys in her class began to tease on a daily basis causing her great distress. The story however took a very sinister turn after one of the boys asked Poonam to marry him and she refused. One day on her way home during lunch time she was followed and was burn alive by the boy who feel disrespected by her refusal to marry him. The youth then absconded before he could be brought to justice. Spmm intervened to ensure that the boy was arrested and a procedures begun against him.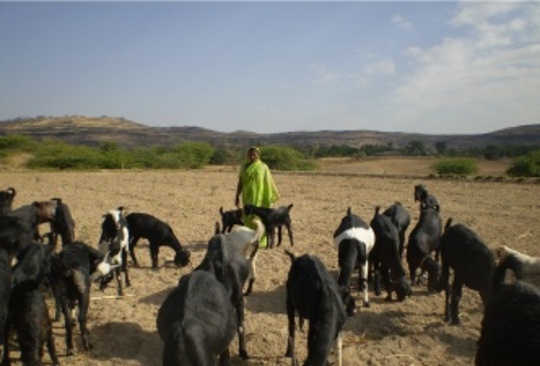 A story of one of the beneficiaries that exemplifies the work of the project:
Bhagubai [age 42] from Saikhindi village belongs to a very poor family. Her husband works on daily wages and Bhagubai works in the Bidi-rolling factory to make ends meet. She could continue schooling only till 3rd standard after which she had to leave school to support her family.
With the help of Karuna NISD started working with the women in the Bidi factory. At that time Bhagubai attended all the awareness programs conducted by the organization; later becoming involved in a Self Help Group (SHG). She attended almost all the trainings organised by NISD and the Income generation training proved to be a turning point in her life. With the guidance provided she decided to start her own income generation to support her family income. Her SHG group sanctioned her loan application, giving her loan of Rs.10,000 for a goat herd. She started her small goat herd from which she obtained milk for children, goats for sale, female goats to expand her herd and also manure for her small farm.
As she started getting a good income she repaid the loan easily. She also leveled her three acre uneven barren land and made it productive. By keeping some money aside and taking a further loan from the SHG, in 2006 the family dug a well in their land. Because of water availability and their hard work they started getting even more income from their land.
Bhagubai's financial status improved but still she wished to have a good house for her family because her house was just a hut, which was not safe and secure. Bhagubai got information in her SHG meeting about a housing program assisted by Habitat for Humanity. She had some savings but her SHG group did not have access to sufficient funds to support her. So she applied for a loan from the SHG Federation. Seeing her track record the Federation sanctioned her loan application and she constructed a house in 2007.
Bhagubai and her husband do not want their children to face the problems they faced due to poverty. They want to give them a good education. Bhagubai has reduced her bidi-rolling work and is now concentrating on her goats and on agriculture, which give her family a better standard of living.
Working in the high altitude Himalayas is more precarious than most other areas. Weather patterns limit project implementation to 6-8 months per year, as these areas are cut off by heavy snows during the winter months. In addition, global warming is causing weather patterns to change. This has meant that in April work has been slower than expected due to unseasonable weather, such as heavy rainfall in the Western Himalayas, and snowfall in the Eastern Himalayas. The target for the Himalayan Education project this year is to establish 87 schools in remote villages, in addition to the 49 set up last year. So far 63 villages have been mobilized for school establishment and community buildings selected for the school. In 36 villages Village Education Committees have been set up of prominent community members and these have been trained in their roles: raising awareness of education in the village, maintaining the standards of the school, ensuring girl and disabled children are going to school. While this work continues in the mountains, at the head offices in Gurgaon (close to Delhi) procurement of education materials and furniture for the 87 schools is under way. Over the next few months these will be trucked out to the remote villages. Our partner has learned from last year's experience of sending trucks out with the supplies, but them not arriving for weeks or months, since some drivers got lost and some found it was a nice opportunity to take in the scenery. This year project staff will be traveling with the drivers to make sure they get to their destination as quickly as they can - sight-seeing can be done afterwards! Also in the Head Office, much work is being done to develop a curriculum that this culturally and environmentally appropriate to the Himalayas. It is hoped that this will be a key factor in building the confidence of Himalayan people, and result in greater education attainment since children will have greater interest in learning, rather than feeling defeated by a complex curriculum which isn't in their native language and is inappropriate to their lifestyles. To complement this, work is being done to develop vocational training courses to diversify livelihood options and provide alternatives to subsistence farming. These courses include eco-tourism, local crafts production, food and dairy processing, electronics, photography, among others.
WARNING: Javascript is currently disabled or is not available in your browser. GlobalGiving makes extensive use of Javascript and will not function properly with Javascript disabled.
Please enable Javascript
and refresh this page.