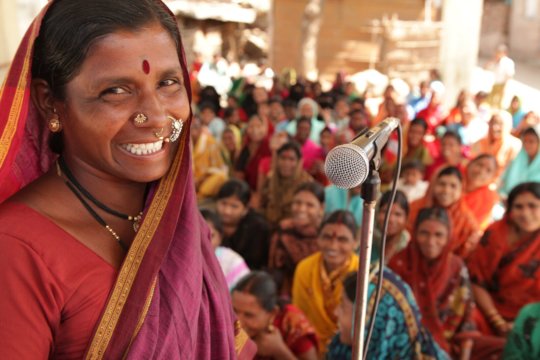 Dear supporters,
Thank you for continuing to support the vital work of combating violence against women across India. It feels that community is more important than ever- we continue to share stories of inspiration that you have helped create through your ongoing support.
For marginalised communities across South Asia, women are usually the most vulnerable, often denied an education and married off as property with little choice about their future. Caste hierarchies and normalised abuse are transferred into the home, where almost half of Dalit women report suffering domestic violence. Without intervention and support, many of them will live lives of isolation and victimisation.
However, Dwarkabai change the trajectory of her life. Illiterate and born into a begging caste, she had no way to learn basic skills such as managing simple finances or how to open a bank account. After joining a Karuna-supported women's group within this network, she was able to learn these and other skills, and take back control of her own life. Now, she runs the group, assisting more women like her to lift themsleves out of inequality.
Groups like these don't just provide education; for many they are a home- and the only place they can get help and advice in confidnece when suffering abuse.
"My life has changed, I have dignity in my life," Dwarkabai explains.
Thank you for your continued support. During these uncertain times, we are keen to stay in touch with you and keep you updated on any changes in our projects. In the meantime, we hope you are well and continue to value your support.
With warm wishes and gratitude,
Imen Trabelsi
Karuna Trust