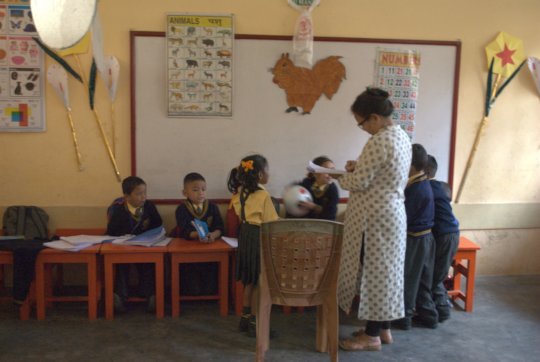 Shubu, 5, a student at the Indo-Tibetan Buddhist Cultural Institute (ITBCI), is just like any other child that age: curious, energetic and wanting to play. You would never know the extreme domestic situation she experienced in her young life. Thankfully, she is too young to remember and with the support of ITBCI and her mother, Sanjaya, Shubu's life is looking very different.
Shubu's father was violent towards Shubu and Sanjaya in a way that left permanent scars and led to his imprisonment. Becoming a single mother in extreme poverty, Sanjaya did not know where to turn. However, when ITBCI heard of her story, they offered a tuition to Shubu once she was old enough for kindergarten, as well as a place to live for her mother and her. Sanjaya was able to find a job as a cleaner in the school and to begin life anew. Things are still hard. But, with tuition and all the necessary stationery paid for, as well as several nutritious meals a day for Shubu. Sanjaya has even begun saving for the future.
"Now I always know she can be safe and happy" says Sanjaya. Seeing Shubu play and learn, her past seems very far away.
Now thanks to your support, Shubu's future is something to look forward to.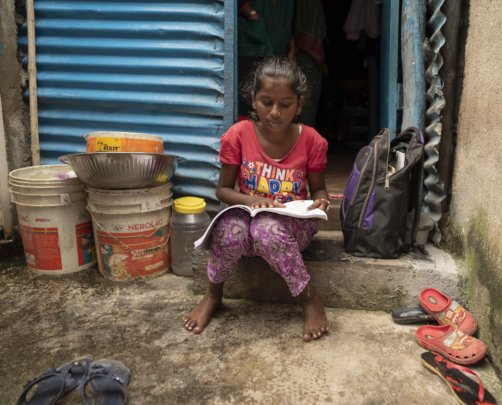 Shalini, pictured:
"I'm in 6th standard. There are 9 people in my family - my grandma, my brothers, my parents and my two sisters.
When I first started coming to the project, it was against the will of my family. They really didn't want me to come. Then the social workers came to see my family, and explained about the environment - how it's safe and there are no men there.
I've now been attending for a while. I love it here. I've been getting help with all my school work at daily tuition classes, which means I understand what's going on now and am starting to enjoy school. I also like that I have lots of friends here.
At the moment my family say that they're only going to let me study until 7th standard. That's what happened with both of my sisters. They're scared because my sister was sexuality assaulted and they worry something similar will happen to me. But I really want to keep studying.
Thank you so much for supporting these classes. I'm hoping that I can keep coming, even if it means resisting marriage."
We support Shalini in her thanks; your donations ensure Shalini and other girls at risk of early marriage are supported to continue their education.
Thank you!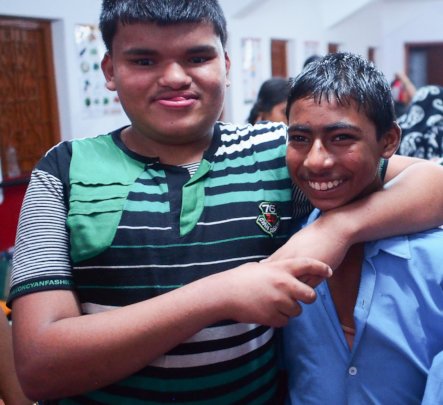 Balu is one of the young people who found Bhalobasa. Born with Down's Syndrome Balu also had no verbal communication and was fully dependent for all tasks. Agricultural workers who had never had the opportunity of any education, Balu's parents felt lost."We thought we were being punished by God," Purnima, Balu's mother, remembers. "The people in our village agreed, so we thought we had committed a crime in another life. We didn't know how to take care of him."
Balu spent most of his early years left alone in a tiny, one-room hut that his family lived in, interacting only with his parents in between their long shifts in the nearby fields. Lack of knowledge, lack of community support and with no medical services available, each day was incredibly hard.
In the time since Balu started attending Bhalabosa, he has made a dramatic changes. His parents see it clearly. They feel that he has improved so much and has found a new independence. Balu can now do basic things like shower, change his clothes and feed himself. "He struggled to do these simple things we take for granted for so long. Now he has a sense of achievement that he never had before" rejoice his parents.
Thank you for your support which helps Balu and his peers step into independence and their own unique potential.
WARNING: Javascript is currently disabled or is not available in your browser. GlobalGiving makes extensive use of Javascript and will not function properly with Javascript disabled.
Please enable Javascript
and refresh this page.