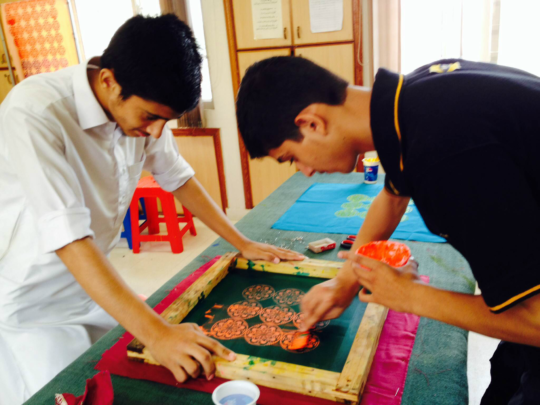 Dear Supporters,
Your continued support towards training students with disabilities, from our partner schools, to learn the skills of weaving and textile design has been our biggest motivation in achieving our goals in the first semester.
The training sessions were initiated at three schools, beginning from February. The three month long training now draws to an end in all three schools, which will be culminated by an exhibition to promote and encourage the hard work of our trainees.
With your generous support and motivation, we have been able to touch the lives of 70 students with disabilities to enhance their skills and have a positive impact on their psychological wellbeing
Weaving Training:
Weaving training sessions are being conducted at two schools with students with intellectual impairment and multiple impairment. The training is designed to help children with disabilities to develop a sense of confidence and belief in their own abilities. Moreover, there is notable improvement in their fine and gross motor hand movements. Students with intellectual and/or multiple impairments have much to learn from these training based on their day-to-day conduct and personal growth. The training was instrumental in improving their behavior at home and at school. Weaving training also helps students in maintaining focus and attention. Students looked forward to their training sessions, completing their projects and making new intricate designs.
Textile Design Training:
Textile design training involves techniques like doodling and screen printing, which was imparted to students with hearing and speech impairments. The training is designed to equip students with skills that are relevant in the market. The training was more focused towards apparel and its specific style of design. Students enjoyed learning the techniques of doodling and screen printing and were excited to prepare the final product. An exhibition was also organized by the school to sell the prepared apparel line, which was a great success!
Way Forward:
Based on the learning gathered from the training, the textile design module is being modified to introduce computer-based designing as a part of the textile design course. We are also planning on taking more schools on board for textile design.
Beneficiaries:
Weaving Training:
"We have noticed an improvement in Maham's fine motor skills, she can now grip much better than before because of the weaving training." – Maham's mother
"Involuntary movements are also controlled through these activities, as well as fine and gross motor skills of these trainees." Dr. Shaista, Occupational therapist at a partner school.
Success Story – Textile Design and Screen Printing
ANUM
Anum is one of our success stories at our partner school. Anum has a mild intellectual impairment and has been in training with heARTwork since a year. Due to her constant improvement and grasp of designing skills, Anum has been promoted from weaving training to textile design. She can work with different textile techniques, including patchwork, weaving and design composition.
Anum is a team player and helps out her peers in design development. She works with the most challenging patterns and layouts, surprising us with her incredible work. She is an inspiration to all students in training, and hopes that some day she can become a designer.
Thank you for supporting the students with disabilities in this venture to give them a chance for a better, brighter future!