On the road to Success!

Thank you to our supporters and well-wishers for helping us in attaining our goal of facilitating the lives of persons with disabilities.

Persons with disabilities make 15% of the entire population in the world. In Pakistan there as many as 30 million people who are facing societal, infrastructural and attitudinal barriers due to their disabilities. In order to positively impact this
marginalized community, we inaugurated a newly constructed training centre at NOWPDP in October 2019. The vision to develop skills of 500 persons with disabilities every year and help them towards the road to economic empowerment.
Over the course of one year, we have worked in the area of education for persons with disabilities in the form of vocational trainings in a number of trades such as call centre trainings, computer operations, screen printing, domestic sewing, textile training, mobile repair training, and rickshaw training to name a few. NOWPDP also provided skill development to over 150 persons with disabilities both at our in-house training centre as well as at other institutes. The trainings also incorporated development of candidates on aspects of work-readiness as well as self-employment.

Fahad Sohail, one of our trainees, on the completion of training said: "I am glad I was chosen by NOWPDP for not only this training but also the US Tech Camp where I learned so much. The journey so far has been very beneficial and I feel happy that I got this chance. I feel that the training came to an end fast. This is probably because there was so much to learn and I enjoyed it thoroughly. I want to use the skills I got from this session in my future job and work hard."

We have incorporated more market relevant trades over the year for skill development that will increase the chances of our trainees to secure more jobs. This is based on extensive research that NOWPDP conducted across Pakistan, commissioned by the British Council, which aimed to map in-demand skills for persons with disabilities.
Links:
Attachments: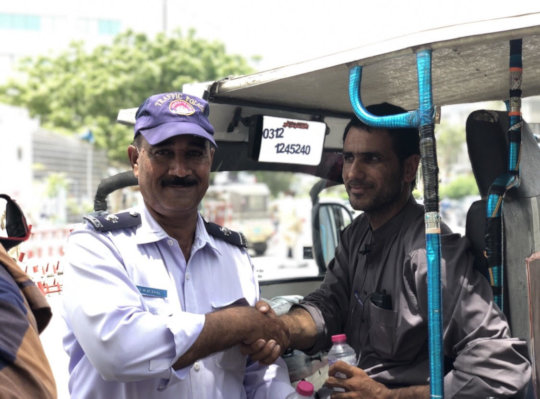 We have had an exceptional summer at The Rickshaw Project. Not only did we involve our fleet by 3 rickshaws, we have had an opportunity to involve our drivers in activities that enabled them to help individuals.
As this year has been labelled one of the hottest we have experienced, we took this opportunity to collaborate with Nestle, and help provide chilled water to traffic wardens across the city. One can only wonder and be astonished at how these individuals stand in the heat, despite the sun bearing down on them and slight increase in temperature due to the many cars on the road. Our drivers were keen to extend their thanks and volunteered their services for the day and contribute however much possible.
NOWPDP has embarked on an initiative to combat plastic pollution by developing eco-conscious, gender sensitive and disability inclusive sustainable tote bags. This is an initiative to contribute positively toward the United Nation's Sustainable Development Goals. Our rickshaws are deeply involved in this initiative, they offer their services by:
- Picking up cloth from mills that wish to donate their excess materials
- Delivering cloths back and forth for stitching, especially to women who stitch but are unable to leave their house
- Deliver to individuals who have purchased these bags
Currently our fleet has increased to 12 rickshaws, with your help we wish to cross the 20 mark by the end of 2019. It is truly a remarkable moment, when an individual who was helpless in the past is taking pride in contributing in helping humanity.
Links: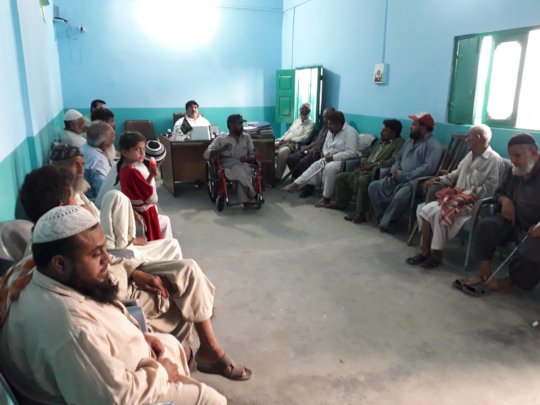 Ever since I started managing The Rickshaw Project, I have been busy getting myself acquainted to the processes and revising our SOPs.

A few updates since our last report:

Revision of SOPS & Stakeholder Feedback

We have streamlined our recruitment program. From identification of a needful person with disability to training and handing over of rickshaws. We have also set up a monthly group meeting with the drivers and my team, in which they share their experiences with each other. This is also an opportunity for the drivers to discuss and give feedback, which we employ for TRP.

Sensitization and Awareness Sessions

Team TRP with the assistance of NOWPDP's outreach department held a sensitization session in one of Karachi's many marginalized and disenfranchised communities. The session was held in the Union Councillor's office in Machar Colony (Fisherman's Colony). This colony is perhaps one of the biggest colony in Karachi, with lanes wide enough only for 2 people abreast to walk in. Our rickshaws with their skilled drivers proved useful in navigating those lanes and reaching our destination.

We educated the attendees of the session as to what we as an NGO do and invited the disabled of the community to visit our offices.

Marketing & Celebrity Rides

In the month of April, Danish Ambassador to Pakistan, Mr. Rolf Holmboe, visited our office. We took him around Karachi like a true Karachiite in our hand-controlled rickshaw driven by our colleague with disability (video attached).

Growth of the Fleet

TRP has been able to meet its targets of expanding its fleet. In the last 3 months we have been able to add 3 more rickshaws – taking our total to 10 rickshaws. Training for 3 potential drivers is underway and pretty soon they will be on the road.

Proposed business growth in Health and Waste Management sector

We are currently in the planning stage of developing rickshaws besides the ride hailing model. We are working on these other opportunities in order to expand on our SDG goals profile. Currently the options we are working on are Waste Management, Ambulance Rickshaw (for hard to reach areas) and Water tanked rickshaw, but more on that later.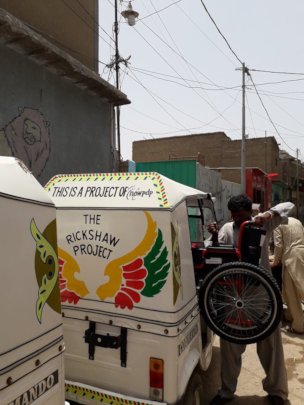 Links:
WARNING: Javascript is currently disabled or is not available in your browser. GlobalGiving makes extensive use of Javascript and will not function properly with Javascript disabled.
Please enable Javascript
and refresh this page.