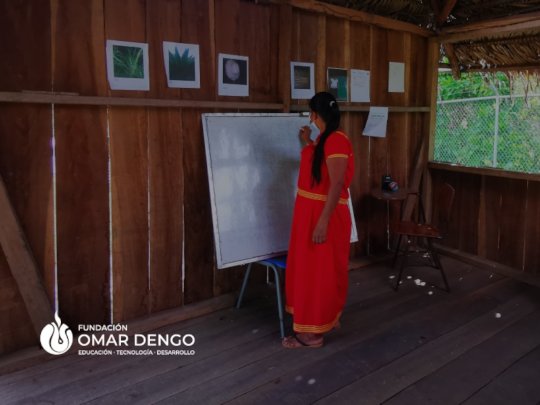 Dear friends and donors of Fundación Omar Dengo,
Thanks to your kind contributions, we are on track to soon updating the electrical components and installing a new photovoltaic system at the primery school of Alto Guaymí, in Punta Burica, Puntarenas.
We have scheduled to start making the electrical improvement at the school in May 2021, and completing the installation of an off-grid photovoltaic system in August 2021. This system will consist of a set of solar panels, inverter and battery bank to power computer equipment that the National Program of Educational Informatics MEP-FOD is making available to the school.
Your amazing contributions through GlobalGiving, along with support from other individuals and partners in Costa Rica and around the World, has allowed us to reach about 47% of our goal. This contribution will help us boost education in this indigenous school located at the Southern border of Costa Rica.
As part of our work, between March 12 and 15, 2021, a team of technicians from Fundación Omar Dengo visited the school. As expected, our technicians reviewed the old 3kw photovoltaic system installed at the school 7 years ago. This old system was installed by the Ministry of Public Education and only has three solar panels and currently, it is in very bad shape. Our team is planning to update the current electrical infrastructure during the May visit, and then install a high-end photovoltaic system that will respond to the needs of the students, the community and the equipment installed through the National Program for Educational Informatics (PRONIE MEP-FOD).
The pictures in this report also show the ordeal and difficulty to travel to the school. During the March visit, the team traveled on a small boat for one hour, follow by an 8 km-long horseback ride to arrive to the school. This is only possible during the dry season, as the horseback ride is through the riverbed.
Once again, thank you for your contribution and please remember to share our project with family and friends to help us reach our goal!
¡Estamos en camino para alcanzar nuestra meta!
Estimados/as amigos/as y donantes de la Fundación Omar Dengo,
Gracias a su amable contribución, estamos encaminados para actualizar, muy pronto, los componentes eléctricos, y la instalación de un nuevo sistema fotovoltaico en la escuela primaria de Alto Guaymí, Punta Burica, Puntarenas.
Hemos calendarizado el inicio de la actualización eléctrica para el mes de mayo, y completar la instalación del sistema fotovoltaico en agosto de 2021. Este sistema estará compuesto por un conjunto de paneles solares, inversor y banco de baterías que permitirán alimentar de energía limpia los equipos informáticos que el Programa Nacional de Informática Educativa MEP-FOD pone a disposición de la escuela.
Los aportes que han hecho a nuestra causa a través de GlobalGiving, así como el apoyo de otras personas y socios de la Fundación en Costa Rica y alrededor del mundo, nos ha permitido alcanzar cerca del 47% de nuestra meta. Esta contribución nos ayudará a impulsar la educación en esta escuela indígena ubicada en la frontera sur de Costa Rica.
Como parte de nuestro trabajo, entre el 12 y el 15 de marzo de 2021, un equipo de técnicos eléctricos de la Fundación Omar Dengo visitó la escuela. Nuestros técnicos revisaron el antiguo sistema fotovoltaico de 3kw de capacidad instalado en la escuela hace 7 años. Este antiguo sistema fue instalado por el Ministerio de Educación Pública y solo cuenta con tres paneles solares. Actualmente se encuentra en muy mal estado. El equipo de la Fundación tiene previsto actualizar la infraestructura eléctrica actual durante la visita de mayo, para luego instalar un sistema fotovoltaico moderno que responda a las necesidades de las y los estudiantes, la comunidad y el equipamiento instalado a través del Programa Nacional de Informática Educativa (PRONIE MEP- FOD).
Al mismo tiempo, las imágenes que pueden observar en este informe muestran la dificultad para llegar a este centro educativo. Durante la visita de marzo, el equipo viajó en un bote pequeño durante una hora, para luego viajar a caballo por 8 Km antes de llegar a la escuela. Esto solo es posible durante la época seca, ya que el viaje a caballo es por el cauce del río.
De nuevo, queremos agradecerles por todos sus aportes, y recordarles que por favor compartan nuestro proyecto con amistades y familiares para así seguir colaborando con nuestro objetivo.