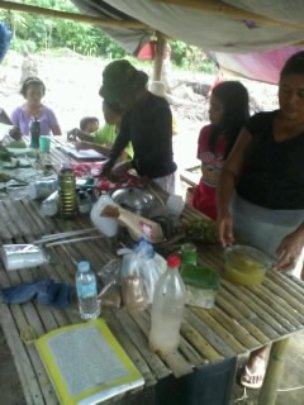 Communal Farm Strengthening and Expansion
In the last update, our pilot rehabilitation communities in Brgys San Roque, Quilao and Cantariwis in Tolosa Leyte continue to improve their organic vegetable production. Aside from individual gardens, opening up new communal farms and strengthening existing ones for collective production is ensured so that community members would have buffer stocks of seeds if individual farmers lose their supply when floods strike. When typhoon Senyang and Ruby flooded most farms late December of 2014 , the communities received seed stocks produced in their collective farms. Surviving crops that become seed sources were eggplants, ladies finger locally named "okra", papaya, sweet potatoes, cassava, maize, green onions, peanuts, mungbeans, tomatoes, pechay, cow peas, lemon grasses, bitter gourd. Each of these seed varieties yielded 10-15 tablespoonful sufficient for distribution and for reproduction .
Aside from own produced seed stocks, the local department agency on agriculture still maintain its seed distribution program particularly when typhoons Senyang and Ruby struck. Hence, instead of SIBAT buying them new seeds, they were able now to fend for themselves out of the propagated seeds they planted and subsidy support from the government through the local agriculture department.
The communal farms also enable other communities to observe organic agriculture technologies as these get replicated as showcase for other farmers and for continuous replication of technologies adopted. Communal farms were also made into learning centers where trainings on organic agriculture were conducted for new adopters of organic farming technologies . These serve as venues also for the training of trainors (TOT) who conduct extension trainings to adjacent communities. This is part of expanding the technologies and increase the number of farmers adopting organic vegetable growing as part of equipping them with food production skills and knowledge for food supply not only during disaster period but as part of securing household food supply and income.
Also, existing communal farms are also being prepared to integrate hog and poultry raising components to produce supplies for the communities' planned marketing of meat and poultry aside from organic vegetables.
The Promise of Herbal Processing
With skills honed and farms expanding, women farmers found a new livelihood alternative which drew much of their interest. They are now integrating herbal crop production as part of primary health care management at the community level. With available herbal materials, SIBAT trained them on herbal processing as alternative livelihood making herbal capsules, ointments, beauty soap and brews. This new venture excites the women members that the local government is lending some vacant rooms for processing work. To date, their first production output though far from what would be considered viable commercial quality did make good sales and demand is increasing.
This includes anti-bacterial bath soap production with "moringa" processed leaves as main ingredient mixed with papaya for toning the skin and "kamias" as anti-blemishing element. Oil from sunflower and papaya leaves extract were developed as skin ointments and massage oil. They were able to initially produce 400 pieces and sells this at P25.00 (US$ 0.50) a piece. For hot drinks, they produced coffee out of carbonized maize, choco and ginger brew being sold at P 45.00 (US$ 1.00) and cacao tablets for P 25.00 (US$ 0.50). They also produced their first 100 bars of laundry soap made of "kamias" and vegetable oil being sold at P15.00/bar (US$ 0.30). They produced also their first 100 pieces of derma soaps comprised of 7 herbs namely lemon grass, derries, madre de cacao, mayana, moringa, acapulco and turmeric which is known to be anti-oxidant and sells these at P 35.00 (US$0.80) a piece. Also, they processed local herbs called " kalabo, lagundi and sambong with ginger" into cough syrups and have come up with 20 bottles at 120 ml and sells this at P20.00 (US$ 0.45) . Initially involved in these activities are 20 women from Brgy San Roque, 6 from Brgy Quilao and 11 from Brgy. Cantariwis
Aside from medical producing herbal products, the women are also venturing into production of solid and liquid organic fertlizers. Among the products produced included liquid fertilizers such as Fermented Fruit Juices (FFJ)) papaya extracts for potassium and fermented plant juice (FPJ) made of madre de cacao, sweet potatoes, chopped banana trunks which produced 7 liters of bottles at 500 ml. They are selling this at P45.00 (US$ 1.00) per bottle. The community is thinking of developing also biofertilizer processing plants in their demonstration farms to provide supply for existing organizational members and future adoptors of organic vegetable growing.
This October, further trainings on herbal processing and bio fertilizer making will be conducted. Parallel to this is strengthening the organization through strengthening the organizing skills of some leaders, follow up trainings on leadership and value development, orientation on enterprise, fund management and basic booking.
It is worth noting that at this point, community members are acquiring and practicing the basic skills and knowledge to produce additional food supply, livelihood/enterprise activities for income and essentially imbibing community unity and cooperation.