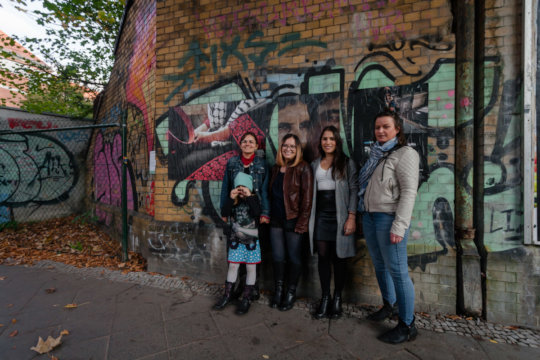 Greetings femLENS supporters!
Time flies while one is keeping busy with workshops, exhibitions, networking and promotion events and publications! This year we have done 3 workshops with over 20 women from diverse backgrounds, and organised 4 exhibitions! And now we are working on our publication - We See magazine - helping the work of our workshop participants reach a further audience.

This year the femLENS volunteer team has grown from 3 people to 7 amazing women dedicating their time to write, design, promote and support women's voices and experiences, and enrich the photographic memory of the world.
We'd also like to take this moment to share with you a feature on femLENS' work by Wanderful magazine.
Thanks to you and people like you, we have made tremendous progress towards meeting our funding goal for the workshops in Gaza. While we still have room to go, we wanted to take a moment to thank you all for helping us towards turning girls and women in Gaza into storytellers.
Your generous donations are helping to plan and implement the project in Gaza, and these photos will reach thousands of people through our social media community. But organising an exhibition in the community and across Europe will bring additional awareness to life in Gaza.
GlobalGiving is running a year-end campaign. Consider sharing your support for this initiative or making an end of the year gift and help us win bonus prizes from @GlobalGiving!
Our biggest goal for the first part of 2020 is to get into Gaza to run our workshops. Fundraising for a project like this is not an easy task, but getting into Gaza is even harder. We have spent the last few months trying to get an entry permit into Gaza through Israel, and have so far failed. However we will now concentrate our efforts on the Egyptian border, and will send you an update soon!
I want to thank you for your ongoing support and belief that women's stories matter!
Wishing you a restful and happy holiday season.
Warm regards,
Jekaterina Saveljeva