Sawadee pee mai or Happy New Year!
Just when we thought we were almost out of the woods on the pandemic, a second wave of Covid-19 infections surfaced in the kingdom. Our work was upended last year and continues to be for safety reasons. Hopefully, we will be able to run our project In June to arm at-risk high school girls with skills to protect themselves against sexual abuse and harassment.
So far, we have only received about $170, which is not enough to run our 'Better Me' project targeted at training 5,000 underprivileged girls in Ubon Ratchathani. We still have a long way to go to be able to fund the training for this number of girls. We have about four to five months to make this happen, but only if you help us. Our role has become even more critical at this juncture as many lives have been decimated by the impact of the coronavirus pandemic. You can help us maintain a lifeline to these girls by including us in your gifting in 2021, or forwarding this appeal to your network of friends.
Thank you!
Pratthanadee Team
Dear friends and supporters,
The purpose of this newsletter is to update subscribers on our project. To date, we have raised a mere $2,088, far from our goal of $26,000 for the year. Thanks to the donations that we have received to date, we still have a long way to go until we meet our goal, but we couldn't have gotten this far without your help!
At Pratthandee Foundation, our goal is to provide free and high quality training to underprivileged girls in Ubon Ratchathani. Since 2011, our workshops have impacted over 5,000 girls from Ubon Ratchathani, one of the poorest provinces in Thailand.
The 'Claim Your Rights Program' equips girls with the life-saving skills they need to protect themselves and covers the following:
Awareness of and Prevention of Danger: Raise awareness of a range of risks (including relationships, harassment, financial dependency, pregnancy and online grooming), tactics for avoiding the dangers and ways to deal with any incidents.
Basic Self-Defense: Training in basic moves, such as wrist grabs, lapel grabs, and protection on the ground.
Women's Law and Rights: Raise awareness of the laws relevant to women, such as reporting domestic violence or assault to the police, and provide resources they need if they are unsure.
The Program is designed to be engaging with lots of games, multimedia resources and role playing. Not surprising, the feedback has been encouraging. In a recent series of workshops, the outcome was very positive.
94% highly agreed with the statement: "You can apply this knowledge to your daily life."
94% highly agreed with the statement: "This workshop was interesting."
93% highly agreed with the statement: "The trainer gave good explanations and content during training."
If you are looking at making an impact on the lives of others this year, keep us in mind. If you haven't donated yet and have been thinking of supporting impactful work, please donate now!
With gratitude,
Pratthanadee Team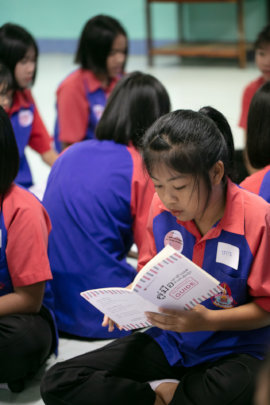 For two decades we have trained underprivileged girls and women in the kingdom almost uninterrupted through political upheavals, floods and the like. Never have we experienced anything close to this current pandemic and its accompanying restrictive measures.
For many of our students, the past few months have been confusing and physically isolating. Our foundation has been a source of constant in their lives, where they come to learn and be near others in similar predicament. Physical distancing, a measure to stop the spread of the virus, is understandably difficult for many of them. It is tough for us as well, as it affects our ability to conduct our classes and workshops the way we have been used to.
Our work in northeast Thailand was interrupted by the temporary closure of schools because of the pandemic. Even though they are slated to open in July, we will need to monitor the situation and speak with the schools to have better clarity on when and how we may resume our training. We will have to redesign the way we deliver our training, including working with smaller groups of students each time, and reformatting our workshops into a pop-up activity, given the new normal.
Despite the lockdown and all the inconveniences, we are indeed lucky to have supportive donors like you in this difficult time. Many have stepped forward to help us and we are infinitely grateful. Do continue to support our cause of empowering underprivileged girls to fight off sexual and domestic violence, and to plan for a better future. We are confident that we will be back in Ubon soon to transform more lives!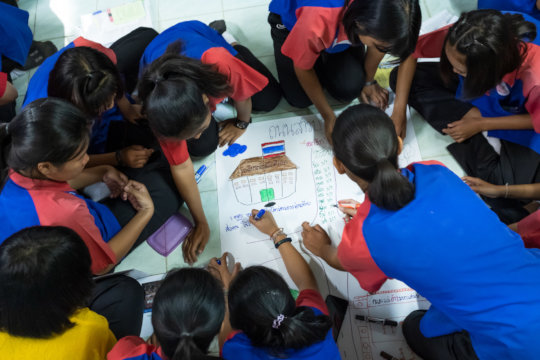 WARNING: Javascript is currently disabled or is not available in your browser. GlobalGiving makes extensive use of Javascript and will not function properly with Javascript disabled.
Please enable Javascript
and refresh this page.