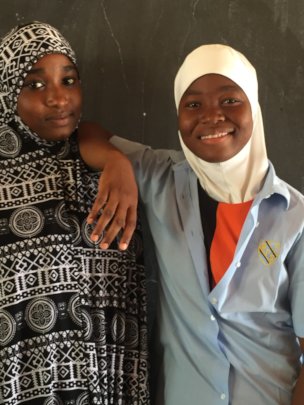 We are pleased to announce some exciting BREAKING NEWS !
CHAMPIONSHIP BACKGROUND
The Bakaye University Group in Niamey, Niger has recently organized a championship of mathematical and literary skills. Students from designated schools were chosen to represent one of two categories : Middle School or High School. Teams were selected by the qualifying schools for the Championship of numbers and letters which took place on February 24th . Individuals were selected by each school for the Championship of Mathematics and Logic which took place on March 3rd.
BREAKING NEWS # 1
Hampate Ba School was admitted as one of 15 schools in Niamey to participate in this championship !
BREAKING NEWS #2
Hampate Ba School chose 3 students for its team, and 2 out of the 3 students, were our scholarship students !!
BREAKING NEWS #3
For the Team championship, Hampate Ba came in 5th out of 15 schools in the Semi-Finals, and even better, our team came in SECOND OUT OF FIVE for the Finals !!! UNBELIEVABLE!
The results for the Individual Championship of Mathematics and Logic are not known at this date, but we will soon let you know the results of our 2 girl students!
WHO ARE THESE TWO GIRLS?
At the Hampate Ba School, there are all kinds of social background. But the girls that we give scholarships to, are from very poor backgrounds, which is the case of our two scholarship girls participating in the Championship. Both Nafissa and Attica live in straw huts, with NO electricity, and outside cooking, one hour of walking by foot to get to school, and no one at home to help them with their schoolwork, as their parents are illiterate. Also, an essential item for students, notebooks and books, are not possible for them, since they do not have the means.
WHAT DOES "Les Amis de Hampate Ba" DO TO HELP THEM?
We specifically help our scholarship students to meet the challenge by buying them notebooks, and school books. We also set up tutoring in small groups after school, so they can be guided by teachers who help them several hours a week with their homework.
CONCLUSION
It does work ! Nafissa and Attica were able to meet the challenge thanks to the books and tutoring we offer them. They were chosen by the School and were courageous enough to participate in the Championship and ended up being #2 out of 15 schools.
OUR THANKS AND RECOMMENDATION
Our help to our underprivileged students is so important.
Without our aid, they would not be in school.
Without your donations, they would have no books and no tutors to push them forward.
WE NEED YOU ! Please continue your donations so we can continue buying books and providing tutoring. This is essential for these deserving students who are working hard to have a better future.
Our students our meeting the challenge.
We must also meet the challenge and KEEP DONATING!
THANK YOU for letting them meet their potential.
THANK YOU for giving them the gift of an education and a brighter future.
YOU ARE MAKING A DIFFERENCE in their lives.