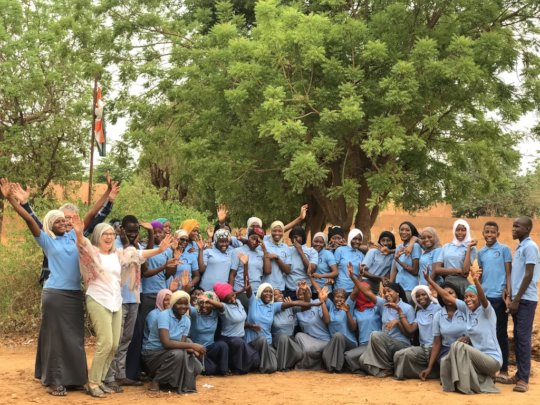 It all started back in 2009. 10 years ago. What a marvelous adventure!
In the beginning …
We founded our non-profit organization, « les Amis de Hampaté Bâ », to support an amazing pedagogical project initiated by our good friend Homa K. at an amazing school, Hampaté Bâ Middle School in Niamey. Our hope along with Homa was to improve the quality of education with special teacher training and help reduce the dropout rate of underprivileged secondary pupils with reading and writing deficiencies through tutoring programs.
Our beliefs stronger than the Challenge
We believed in the importance of equal access to education and opportunity for all students, no matter their economic background. But this was indeed a big challenge to tackle: to improve the results of Nigerien children with illiterate parents and several years behind in their academic level upon entering secondary school. Another problem : the parents could not afford to pay for secondary education. So we decided to sponsor scholarships to put deserving underprivileged youth in Hampaté Bâ Secondary school, our most difficult goal being to bring these underachievers up to level and to keep them in school!
A Wild Adventure
After 10 years, we can honestly say it has been a wild adventure for the students and teachers and for us too. We had to adapt to each other, valuing mutual respect and the giving and sharing of knowledge and skills. The students learned from our projects and we learned from the students; their hopes, their difficulties, their desires. Tutoring programs were implemented little by little and were first met with resistance both by the students and the parents and even by some teachers, who thought the struggling students would never make it. But acquiring reading and writing skills was a « must » to turn these students into confident above average achievers. We remained believers and kept going !
Stepping from Middle School to High School
As the tutoring program became more intensified with technology in our computer room used to improve reading and writing skills, and as the teachers became more at ease in small groups with the students, the students themselves became more confident and more motivated and liked getting better results on their exams. They became proud and when the Hampaté Bâ High School opened in 2015, many of our scholarship students were admitted. In 2018, three years later, we had our first High School Graduates!
Dreams that have become Reality
Hampaté Bâ's reading and writing program has led to marvelous discoveries and success stories that were once dreams, and are now actually coming true. Our students have worked hard and have been courageous. Due to their success in the Brevet (BEPC) exam and the Baccaulaureat, those who succeeded will have an opportunity to attend professional Institutes for specialized training and studies or universities for higher education. This is their dream come true!
Our Impact is Real
We are proud to share with you the 2019 Nigerien test results of our scholarship students: CONGRATULATIONS !
The 2019 BAC : 55.50% success rate for our students
(compared to Niger's national average of 25% : 1 student out of 4)
The 2019 BEPC : 62.50% success rate for our students
(compared to the average of 33.5% in the region of Niamey)
A Bright Future
We wanted more than anything to help struggling underprivileged boys and girls to catch up on literacy skills and to give them a brighter future, and that future has come ! The quality education you have offered them will inevitably lead to a quality employment. As I am writing, our graduate students are applying to universities and professional institutes to follow fiscal, accounting, business, law, ONG, engineering, health and gynecological careers. The majority have already been accepted and some with scholarships. The success of our students inspires us and reminds us that we must continue to provide quality educational opportunities to these worthy underserved students who desire a better future for their families and their country.
Breaking News : Our first student to land a job !
Our student, Hamsatou, who chose to attend a health institute after her BEPC, was the best in her class and has been hired by the biggest pharmacy in Niamey as an assistant pharmacian. Her perseverance in mastering reading and writing skills paid off! Bravo!
It's not over. We must continue!Many young students from impoverished and illiterate backgrounds were able to attend secondary school thanks to you! This would not have been possible without your kindness and generosity. Niger is one of, if not the poorest countries in the world and only 6% of girls and 9% of boys attend middle school and just 3% go on to high school. We look forward to keeping you updated about the many ways your support is changing young lives in Niger. Your gift of secondary school education to these students will have long-standing effects on the students, their families and their community. THANK YOU FOR YOUR GENEROUS DONATIONS!