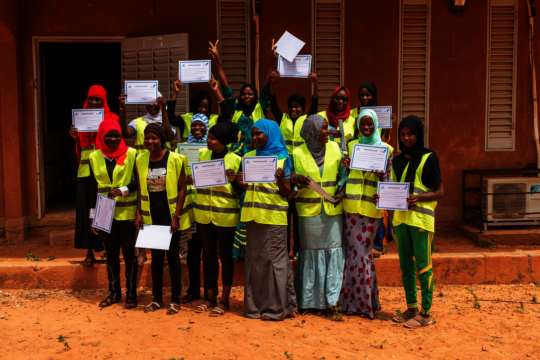 Niger is a tough place for children to grow up, but it's particularly challenging for girls, thousands of whom have seen their childhoods cut short by marriage – Niger has the highest rate of child marriage in the world : 76% before 18 years old.
One way to avoid early marriages is to help girls go to school and stay in school. Our organisation is constantly creating exciting opportunities for our young girl students at Hampaté Bâ School in Niamey, Niger. In addition to funding scholarships for academic studies , we also provide them with programs to learn and develop skills, therefore allowing them to prepare and succeed in future careers and meaningfully contribute to challenges across Africa.
We are very proud to share with you our latest girl empowerment projects , presenting innovative solutions and inspiring success stories !
TRAINING GIRLS IN DIGITAL TECHNOLOGY
This project rocks! It's a two-fold ongoing project that has developed in stages over 10 years, aimed at improving the quality of education while also bridging the technology gap.
Promoting Numeracy and Literacy Skills through Digital Education
We implemented this after school project mainly for 6th graders entering middle school, enabling the students to further improve their basic numeracy and literacy competencies through interactive and fun material. It is very popular and has a high attendance rate, demonstrating student interest and engagement !
"I never miss my after school computer classes on Tuesday afternoons. I quickly learned how to conjugate verbs. I now know how to conjugate the verb "to achieve" in the past, present and future times. Why the verb "to achieve"? Because I will be the one who will "achieve" and go to university," proudly says Haoua ,12 years old
« Nassia's progress is amazing. When she came in, her French was quite limited and within a few months she has managed to not only learn to communicate fluently but also excel in her class" the French teacher remarks.
Mr. Kabirou, the computer teacher, has remarked : "With computers, the girls are much more engaged and motivated. Their performance has clearly improved. It is a playful approach and has brought a lot of change. It has even improved their communication and teamwork skills."
Computer Classes in Daily Curriculum : Teaching Students to become familiar with Essential Digital Tools and Basic Software Programs
Middle School :

The younger students start by learning basic computer skills and how to use simple programs, like word processing.

High School :

More Advanced classes learning to use a Spread Sheet like Excel, Tools for Presentations like Power Point, and guide students towards finding information through internet.

Future projects currently in pilot stages : Classes to learn coding
With these skills, the girls can participate in day-to-day life and be integrated in the development and modernisation of Niger. The computer classes during and after school have definitely increased students' passion for learning digital know-how.
During our last trip to Niger, as soon as we entered the computer classroom, we immediately felt the energy of the students. We are so exhilarated to see that our initiatives to explore new solutions through innovative projects have the potential of improving learning outcomes and positively impact even the most marginalized students.
Our aim is to help girls for future jobs by teaching them digital technology in hopes of overcoming the many barriers for women's access and use of technology in Niger. Despite the challenges, we continue our efforts because of the incredible opportunity that technology provides for girls. So far, the girls' accomplishments are impressive and in view of their underprivileged background and the context of Niger, even astounding.
OFFERING GIRLS WORK EXPERIENCE IN TECHNICAL FIELDS
During vacation time an amazing project popped up, offering a great opportunity to girl students at Hampaté Bâ High School .The project gave quite unexpected, yet positive results
Renovation and construction work was being done near the school and the contractors agreed to use the project to provide on-site training and employment opportunities for girl students at Hampaté Bâ High School. They would include at least 15% of girl students in the team. The internship was organized to last one month and the girls would be trained to actually help with specific tasks during the different stages of the construction.
To our surprise, 20 girls eagerly volunteered to follow this internship and were happy to actively participate. They were very inspired by what they learned and proud to receive diplomas at the end of the training. The contractors were amazed by the girls' strong motivations: some of them wanted to become architects, some wanted to be painters, and some engineers. The training sparked an interest in each one. « It was so important for me to have more notions about construction work. It gave me all kinds of ideas for my future « remarked Atika. « It's a great opportunity for me . Now I can imagine myself as a future architect. And when I see a house outside, I know how it was built ! » Exclaimed Aicha.
We wanted to awaken some of the girls to technical skills, to give them a taste for possible technical and scientific studies, to motivate them through a work experience in technical fields to consider careers such as engineering and architecture or project management. Opportunities like this give girls a chance to develop competencies and envisage ways to change their reality. We hope this will empower girls to lead independent lives
And why not? After all, half of the population in Africa in feminine. Including women in the work force is essential.
Despite the prevailing stereotypes and the social pressure, we are trying to give our girl students opportunities to breakdown barriers every day that prevent girls from accessing and benefiting from technology. Whatever their level, the goal is for them to acquire knowledge and experience to be able have an activity leading to a decent salary and a career.
Helping today's talented young girls will benefit tomorrow's society. Thank you all for your vital support of these amazing and courageous young underprivileged girls who will hopefully leave a remarkable and uplifting imprint on their community, on Africa and on the world.