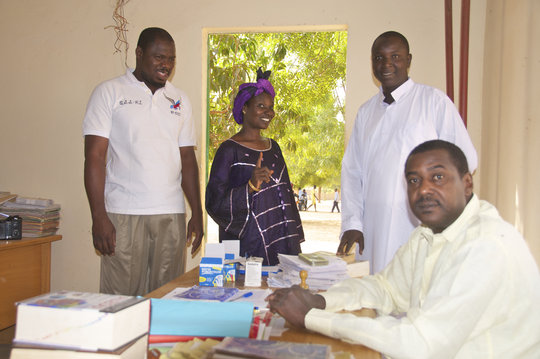 The end of the current academic year is fast approaching and this is a very busy time of the year at the Hampaté Bâ Middle School in Niamey.
During the last three months, learning conditions have become difficult because of the intense heat – with temperatures rising to 39°C/102°F inside the classrooms - and the daily electricity cuts. Power cuts come without warning at almost any time of the day or the night and they can last a whole day!
Despite the difficult material and climatic conditions, the latest test scores show that thanks to our new intensive remedial program, progress has been made in spoken and written language skills in French, but of course there is still a lot of room for improvement. The girl students with scholarships have done very well in almost every subject including French, but need more help with mathematics.
"Punctuation didn't mean a thing to me before and I hardly ever used it in my written work. One day, my French teacher compared language to music saying the words were the melody and the punctuation was the rhythm. Now I understand why I must put commas, periods, colons, semicolons, etc. in my written work." says Amina, a 13 year old, with a huge smile on her face.
Aiming for teacher excellence, Principal Hassane Baro has asked for the teacher training study circles to be geared more towards communication, collegiality, and risk-taking in order to create an atmosphere of learning and leadership for all.
"I want my teachers to have high expectations for their students of course, but even higher expectations for themselves."
At Hampaté Bâ, the teacher training study circles are really starting to make an impact. For example, veteran biology teacher, Tini, is willing to make a renewed commitment to his profession, his students, and himself. Ask him and he'll tell you that he's now "on board."
"Before I attended Hampaté Bâ study circles, I expected my students to be engaged and to pay attention no matter how boring and repetitious my biology class was. I also expected students to be well behaved no matter how I treated them (shouting, sarcasm, etc.) Now, I still want my audience to give me their full attention – but I've learned that it's my job and responsibility to gain, and to keep, their attention and their respect. If I'm not doing that, I need to change my approach."
Principal Baro says : "If we are lucky enough to be able to continue this project, soon all of my teachers will start the day by asking 'What miracles can I create in my classroom today?' instead of asking 'How many more days left before the holidays?'"
The Hampaté Bâ School is founded on the principle of working towards the emergence of a new generation of students who will be ready and able to participate in the improving of local and global communities through a high quality training in the areas of education, culture, health, environmental action and all initiatives conducive to the social and economic development of the human race.
Les amis de Hampaté Bâ is committed more than ever to support the school. It is because of your generosity that we are able to commit to serving more students and of building hope where there is so little.
Thank you for joining our efforts, embracing our vision, taking action, and joining the celebration. None of this would be possible without your generous donations.