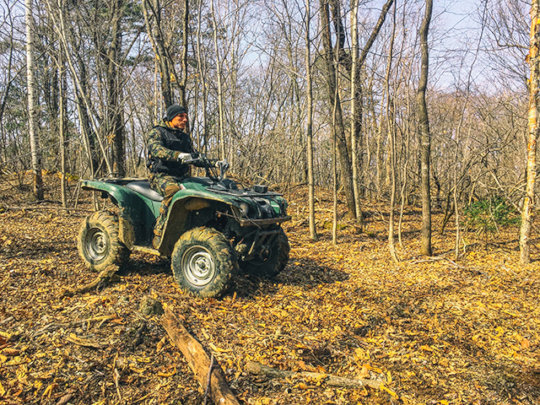 From April through mid-June, the team performed the full spectrum of law enforcement activities in Land of the Leopard National Park with your support that allowed us to provide patrol support, fuel, field allowance and necessary equipment. The rangers protected the assigned area by detecting and investigating criminal activity and apprehending violators. The rangers carried out 62 anti-poaching patrols. In total, the team covered about 585 km on foot. Eleven tiger tracks were discovered near human settlements: near Ovchinnikovo village, near Filippovka village, and near the Narva River.
In late March, a new staff member Mikhail Rubei joined the team. In April, the most attention was paid to new artificial salt-licks discovered in Land of the Leopard National Park and Kedrovaya Pad Nature Reserve. Sings of human presence were found only at a salt-lick near Strelkovy stream. In order to check salt-licks in hard-to-access areas the rangers used quad bikes. .
In May, special attention was paid to the territories near human settlements, namely Barabash, Ovchinnikovo, Filippovka, and Bamburovo villages and near the Narva River. When patrolling the territory of Kedrovaya Pad near Barabash village, the rangers detained a man for unauthorized presence.
In the reported period, there were a number of forest fires, and the team was involved in firefighting actions. In order to define fire location and its size, the team used a quadcopter. Fortunately, the fire-hazardous season is over and the team will have a break from fire-fighting till fall. In summer the number of poachers and other violators is also coming down, however the rangers will continue patrolling the protected territory to ensure safety of the rare Amur leopards.
Camera traps at the Land of the Leopard are regularly capturing Amur leopards in different areas and circumstances. The camera traps show us the growing leopard population, new cubs and new couples. And this is the best confirmation that our joint efforts are effective. Thank you for your support of Amur leopard conservation and our work!