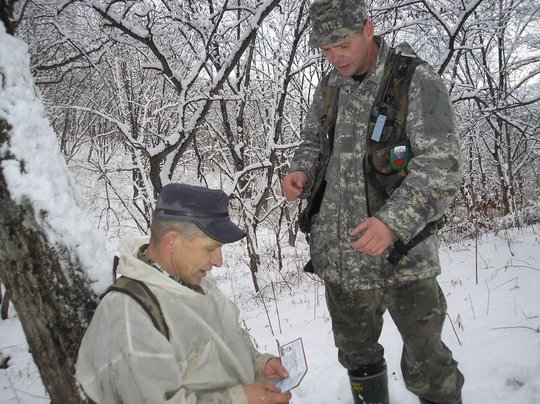 Many thanks to everyone who has contributed to our leopard conservation project.
Since this is our first project report, in addition to sharing updates on our leopard conservation project GlobalGiving.org donors are supporting, I would like to offer you a bit of background on the area we live and work in. Primorsky region in the south of the Russian Far East is a biodiversity hotspot; it also has the most ramified system of protected areas. With the purpose to save the remaining population of Amur leopard and the western sub-population of Amur tiger the Russian Government created Leopardovy Wildlife Refuge in the southwest of Primorye, merging two regional refuges into one federal and affixing it under supervision of the Kedrovaya Pad Nature Reserve. The refuge is located in the core area of tiger habitat, and has a big potential for increasing both tigers and leopards and their prey populations, on condition that anti-poaching control is maintained on the permanently high level.
I would like to thank all GlobalGiving.org donors for their generous support. In the last three months we provided our anti-poaching teams with fuel, field expenditures and rechargeable batteries for communication means so they could operate in the field on a regular basis. Here are the latest news from the field:
It is known that a hunter always goes to hunt during or after a fresh snow fall because it is easy to locate animals' track in fresh snow. And fresh snow attracts not only licensed hunters, but also poachers. That is why during the first snow fall in Primorye our anti-poaching teams set off for a patrol to prevent poaching inside the protected areas and adjacent territories. On November 12, 2010 while motorists were dealing with first snow on the roads of Vladivostok city, passionate state law enforcement officers of Leopardovy Wildlife Refuge and Kedrovaya Pad Nature Reserve were patrolling to prevent and reveal wildlife crimes. First snow resulted in first criminal cases in this snow season.
Eugeny Stoma, leader of the South team, informed that when patrolling the area they spotted footprints of three people entering the wildlife refuge. After a 2-hour pursuit, one of the trespassers was detained. The detainee turned out to be a local from a neighboring village. He had a 7.62-gauge carbine. There was no shooting, thank God. Bad news is that his two fellows managed to escape. The detained violator was taken to a local police station to initiate criminal proceedings. We hope that further investigation will identify the two men involved in the crime.
The North team also had good results that day. While patrolling the northern part of Kedrovaya Pad Nature Reserve, the guardians in cooperation with police officers arrested three men for illegal hunting inside the protected area.
These patrols were a success thanks to your support!
We look forward to sharing more updates with you soon!