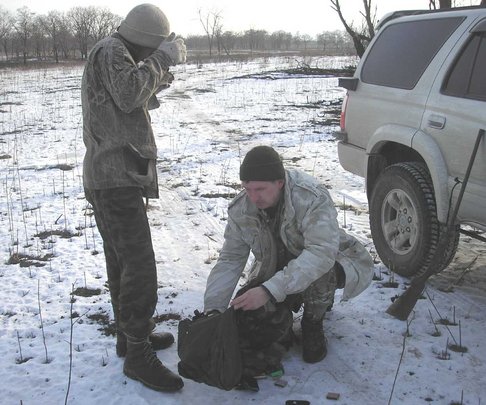 We are glad to report about another successful pursuit in Southwest Primorye!
At noon on Friday, January 14, the Southern anti-poaching team found footprints belonging allegedly to two men and followed a trail of footprints to catch up with and arrest the intruders. After a 2-hour pursuit the rangers noticed that the violators entered Kedrovaya Pad Nature Reserve. At 4:00 p.m. the footprints belonging to one of the trespassers were lost on the southern slopes of a bare hill. Later on, a man with an illegal hunting rifle was arrested and taken into police custody. A criminal proceeding was initiated.
It is obvious that the rangers do a great job patrolling two protected areas, Leopardovy Wildlife Refuge and Kedrovaya Pad Nature Reserve, home to Amur leopards and tigers. And it is possible thanks to your generosity, our supporters, and rangers' commitment to nature conservation.
On behalf of our staff, I wish you joy and peace in 2011.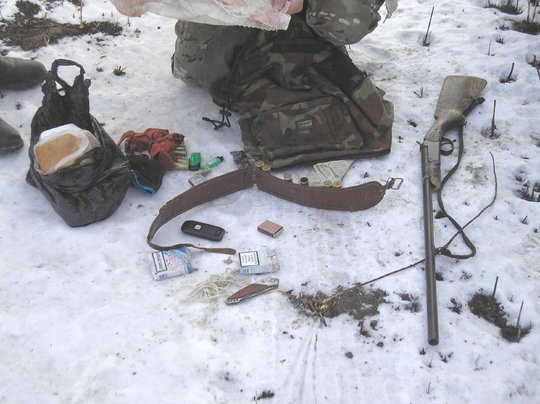 Yesterday, December 20, a group of poachers was detained during a routine patrol by the South anti-poaching team in Leopardovy Wildlife Refuge.
According to a senior inspector of the South AP team, at 6 p.m. the law enforcement officers stopped a car inside the protected area. It turned out that three passengers with dogs were returning after illegal hunt in the refuge. The violators, citizens of Slavyanka town, had three rifles and dead roe deer in the car. They were taken to Khasansky police office where a criminal proceeding was initiated.
For the third time since November 2010 a criminal proceeding has been initiated against poachers thanks to concerted actions by the South AP team of Leopardovy Wildlife Refuge.
Earlier, on November 26, after a 4-hour pursuit the South team apprehended two poachers in possession of a 7.62-gauge rifle and a wild boar carcass. On the 12th of November the team found footprints of three trespassers and after a 2-hour chase detained one of three violators.
The anti-poaching work of the Kedrovaya Pad Nature Reserve and Leopardovy Wildlife Refuge is financed by Phoenix in cooperation with International Fund for Animal Welfare (IFAW) and other partners. The two protected areas represent a habitat for two endangered felines – Amur tiger and Amur leopard, listed in the Russian Red Book, International Red Book and Appendix 1 of CITES Convention. The world conservation community is deeply concerned about the state of these species populations.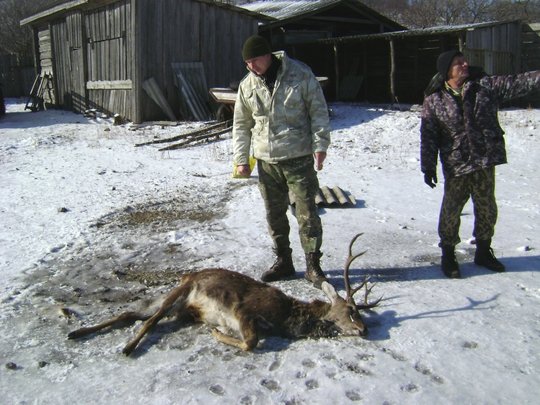 On November 28, the experts of the South team of Leopardovy Wildlife Refuge and Kedrovaya Pad Nature Reserve went to a deer farm situated in the vicinity of the protected areas to investigate a case of livestock depredation.
Earlier the deer breeder informed the inspectors that a leopard had killed a male deer at night time on the territory of his farm. A dead animal carcass was found in an internal enclosure, approximately 100 meters from a warden's hut. A guard found the dead deer early in the morning when he was going round the territory. The leader of the South team Eugeny Stoma inspected a scene carefully and concluded that there were two night guests, most probably a female leopard with a paw size of 6.5 cm and a male offspring with smaller pads. A back part of the dead deer carcass was partially eaten, several bites were noticed on the neck.
Next morning brought the good news. The leopards showed up again to finish their dinner and got caught on camera traps set up by Eugeny Stoma right by the hunted prey. Such appearance is rather rare and gives the specialists lots of useful information about the few Amur leopards that live in the south of Primorye. Unfortunately, the abundance of predators on photographs was caused by overlay of several frames. To find out more about the night "hunters" Eugeny and his team decided to follow their tracks on the fresh snow. After closer investigation it was discovered that the tracks apparently belonged to adult leopardess and her two cubs. Hopefully, now they are satiated and well protected.
Recently, we have met Sergei Khokhrykov, director of Kedrovaya Pad Nature Reserve and Leopardovy Wildlife Refuge who shared good news with us: "Tracks of four leopard cubs were found in fresh fallen snow inside the protected areas. Presumably, a female resident leopard with two cubs live in Kedrovaya Pad Nature Reserve. Another female leopard with two cubs likely inhabit an adjacent area. Also, there are two females with one cub each. All in all, there are four leopardesses and six cubs roaming the protected areas and abutting territories ". This news is extremely encouraging for conservationists and people concerned about the fate of Amur leopard and shows the first results of improve protection in Southwest Primorye. We hope that during this winter survey, which is to be held in late December-January, the specialists will count more leopards than in previous years.
Let us again express our sincere appreciation for the donations that make protection of the Leopard Land possible!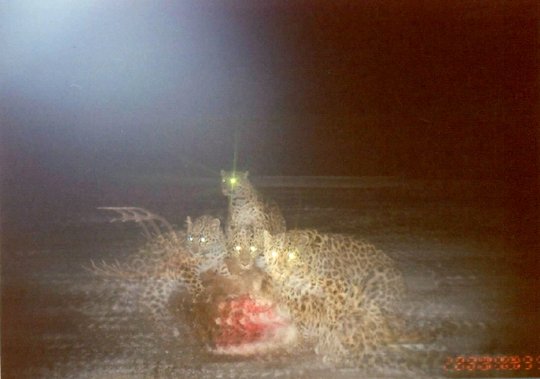 WARNING: Javascript is currently disabled or is not available in your browser. GlobalGiving makes extensive use of Javascript and will not function properly with Javascript disabled.
Please enable Javascript
and refresh this page.