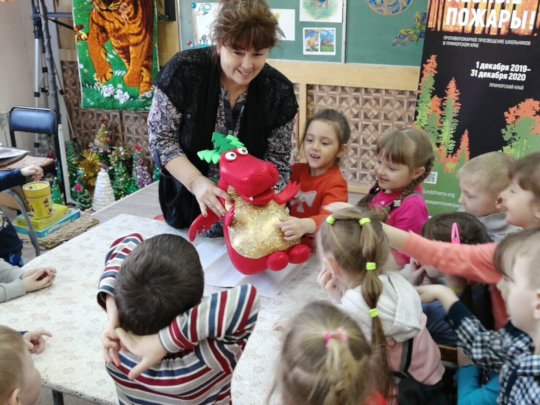 During the last three months your generous donations allowed us to support outstanding educational efforts of professional teacher Valeria, who leads the Namba eco-centre in Krasnoarmeisky district of Primorye. From March through May she conducted 26 ecological lessons/events for 418 children. Young students got in-depth knowledge about the Amur tiger, its biology, ecology, habitat, prey base, threats to its survival, and conservation methods.
In March 2021, Valeria worked at the eco-centre and in a kindergarten in the Novopokrovka village, and also visited a school in Vostretsovo village. In total, 8 events were held, in which 147 children aged 5-15 years and 21 adults took part. Among the activities there were: a field lesson "My ecological footprint on the Earth" at the school in the village of Vostretsovo, a presentation on the work of the Namba eco-centre at the Meeting of the Northern Protected Territories of Primorye; lessons for kindergarteners "We meet spring" and "Tiger reserve"; lessons for eco-centre members "Fire in the forest", "Save the animals", "In honor of the Day of the forest" held in cooperation with the Udege Legend national park.
In April, 10 events were held, involving 138 children aged 3-12 years and 9 adults. Besides working in Novopokrovka, Valeria visited a remote school and kindergarten in the village of Lukyanovka. Among the activities were field lessons "Save the tiger together" and "Together with Dym-Dymych" in Lukyanovka; a lesson for the kindergarten "Dym-Dymych in the forest", a joint lesson-meeting with the national park specialists "Towards Spring", "I want to know everything about fires", "Let's prevent fires together."
8 events were held in May, for 117 children aged 5-16 years and 7 adults by the educator. Valeria visited a school in Izmailikha village and gave lessons "Hello, I am a tiger" for junior schoolchildren (grades 1-4) and "The story of a tiger" for middle school. With the kindergarten kids the teacher discussed how to "Save insects from fire". And traditionally, most of the educational activities were concentrated in Namba eco-centre, namely an ecological film show "Conflict Tiger", tiger games, lessons "Safety in a forest fire", "The most terrible animal in the forest".
Thanks to the work of the educator and your valuable support, children who live in tiger habitat become more sensitive to the feelings of others, socially responsible and respectful towards the rare big cats and the environment. According to the educator and a few opinion polls children participated in various nature conservation actions with pleasure.