This September marks the official inauguration of the Learning Center's new Food Program! In Batey Libertad, many of our students suffer from a lack of consistent and healthy nutrition. The Food Program provides students with vitamins and energy to help them focus and perform to the best of their ability in the classroom, and increases motivation for parents to consistently send their children to classes in the Learning Center.
Yspaniola introduced the pilot Food Program last spring, and after feedback and adjustments, the program is now fully operational for the coming academic year. Currently, we provide students with nutritious snacks, including sandwiches, hard boiled eggs, bananas, and crackers. In addition, through a capital gift Yspaniola has purchased the building adjacent to the center to house the Food Program. With additional space, we are able to simultaneously hold classes and the Food Program, and commit to a long-term goal of providing healthy food to our students.
September saw more than the addition of the Food Program! Through a grant from Better World Books, Yspaniola has hired a third full-time local teacher from Batey Libertad: Marisela Peña. Marisela grew up and lives in Batey Libertad, and she is pursuing a degree in education at UASD in Mao. She will teach four classes in the Learning Center starting on October 13th.
Monday, July 13th marked the kick off of the fourth annual Batey Libertad Summer Camp. Led by local youth leaders, international volunteers and Yspaniola interns, over 90 children participate in two activities per day including sports, art, theater, health, and music. The energy in the air is palpable as the campers zoom from activity to activity ending the day with a typical Dominican lunch of chicken, beans and rice, or more colloquially called, 'la bandera.'
Music is a popular activity, and one that is uniquely different from its American counterpart. In the 'locale,' or local gathering place, the campers dance to music played by the local youth leaders, who sing, clap, and play the drums and guidra. Enthusiastically, the campers pair up and practice bachata with one another, a classic Dominican dance. Children of all ages perform the intricate steps and 'vueltos' with a hilarious ease in comparison to international volunteers.
When the kids finally make their way to art or health, they are sufficiently tired enough to sit still for a lesson on personal hygiene in health, or a mask-making session in art. Summer camp provides children from the batey with a perfect mix of instruction and fun. By the end of the week, the campers have imitated animals, had their faces painted, played soccer, constructed instruments, and learned the basics of personal health care, all before a hearty meal— la bandera— for lunch!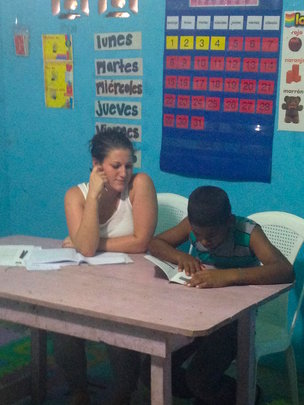 This February, Yspaniola staff administered Reading A-Z evaluations for all students in the Learning Center. Reading A-Z assessments are an internationally-recognized, research-based system that provides our students and families with measurable results of the Center's impact in literacy skills. These assessments measure the students' ability to interpret a text, critically analyze, and make inferences, while also measuring their vocabulary skills. Of a total of 47 students whom were tested in June 2014 and then again in February 2015, 72% showed improvement. Of those students, 41% progressed 2 or more reading levels with 24% progressing 3 or more levels. These assessments help Yspaniola educators develop curricula and programming informed by students' weaknesses and strengths.
WARNING: Javascript is currently disabled or is not available in your browser. GlobalGiving makes extensive use of Javascript and will not function properly with Javascript disabled.
Please enable Javascript
and refresh this page.