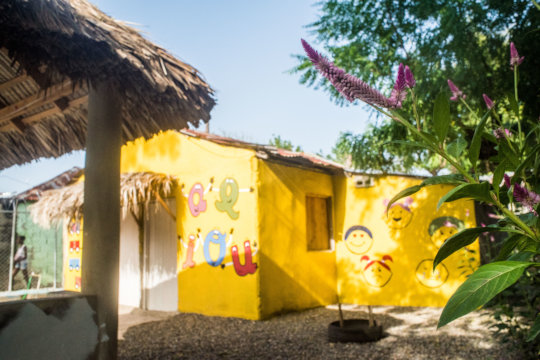 "Ciérrense los ojos." "Close your eyes."
And so begins the morning's lesson in Leidy's classroom. The children are seated along the perimeter of the rug, with their teacher in the center. Under a piece of cloth, she has hidden a bunch of animal toys. Some domestic, some wild, some found in the Dominican Republic, and others that the children have only seen in photos. One by one, she calls the students up and asks them to select an animal, keeping their eyes closed. She asks them to use their imagination, make a mental picture, and connect what they are feeling with what they know about animals. Does it feel like it has wings? A tail? Big or small ears? They feel the edges, and try to create a picture in their mind of what the animal looks like- can they guess which it is?
The kids are silent, enraptured and eager for their turns. Eager to see if their classmates can correctly identify the animal, through touch and imagination alone. After each animal is identified, Leidy and the children discuss where it lives, what it's environment is like, what it eats, whether it's the kind of animal that lives with a family or out in the wild. The lesson is a hit—the kids have fun, and are exposed to new vocabulary and the world beyond Batey Libertad. It's also the kind of teaching and learning you see in Leidy's classroom every day: kids are engaging their senses, exploring and discovering new things every step of the way.
***
Next month, Yspaniola will celebrate two full school years in our Preschool Program. What once began as an accompanying pilot to our main Learning Center program, the Preschool Program has grown immensely and now serves 56 children— and at the center of its evolution is Leidy's passion for education and vision for change. She is decidedly young at only 21 years old, but confidently manages her own classroom, with a poise beyond her years. She is small in stature, but has a commanding voice and a bold, confident vision for what education can look like for the children of Batey Libertad.
At the start of the year, Leidy transformed the design of the classroom, making it more of an inviting and colorful space, an environment that encourages learning, openness, and collaboration. Now, walking into the preschool classroom in Batey Libertad is like walking into a rainbow. Bright colors abound: sheer curtains in pink and lime green hang from the windows, playful animal rugs dot the carpet, and the floor is painted light blue. The walls are a soft cream color, making the instructional posters pop out and catch the eyes of the classroom's young students.
Leidy explained, "I want [my classroom] to be a cozy environment, where the kids feel at home even though here they are enjoying things that don't really exist in their own homes. I want them to have faith in their teacher, to feel united and like they can work together and share things. I want them to be able to explore, given that they have so little, and feel like the resources we have here are within their reach."
This focus on community and belonging is not limited merely to the classroom decor and learning activities—it extends to language as well. That's where her bilingual teaching assistants, Johnny and Yohana, provide critical support, providing Creole translation when necessary and being extra attentive to students who are in the earlier stages of Spanish language acquisition. Although Spanish is the official language of instruction in the classroom, as Leidy explained, "We don't have a language rule. We don't prohibit the use of Creole in the classroom." By validating their language and background, Leidy creates an inclusive environment where all children feel embraced.
***
Last year, Yspaniola supported the construction of a backyard park for the preschool classroom. It now serves many important functions for the program: a space to socialize and play, a place to enjoy their morning meal, and a place to exercise and dance, two things the kids do to facilitate gross motor development.
It's also the perfect place to share stories and build a sense of community in the process. Read alouds are a favorite among the children. In particular, they love listening to Leidy read aloud from the Adventures of Frog and Toad, a different chapter every week. Reading aloud in this way builds critical early literacy skills. For Leidy, the books serve a variety of important educational purposes--exposing students to the Spanish language and building up vocabulary, familiarizing them with elements of narrative, modeling fluent reading and critical engagement with the text, and also an entry point to discuss social emotional learning skills like friendship, problem solving etc.
Preschool is a formative period in a child's development. Particularly for young students that only speak Haitian Creole at home, or have arrived in the Dominican Republic more recently, early exposure to the Spanish language is of paramount importance. Their minds are more malleable, and they are more likely to reach fluency in a second language at this early age. With teachers like Leidy at the helm, Yspaniola's students will be better prepared when they enter the formal public school system—in both literacy and language.
Thank you, Leidy, for inspiring Yspaniola's students and staff alike!