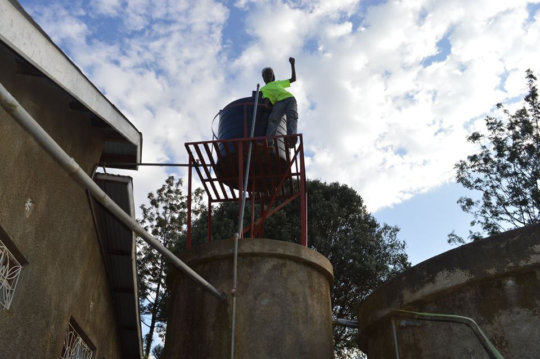 Water, fresh drinking water
Have you ever been without water? Without fresh drinking water? Have you been camping and carried your water, carefully distributed it and ended up running out before the journey ends? Packing it in you realize how heavy it is. Hiking out without adequate hydration, you realize how necessary it is. In Kenya very few have ready access to fresh drinking water. Many children walk a mile or more every morning before school to get water for the family. They carry it back home before running of to school. Occasionally they have to run back to the water source to get an additional jug of water to bring to school . Water is not wasted in this environment. Every drop is carefully measured. At JWHS, Expanding Opportunities' children's home, the reliance is on rain water to fill the cisterns. A well is possible but not cost effective. The water is about a mile or more into the earth and it is salty, hot springs, heavily fluoridated water.
Past years have provided enough rain water to fill the cisterns and allow us to give away some water to community members. More recently the rain has been insufficient to fill the tanks. Then an additional expense is added to the budget to purchase water delivered by tanker truck. As the purchased water goes down we find ourselves looking at the sky and wondering how long we can wait before we seek funds to purchase another truck of water.
This year as you water your flowers, brush your teeth and take a daily shower, lift up your heart in gratitude for the resource you have in abundance and I will gaze into the open sky at Kenya's abundant sea of stars and be grateful for life and a very large small world.
Links: