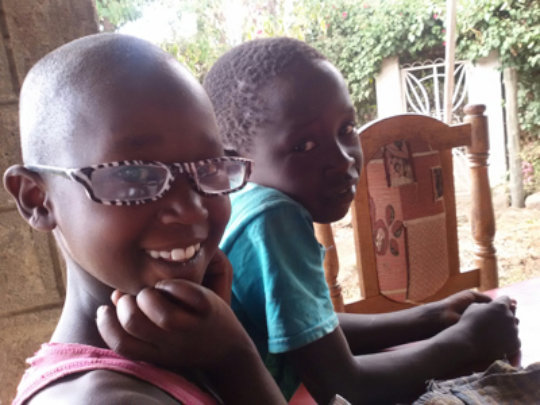 In Kenya at JWHS (the ExOp orphanage), our last few months have been dominated by the search for lost family members. Since we regard the family environment as, generally, the ideal place - albeit sometimes needing support - to raise children, we act on every viable tip we get that helps us reunite the orphans at JWHS with positive kin influences in their lives. If successful, we search for the best possible outcomes for the child in question depending on in-depth analysis of the resources and mindset of the located family members.
With regard to three of the children, Garrison, Daisy, and Kiptoo, we received promising tips about mother, brother, uncle, and sister sightings. News about Daisy and Kiptoo (the brother and sister pair who came to live with us just a few months ago) came first.
Daisy and Kiptoo's mom had disappeared for several months before a neighbor realized the children, no older than 8, had been fending for themselves for several months, living off butcher scraps and whatever else they could find to eat. When Daisy got sick, Kiptoo was forced to reveal their situation, and child services brought them to our place at JWHS.
As Bev, ExOp's Director, writes, "They had some difficulty adjusting. Neither of them had ever been to school so they entered nursery. They are quite bright and performed very well. Now they have settled in and daily hugs are in order. One day as Daisy was working so hard at communicating, she talked about her mother, and sister, and aunt. She mentioned her dad's death and some of the difficulties in her home. She talked about having no food and no one coming to see them and care for them. And she described her mother.
"About three weeks later we got a tip that her mother was in a town about 1.5 hours away. The person who gave the tip showed us the house but the woman was not there. Trooping around the town for an hour or more finally brought another tip. The woman who was escorted out of the bar to the car was very tipsy. As she approached the car the children said, "this is not our mother." The woman still claimed to be their mother but we did not believe her. She did not even know their names.
"We are glad we followed this lead. Maybe the next lead will be the right one."
With Garrison's search, we were luckier. Chege, JWHS Manager, tells his story:
"When Garrison came to us the story was that his sister lost him when they traveled to Nakuru to visit his grandmother. He was found by police on the streets and was brought to us. [Later] Garrison told me the school he was in in Nairobi. I took him to that school and asked him if he would know his home from the school gate. He tried though the place had changed because of new buildings. Finally we got there and found his elder brother who was soo happy because he had been coming to Nakuru to look for Garrison on the street without success. It came out that after his mom died Garrison suffered mistreatment from the woman his father remarried. He decided enough is enough and ran away from home. His brother has promised to come to Nakuru - He is raising Garisson's younger sister and would love that they grow up together."
Beverly adds, "[This is] why we try so hard... Many times we fail but occasionally... Garrison has an older brother. This man, suffering that nightmare we hope to never have - a missing loved one - had been searching for Garrison. He has spent all his money searching. He had slept hungry on the streets searching. Joyous reunion... now we have family to help decide the best for Garrison."
Many conversations and visits will occur before we decide what is best for Garrison, but meanwhile, he has his family back. The resources we mobilize in search of and support for connecting families with abandoned or otherwise orphaned children like Daisy, Kiptoo, and Garrison are not part of the basic needs we request in support of JWHS children's day-to-day. If you would like to help JWHS children search for and connect with lost family members, please consider a special donation this season.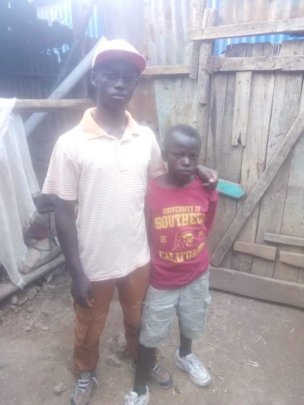 Links: