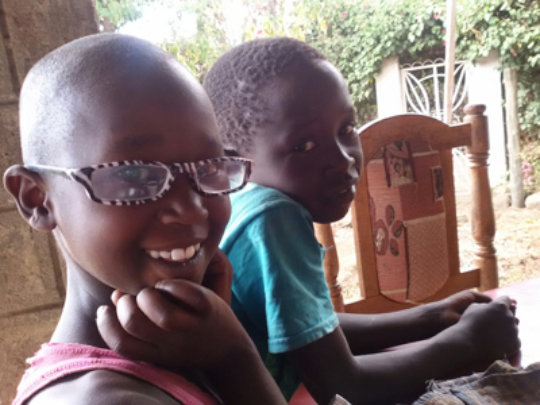 JWHS, our children's home in Mangu Menengai West, Kenya, is growing again. In November the Chidlren's Department brought us two additional boys who were housed in the Jail for lack of space elsewhere. They were to stay with us until December 31st, but they are still with us. We placed them in school and assume they will be staying with us.
Two days ago the police brought an additional two children! Kiptoo and his sister, Daisy. Kiptoo is 7 years old and Daisy is 6. Or at least that is what they think. Neither one has ever been to school. The father has been absent most of their lives. Mother and children recently moved to this county. Mom left the two children in the care of a neighbor and has not returned. Kiptoo was tending the neighbor's cows and Daisy was babysitting a 2-year-old.
When the mother didn't return the neighbor contacted the police. After a short investigation, the police collected the children and brought them to us. Kiptoo is a bit shy but we are sure he will warm up. He loves climbing trees. Daisy is sweet and quiet but not shy. She is very helpful. When I get my coffee, she wipes up the spill before I am even aware it is there. She clears my dishes and wipes the table. She smiles all the time and wants to go to school.
Today they were taken to school for their entrance interview. They will be placed in Nursery as they cannot write their name which is required for class one. The school will allow them to come without a uniform while we seek sponsors.
JWHS was happy we had space to accept these children and hope to give them a loving environment while the officials seek their mother.
Thanks to donors that provide general funds donations we are able to feed and house the children. Thanks to sponsors we can be assured that their needs will be met for the longer term.
Thank you.
P.S. The glasses are my reading glasses. Always the source of fun and giggles with the kids.
Links: