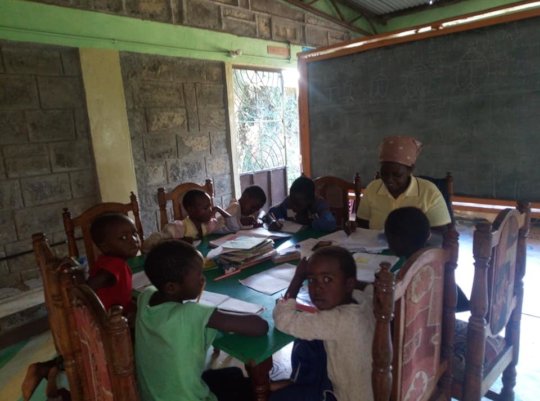 First of all, I want to thank all you generous souls who have reached out to find out how we are, have checked in, donated, or shared your stories. We feel incredibly lucky to have you on our side during these crazy times.
The locusts are devouring crops and we have been on lockdown at JWHS since March, but the good news is that the government has relaxed its restrictions on who can be an educator during this time, so Bev and Chege and Alice have been working hard to become teachers as well as caretakers and managers. The children have resumed their studies in full.
While family searches are necessarily on hold as a result of the lockdown, we have been attending in new ways to our residents' past trauma. Once a week, a counselor comes to do group work with the kids, helps provide them the tools they need to face their pasts, and also provides us the tools to better serve their needs. We are also able to check in with our recently reintegrated children via phone.
Another program innovation we have implemented during coronavirus, we have instituted a more rigorous process for designing and tailoring our programs to child needs. We created child development teams that meet on a monthly basis to talk over each child's skills, aptitudes, needs, and future prospects. These conversations allow us to make sure we are attending meaningfully to the growth and development of JWHS children.
The virus has put a lot of pressure on our staff and food resources, so we again thank those of you have contributed even while you are dealing with your own traumas, challenges, and grief. We are touched beyond words, and we humbly ask for your continued support as we look for sponsorship for about half of our 10 residents. Please consider sharing our need with those you know who may be touched by our programming and our message.
Meanwhile, be well, stay safe, and hold our gratitude in your hearts!
Links: