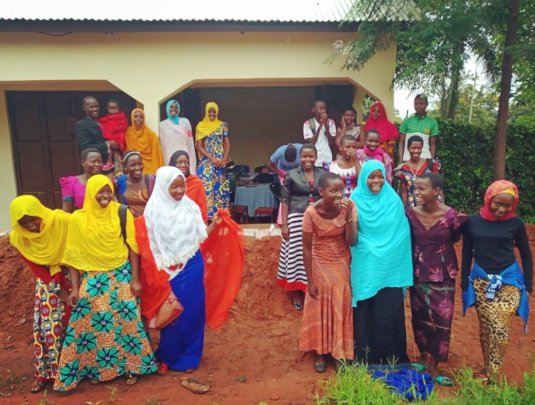 Happy Holidays Girls Ed Supporters,
We hope this holiday season finds you surrounded by loved ones and much joy!
STUDY CAMP
It is December and so -- we are launching yet another academic study camp for our secondary students. We are thrilled to have all of our students come together again -- "home" in Kigoma from their respective secondary schools. Together they will board on site at Kichangachui School, reconnecting and strengthening the already tight bonds they have with one another and their camp teachers. Each day they will study on a rigorous timetable, while also having the opportunity to eat well, take time for personal reflection, and serve as mentors to one another.
Some of our Form 3 students, who will be at camp this month, are "brilliant students" as Lucas and Madaga put it. They reported that Zuwena from Mkongoro Secondary School and both Ashura and Leokardia from Bitale Secondary School have ranked top five in their class – including boys and girls! We look forward to seeing how they do in their final Form 4 year, which begins in January. They will strive toward excellence on their national exams next fall to secure spots in high school, and perhaps one day university!
FORM FOUR STUDENT JOURNEYS
Two weeks ago, several of our recent Form 4 graduates came to the Project Wezesha office to share their experiences on the November national examinations. They were giddy about the fact that so much of the test felt familiar, thanks to the intensive test prep and content instruction they received during our June camp. We will find out in the coming weeks how they all performed, which will determine their next steps. High flyers will receive the opportunity from the government to attend high school, while others will be able to choose career paths through vocational centers or certificate programs. Whatever their path, Girls Ed will be there to support them.
Among the feedback we have received from students, we'd like to share these thoughts from our student Remence. She is a young woman with no parents, who lives with her grandmother. She just completed her Form 4 exams at Mungonya Secondary School.
"I never had an idea of studying in secondary school because my grandmother being poor, all what she could was only to raise me in a very poor kind of life. But now, Thanks GOD, I have finished my form four exams and hope to join high school and finally attend University. All this has been possible due to the support Girls Ed provides to me. Long live GEI supporters. I will use the acquired skills in bringing changes to my society"
CERTIFICATE PROGRAM STUDENTS
The girls we currently support in certificate programs are doing really well and enjoying their post-secondary studies. They express their gratitude for the support they get from Girls Ed and Project Wezesha. They are currently sitting their annual exams and we have wished them well! They will be coming to Kigoma to visit when I head over there in 2 weeks time! I can't wait to see them and share their stories (and exam results) with you.
TEACHER FEEDBACK
We also receive great praise from parents and teachers of our students. They are all very interested and invested in our work, hoping that we will continue. One of the teachers from Mkongoro Secondary school, Mr. Egide, who is also the senior academic master at that school, commented positively towards our students:
"Our students who are sponsored by Project Wezesha do not have bad groups. They also inspire other girls to develop the culture of studying."
OUR GRATITUDE FOR YOUR CONTINUED SUPPORT
As always, we are grateful to you for all that you have done to support our work. In this holiday season, please continue your journey with us by giving the Gift of Education to a student today. As more and more of them excel and move into post-secondary studies, we need all the help we can get!
Through GlobalGiving, you can donate in honor of a loved one for the holidays and send them a paper or e-card. You can launch your own fundraiser for Girls Ed – who doesn't love a holiday party that empowers girls! Please also consider becoming a sustaining donor; when you set up a recurring contribution of $10, $15, $20 (or more!) per month, you will have a huge impact on the work we do. Of course, you can also simply share our stories and encourage friends and family to learn more about what we do through Facebook and on our website.
Asante sana!
Thank you very much!
Sincerely,
Rai Farrelly
& The Girls Ed Team