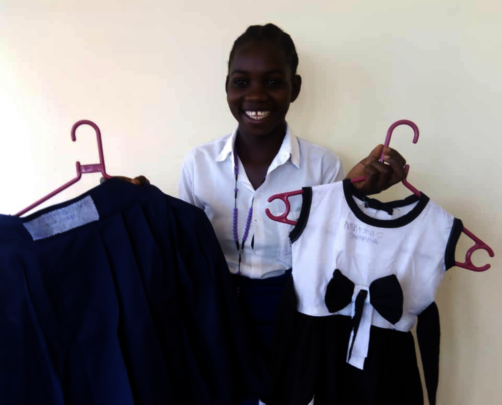 Dear Girls Ed Supporters,
Last week, we were honored to be part of GlobalGiving's International Women's Week campaign. We always love to celebrate International Women's Day and our partnership with GlobalGiving ensures we can run a successful campaign so we can continue to fund our programs.
We are so grateful to everyone who donated. Your contributions up to $50 were matched at 50%. We have reached our fundraising goal for 2021 – a goal of $15,000 which will cover the fees associated with the education of all girls in our program, at their various levels. But as you can apprecitate, it's already time to start working to meet our 2022 budget in preparation for the continued success of the girls in our program.
From our original cohort of 35 girls, we are currently supporting 26. Nine have recently completed their post-secondary education. Six have jobs – working as teachers with young learners! Sada and Sesilia are looking for teaching jobs, and Safi chose to focus on marriage and family for now. Last year was difficult for all of these young women due to Covid-19 and school closures, but thankfully, most of them were able to return to their gainful employment.
We have so many updates to share, but we don't want to overwhelm you in one update, so be sure to follow us on Instagram (@girls_education_international) and Facebook so that you can see more updates as we share them in the coming weeks.
For now, please enjoy the following reports from our partner Lucas at Project Wezesha.
Edasta
Edasta is a student from Mgaraganza village. She studied at Muyovozi High School in Kigoma town. She is the first student from Girls Ed Tanzania to join university. She is studying at the University of Iringa with the support of one of our generous donors who covers Edasta's tuition. She is in a 3-year program pursuing a degree in Procurement.
Edasta shared an idea she has for impacting change in her community. She would like to organize a day to meet with as many girls as possible from the villages. She would like to serve as a beacon of hope – a village girl living her dream at the university. She wants to encourage and motivate more girls from the village to believe that it is possible to reach big goals, like higher education!
Hawa
Hawa is a student from Simbo village. She studied at Luiche Secondary School in Kigoma. She successfully joined Tanzania Public Services College in Tabora where she is pursuing a diploma in Record Management through a 3-year program. In her first term, she did very well in her studies.
Hawa says that when she finishes, she knows she will find a good job. With her own salary, Hawa says, "I will help my parents with part of my salary. I will donate a small part to Girls Education International so they can help others. The remainder, I will use for myself." We love that many of our students see giving back to Girls Ed as part of their future plans. We believe a strong path forward for girls' education in Tanzania is forged when young Tanzanians themselves are investing!
Adija
Adija is from Kagongo village. She completed her studies at Kagongo Secondary School and joined us for several academic study camps. Adija completed a 2-year program at Musoma Utalii College Tabora in pharmaceutical studies. She now works in a pharmacy, white coat and all! She enjoys her job and loves making money, but she has plans to pursue further studies in her field after she has some professional experience.
Melania
Melania is from Mgaraganza village. She currently studies at Nyamidaho College in the Kasulu District. She is pursuing a certificate in Design Sewing and Clothing Technology. On his visit to the college recently, Lucas spoke with the teachers and principal who interact with our students at Nyamidaho. They all had much praise for Melania, saying she is doing excellent in most of her classes, but needs to "increase effort" in Engineering Science and Mathematics. Melania is charming and loves to talk, so she has easily made friends among her classmates and teachers. One of her teachers shared that she likes to ask questions and is quick to grasp concepts in her class. Another teacher noted that she has the potential to one day become an instructor in the program. What an acknowledgment!
-------------
There are many other students to report on and we will! We have updates on others at Nyamidaho College who are learning to become tailors, electricians, and administrative assistants. We also have reports on students' mock national exams in Form 6 (high school). These mock exams serve as an indicator of success on the actual exams taking place this summer. Our prediction -- we're about to send a cohort of girls to university!
It has been a long difficult year with the pandemic. Many of our current students had their education interrupted due to the Corona virus. Some former students temporarily lost their jobs, while others are still seeking employment. However, this report offers a glimpse into the light we see shining as a result of our collaboration – and "our" incudes you, of course!
Thank you for your ongoing support of these young women in Tanzania. They gladly share their success with you and extend their warmest gratitude for all you've done to help them reach their goals! Let's not stop now.
Please share this report with your networks. Let your friends and family know why this matters to you and invite them to join us. Together we are changing the world – one educated girl at a time. If you'd like to make another donation, click 'Give Now' below.
Thank you! Asante sana!
Sincerely,
The Girls Ed Team