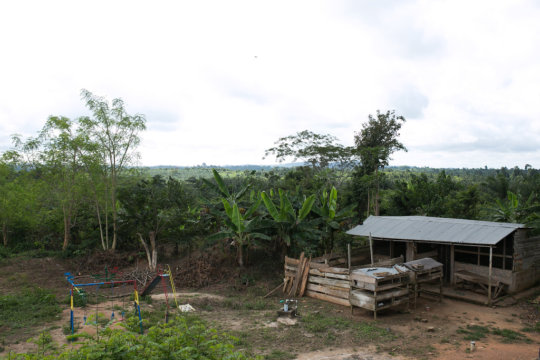 'This project report is a submission to GlobalGiving's 2017 Fail Forward Contest, where organizations are asked to share a story of when they tried something new that didn't go as planned and how they learned from it. Enjoy!
In late 2014, after working with the community to assess what the greatest needs were to address child trafficking we came to conclusion that local infrastructure to support women's livelihoods was a priority.
We came up with a two phase plan. As a part of Phase 1, we built a 58-oven community smokehouse for women to smoke their fish. The main complaints that this would address would be improving the quality of the smokeovens available to the local women and creating a safe space for them to work.
The community smokehouse was a smashing success and on the first day, we had barely enough space for all of the women who wanted to use the space. It has since become a well used site by the women in the community and new smoke-reducing innovations are being implemented right now.
Phase 2 of the project was building a local, wholesale cold store. This would allow the women to buy fish locally when the fishermen's catches were small, rather than travelling all day to the port and back. We had previous success with construction projects and created a plan based on our experiences.
However, this construction project had many more bumps in the road than we anticipated. Some issues arose from the land owners and misunderstandings about the project. We ended up with enormous customs fees for the imported refrigeration units. And we wildly underestimated the costs of the electricity needed to start up.
We are still learning lessons from the cold store project, but we're grateful for the chance to apply what we've learned to our latest construction project: expanding the Challenging Heights Hovde House.
Having run into complications with the land use previously, we made sure to purchase more property that surrounds the rehabilitation shelter. By owning the land ourselves, we are able to avoid these conflicts of interest when it comes to construction.
As we compile our list of necessary materials and labour, we're opting for local supply as much as possible. This will allow us to avoid any sort of customs fees and stimulate the local economy.
Finally, we have calculated a better contingency amount into our budget. This will better allow us to account for any unforseen expenses that may arise.
As we begin to move forward with starting Phase 1 of the construction (a block of classrooms and dedicated library), at the Challenging Heights Hovde House, we feel much more confident in the success of the project having learned from our past struggles.
Also, just as a reminder, #GivingTuesday is just one month away! Mark your calendars for 28 November, and plan to give on that day. We have some exciting things planned to help make your donation go just a bit further.
In the meantime, why don't you sign up for our email list? Sign up here to keep in touch!
Links: