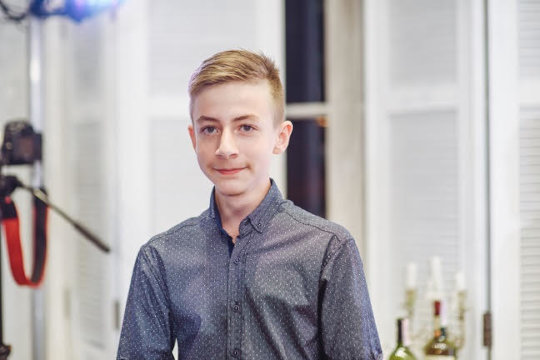 One of our latest support recipients is Rodion, a 14-year old from Odessa, Ukraine. In January 2018 he began feeling unwell – and his family was shocked when he was diagnosed with acute lymphoblastic leukemia. At first, he was treated at the local Children's Clinical Hospital, but without success as he did not achieve complete remission. Rodion's diagnosis was then graded as High-Risk disease. Due to poor level of oncology in Ukraine, Rodion's family decided to continue treatment abroad in a Center for Pediatric Oncology, Hematology and Immunology in Belarus and pay for it out of their own means. The treatment in the Center had lasted for 8 months (from February to October 2018) and finally Rodion was discharged in complete remission to continue maintenance therapy at home.
On December 19, 2018, just two months later, the disease relapsed. Due to very early relapse Rodion has a chance to survive through transplantation of donor's bone marrow only. However, to proceed with transplantation, he has to achieve complete remission again, and the family brought Rodion back to Belarus for chemotherapy. Unfortunately, high-dose chemotherapy was not effective due to acquired resistance to treatment. In this situation, a very expensive new immunotherapy drug, blinatumomab (Blincyto) was recommended as only remaining way to reach remission. This type of immunotherapy was unavailable in Belarus.
The family urgently transferred Rodion to Medipol Mega Hospital in Istambul, Turkey, as it was the nearest place where the therapy was available and it had no entry visa requirements. The treatment cost was taken into consideration as well. The Medipol Mega Hospital billed Rodion's family $130,000 for 2 courses of Blincito immunotherapy. The first course of immunotherapy was completed in February – March 2019. Rodion did not tolerate it well and had many negative side effects which resulted an additional rehabilitation period in the hospital that increased treatment cost. But more important was improvement observed after first course of immunotherapy and that filled Rodion's family with faith and hope. Second course of immunotherapy started in April. However, by then Rodion's family already spent all their savings as well as financial support from their relatives and friends. Currently, their financial resources are completely exhausted and they are seeking help to ensure Rodion can complete his treatment.
We are very grateful to you for your support of kids like Rodion and their families struggling to do everything possible to save them. Thank you for your kindness and care!
Ali is an 8-year old from Chechnya. Already he spent half of his life fighting for his life. He was diagnosed with B-cell lymphoma in 2015 and spent two years in treatment. Just a month after his family thought he was cancer-free, Ali had a relapse. In June 2018 he underwent stem cell transplant from his older brother, but his remission lasted only 3 months. The doctors in Moscow then attempted a cutting-edge procedure: therapy with CAR T-cells, which appeared successful at first, but in only three months Ali's cancer returned. At that point, Ali's family was told that no further options were available for him in Russia.
However, there are clinical trials and newer medications available in developed countries around the world. In Israel, therapy with an experimental drug, inotuzumab, was available, and Ali's family flew there to take one last chance to bring Ali into remission. And it worked! Ali had one injection of the drug and already all of cancer in his blood went away. After another injection and additional testing, Ali would have to proceed to a second stem cell transplant to strengthen his remission.
Ali is a happy, active kid who misses his family, siblings and friends dearly and cannot wait to go home. At the same time, he understands how important it is for him to finish treatment however difficult and painful it may be. Your support for kids like Ali is invaluable and we greatly appreciate your help! Our grant of $1,000 will go to help Ali's family with their travel and living expenses in Israel and will help alleviate the financial burden of cancer.
Thanks again for your support and have a great summer!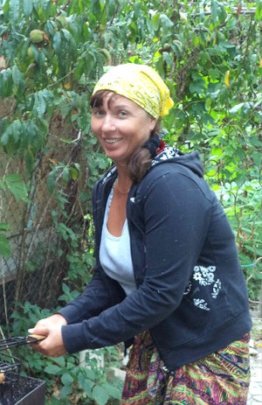 Our latest support recipient is Elena, a widow from Volgograd. She was initially diagnosed with acute myelomonoblastic leukemia in 2011. Her son Pavel was 7 years old then, and he spent a year living with his 77-year old grandmother while his mom was hospitalized. Eventually, Elena recovered and returned home. Things went back to normal: Elena worked as a pharmacist, while her son was doing well in school. Every summer they went to vacation at Black sea resorts.
Unexpectedly, in April 2018 Elena had a relapse of her disease. She had to start chemotherapy again, and this time she also needed bone marrow transplant from a donor. There were no matching donors in Russian registries, but potential donors were found abroad. The cost of the search is 18,000 euros, plus additional charges to deliver transplant by courier. This is Elena's only chance to beat her disease and see her son grow up. Pavel is currently 14, and he cannot imagine his world without his mom. His grandmother is very old and frail now, and she no longer leaves her house.
Thanks to your help, we were able to pay off Elena's debt to the donor registry in Germany. Three weeks ago she underwent stem cell transplant from an unrelated donor and she is now recovering. She feels rather well overall, but is not yet allowed to get up due to a blood clot that formed in her vein and requires therapy with blood thinners. Thanks again for supporting patients like Elena who have few people to turn to for help. We are wishing her the speediest recovery!
WARNING: Javascript is currently disabled or is not available in your browser. GlobalGiving makes extensive use of Javascript and will not function properly with Javascript disabled.
Please enable Javascript
and refresh this page.