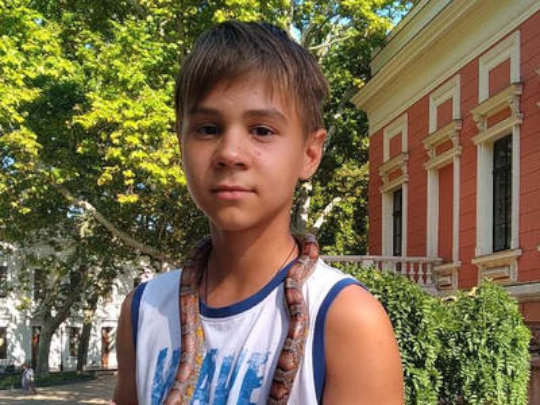 Happy Giving Tuesday! Thank you for joining us today in celebrating the day of giving, sharing and remembering. As you know, our work centers around supporting cancer patients from the former Soviet Union. Unfortunately, countries in that region are significantly behind developed countries in the quality of cancer care. This gap is even more pronounced in pediatric cancer. For example, procedures like bone marrow transplants are still not available to children with cancer in Ukraine. New and more effective medications take many years before making their way to the countries in the region.
Ivan's case is typical for child diagnosed with cancer in Ukraine. His fight for his life began 9 years ago, when he was only 4. On September 2, 2010 to his parents' utter shock he was diagnosed with acute leukemia. Ivan was treated at the local hospital in Nikolaev, Ukraine and the treatment went well. Once he completed it, Ivan went back to preschool and then entered elementary. Suddenly, when he was 8, Ivan collapsed with partial paralysis and loss of consciousness. The testing revealed recurrence of acute leukemia, and this time only bone marrow transplant could give Ivan hope for recovery. As it was not available to Ivan in Ukraine, in July 2015 his family took him to Bambino Gesu hospital in Rome, Italy. In November of that year Ivan received donor's bone marrow transplant. Again, Ivan was able to return to normal life – school and hobbies, math and kickboxing. His family hoped the worst was behind them. Unfortunately, four years later, in September 2019, Ivan started feeling unwell during practice. As it turned out, he had a second relapse. His family was shuttered by the news, but they came together and decided to return to Italy for treatment, as the local doctors had no experience treating patients post bone marrow relapse. Currently, Ivan is receiving immunotherapy and he is responding well. Ivan's parents are unable to work as they are taking care of Ivan in Italy. They need our support to ensure Ivan is able to finish his treatment.
Thanks to your kindness, we were able to grant Ivan's family with 1,000 euros to pay for the costs of living and lodging. If you would like to support other patients like Ivan, please donate to our project today! Your donation will be able to receive additional matching from GlobalGiving and help us earn bonus funds!
Thanks again for your generosity and support of our efforts!
Medication needs of cancer patients are very broad. Not only do they include chemotherapy medications, but also medicine to treat side effects, to prevent complications, to increase blood counts, and many others. Among them, are antiviral drugs.
Cancer patients recovering from toxicities associated with chemotherapy and other treatments are often vulnerable to infections, and suffer more severe illness as a result of infection. Antiviral drugs, just like antibiotics and antifungals, are essential for protection of cancer patients during their lengthy treatment process. Most recently, we have used your donations to purchase medications to support cancer patients needing intensive care.
Foscavir is a medication that treats viral infections - usually herpes viruses, such as herpes simplex and drug-resistant CMV. Often, it's the last resort drug used in intensive care units. Although it has been available since 1990s, it is not registered in Russia. For that reason, the hospitals are unable to acquire it and have to ask charities for help with making it available for gravely sick patients. The medication has to be on hand, because once the infection spirals out of control, it is a matter of days, and sometimes hours, before it becomes lethal.
Thanks to your support, we were able to pay $2,700 towards the costs of acquiring Foscavir for hospitals in St. Petersburg in August, and we anticipate another bill soon. Thank you so much for helping us support cancer patients with this vital medication and save lives!
Happy upcoming holiday season to you! Stay warm!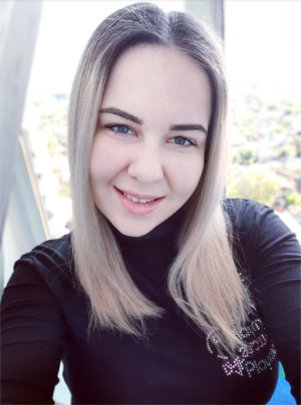 It's hard to believe, but we are already in October, and before we know it, the holiday season will be here! As temperatures cool, we are starting to take preliminary account of our results this year. We are happy to report that in 2019, our program to help leukemia patients afford bone marrow donor searches has seen an increase in donations, with almost $75,000 spent to date to support 13 patients.
We are proud of your trust in us and dedication to our cause! Bone marrow transplants are the only chance for cure for many leukemia patients. Your support makes it possible and literally makes life or death difference for the patients. Thank you so much!
Our latest support recipient is a 23-year old Violetta from a village in Rostov region. After she graduated from college, Violetta moved to a city, Rostov-on-Don, and studied to become an accountant. Only two years into her career, Violetta became ill - she started having persistent nosebleeds and stomachaches, and became fatigued. The tests showed Violetta had blood abnormalities and an enlarged spleen, and she was diagnosed with chronic myeloid leukemia. Although many patients like her are able to stay on oral medication for many years, Violetta developed complications and severe side effects to standard therapy. In June she was moved to a third-line drug, but it was uncertain how long she would be able to tolerate the treatment. For this reason, she was referred for bone marrow transplantation that could be curative in her case. On October 1st Violetta underwent transplantation from an unrelated donor that was found in Germany. She is now recovering and feeling relatively well overall.
Thanks again for supporting Violetta and patients like her! Wishing you a happy and bountiful fall season!
WARNING: Javascript is currently disabled or is not available in your browser. GlobalGiving makes extensive use of Javascript and will not function properly with Javascript disabled.
Please enable Javascript
and refresh this page.