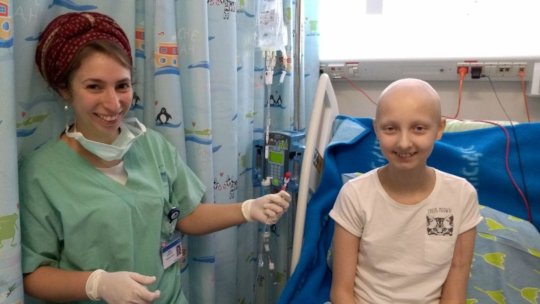 In the flurry of holiday season activities, it's a challenge to find time for strangers who need help. But it is also the time that people in need crave the return to normalcy the most. Cancer patients going through treatment hope to complete it as soon as possible and find a reason to celebrate. Unfortunately, often times the lack of money gets in the way. This is why this project supports patients traveling abroad to access modern treatment and helps alleviate financial burden of cancer.
Consider Kate's story. She had recently turned 14. She comes from Sakhalin Island, in the Far East of Russia. In 2017, Kate had two vaccinations against papillomavirus. In October 2017, a month later after the second vaccination, she developed a painful swelling in the injection area, which had cleared by itself a few weeks later. The symptoms were mistaken for a side effect of the vaccine. However, the swelling reappeared in January 2018 accompanied by a burning pain.
The examination in Sakhalin clinics revealed a malignant tumor in Kate's left upper arm. The initial diagnosis also stated a possibility for arm amputation. After consulting doctors in Russia and Japan, Kate's parents have decided to take their daughter to Israel. In February 2018, they arrived in Tel Aviv. There Kate has gone through a complete examination and received a final diagnosis – Ewing's sarcoma of the left humerus.
Since March 2018, Kate has gone through all of the required chemotherapy, as well as complex surgery of the affected bone and replacement with an implant. It all went pretty well and Kate and her parents hope to finish the final evaluation and the last minor surgery by the end of the year and complete the treatment. Hopefully, they will soon be able to travel home and rejoin the rest of their family. Kate's parents are both retired and have used all of their life savings to support their daughter's treatment. They are very grateful for help with their travel expenses.
Would you like to help more patients like Kate? Now is a great time to sign up for recurring donations and earn 100% bonus from Global Giving on your donation. Until December 31, every monthly donation of up to $200 that is made for at least 4 months, will receive a match. We hope to enjoy your continuing support and help more families during 2019!
Happy holiday season to you and have a happiest New Year!