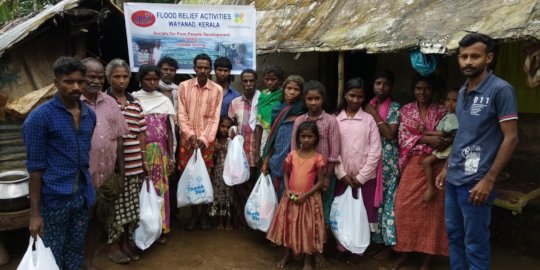 In continuation of work, we are distributing relief packages among tribal community, those who are living in Venniyod (village), Kottathara (Panchayat), Vythiri (Thaluk) , Wayanad, Kerala.
Our Present scenario, 80% of our relief activities takes place among tribal which support and help them to survive in this critical condition .We provide the following items to each family, such as Provision (Rice 10 , Provision (Rice 10kg, 2kg sugar, 1kg dhal) Cleaning materials (Brooms, Mops, buckets & mugs, floor cleanser, phenyl) Toiletries (bathing and washing soaps, towels, tooth brush and paste, buckets, mugs, hair oil, powder, etc) Basic utensils - Plates, tumblers, cooking pot, ladles, covers, basin, etc..
At present 18 tribal families received very essential items like provision and household materials.
Thank you for your continues support ..