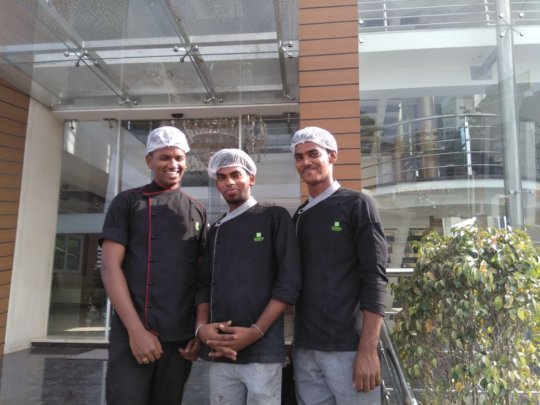 SPPD doing many impacts in giving education to the poor students.
The SPPD approaches the students who are not able to continue their studies after completing grade 10th & 12th due to poor family back ground poverty due to laps in education, un educated parent, addict to alcohol etc..
The aim of SPPD is to help those poor rural youth by giving training in skill oriented works and education by breaking all the obstacles such as mid day meal, travelling expenses, uniforms, inner wears, note books and other study materials.
SPPD made it happen by the support of the generous support of Global Giving. Many thanks for the generous donors.
Susses story of beneficiary
Mr.Vadivel who belongs a poor family in Kothurpatti village of Trichy district, India. He lost his father in a road accident at the age of 8. His family felt in to the depth of real poverty and they lost all supports.
After the incident all the responsibilities such as taking care of his younger sister studies, running his family, taking care of his younger brother were given to him.
His mother was earned her living by selling flowers. But her income was not sufficient to run the entire family. They felt very difficult in having food even twice a day.
It makes Mr.Vadivel to discontinue his studies after 10th standard; he started to help his mother in earning by doing some unskilled job like agriculture cooli, assisting construction works. After gathering about the boy's family situation SPPD gave counselling for him and made him to enrol in the skill training program. He joined and completed craft course in food production with the help of Global giving.
He performed well during his training. The institution helped him in breaking the obstacles such as mid day meal, travelling expenses, uniforms, study materials and he feels very easy to continue his course without any barriers. He went for six months industrial exposure training with Bison Woods resort Yearcaud with our support.
After completing his course successfully he got selected in campus interview and now he is working in a reputed star hotel inYercaud and earning Rs. 12,000/- for a month.
Now he is helping in brother and younger sister studies and he can able to take care of his family peacefully. SPPD team spoke to him, he proudy said that all the credit of his happy life is belongs to SPPD and Global Giving.
Continuing with the education is a big challenge for rural youth. Many youth fall under the unorganized sector, embedded with drawbacks like no social security, bonded labour, sexual harassment, etc.
The current academic year support where extended to 130 rural youth under courses in Hospitality. Thanks to so many of you who have helped us in achieving our mission – making a significant impact on poor, less educated youth by upgrading their skills for income generation which will lead them to a better living and self esteem.