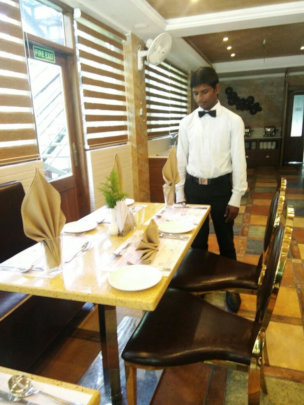 The students from our skilled traning programme are in work placements for past 3 months which they were fortunate enough to had experienced firsthand and learned many things from the star category hotels in different places.
Case studies
Name: Mr Jeevakar
Fathers name: Kandha samy(late)
Mothers nam: K.Kamalam (Late)
Brothers name: K.Vinoth.
About Jeevakar -:
Jeevakar was born in sittilarai village near thuraiyur district on 03/06/1999. When he was at the age of 3 he lost his father in a road accident. After that his mother took care of him and his brother, she suffered a lot in surviving. She managed the growth of their children by doing agriculture in a small farm which they own by themselves in a nearby village. At the age of six jeevakar lost his mother too, since she had suffered under severe health issues.
After losing the parents they were taken by their grandmother, his grandmother was a cook who work under daily wages of 150/- per day. By using the daily wages, she helped the growth of the children who doesn't have any support after losing their parents.
Jeevakar did his schooling upto 5th Std in a good school in sittilarai village. He continued the studies up to 12th std in a government school in thuraiyur his grandmother suffered a lot in spending for his education. But the will power of his grandmother and the full effort made by him helps him to beat the poverty and he completed his 12 std successfully. His grandmother had got a loan from a private sector and she utilized that loan for his brother's education also.
After completing 12th std Jeeva decided to discontinue his studies due to his poverty, but after getting councelling from a tutor of SPPD (Society of poor people development).
He decided to continue his higher studies. Our team from skilled training programme went to that village to give awareness about the hotel management to the students. By seeing him they told the benefits, facilities and features of the hotel management course to Jeevakar. By hearing all about wisdom academy he decide to start his course at skilled training center.
The benefits made him to become hotelier-:
Nowadays the students from poor family background are dropping the dream of higher studies because of the term fees, afternoon lunch, travelling expenses and uniform fees etc, even though they are struggling for their basic needs. In order to defend those barriers for the students from below poverty line, skilled training programme offer them so much of benefits, in which the part of the amount can be paid as a term fees initially where the rest can be paid at the training period by the stipend amount which he will get it from the hotel. College also provides free meals, travelling expenses, uniforms and books.
By getting these benefits jeevakar started his carrier in skilled training center, he performed well and he went for his industrial exposure training for six months to a leading star hotel in kerala.he earned a stipend of Rs. 6000 per month which he utilized that money for his brother's education. He completed his first year of education and training successfully and now by earning in his second internship training he is fulfilling his all basic needs by himself.
Jeevakar from his own words-:
After completing my 12th std I don't think it's possible to continue my higher studies. In that situation, I found skilled training programme is a boon that was given to me by god. It helps me a lot in different ways to become a successful man in this competitive world. All my dreams came true because of SPPD.
Thanks to SPPD.
Name : C. Murugesan
Age : 18
D.O.B : 10/07/1999
Father's Name : N. Sinnayan
Mother's Name: S.Shanthi
Younger Sister : S. Vanitha
Address: 4/11, Jammunathapuram (p.o),
Musiri Tk, Trichy Dist.
Self contact number: 906100860.
Case study
Murugesan was born in Kothurpatti village near thurayur tk, trichy dist. His father is a farmer owned some land in thqat village and running/surviving his life by farming. His mother is a house wife., she support her husband in agricultural activities. He had one younger sister and she had completed has 10th standard after that due to the poor family situation. She discontinued her studies and working as a tailor be4ing at a home itself.
Murugesan was advised to continue his studies by his father even he was suffering in a poor survival. They feel very difficult in to facing the three times meal per day. But he put his all effort in making Murugesan good in education. He continued his high school education in a Gove school in Thiruthalayur village.
He got promo9ted in his tenth std and continued his Higher Secondary education in a Govt school in Kannanur, Thuraiyur tk, Trichy Dt. At last with his father's effort in his own interest he completed his 12th std successfully.
But his family situation didn't allow him to continue forth, But he is very interested in doing his college stuidies. On hearing about Skilled training programme by the courses conducted by SPPD through his friends Murugesan decided to join in skilled training center to do Hotel Management Course.
He approached the college with his father and he collected the detail about the course of the college. Since the benefit offered by the college to the students those who are suffering from poverty help- him to start his carrier as a hotelier. The important benefits which helped Murugesan was
1) The term fees – which can be paid during IET (Industrial Exposure Training)
2) Free lunch
3) Free travelling allowance and uniform..
He joined in a SPPD family as B .Sc Hotel Management student he studied well and he went for his first training in Cake Waves bakery (Chennai). He earned well which is used for paying his term fees and also he utilized that money in his daily expenses.
After completing his IET he came back to the college to write the first year exams. He performed well and he started his second year in
B.Sc. His confident of the will power made him to stand the second raining in T.Dew Resort(Kerala) as he completed the training efficiently. He used the money he earned in training for him sister's higher education.
Mr. Murugesan in his ward feel proud to say that wisdom Academy Plays a important
role in my life of it has change any life style.
STUDENT NAME : C.RAMESH
D.O.B : 08/06/1999
FATHER NAME : P.chandrasekar
Occypastation : auto driver
Salary : Rs.6000
Age : 38
Address : 3/193,poongodi
Ramji nagar(via)
Paganur(p,o)
Srirangam(t,k)
Trichy-620009
Mother name : C.Pandi selvi
Occupation : Are tailor of childrens in orpharage
Salary : Rs.3000
Brother (younger) : Dheenadhayalan
Propertiy : The few scheme flam government
: Cycle
: A small house
: TVs champ bike
Student's Family situation
He used to complete his higher education in a government higher secondary school in his native place .once he was studying he used to reach school with his father in a bicycle .after dropping him in the school while returning back his father met with on small accident which made him to get major fracture in his legs and he got admitted in hospital undergone a major surgery in his right leg .now his father is working as a driver in a load vehicle .the earning as a driver is not sufficient for him to run his family. The whole family suffered for finding three time meals every day. So ramesh completed his higher studies with the help of his grandfather and grandmother.
He got a loan from the private sector to join in skilled training programme. He paid a part amount as a few and he paid the balance amount as a stipend in industrial exposure training. After completing his term fees he start to earn some money to face his own basic needs and family expenses he also paid his housing loan which he got while studying.
Now he is working as a senior captain in leading star category hotel and taking care of his own brother in his studies as he is going help his father in getting treatment for his leg fracture.
Thanks to SPPD.