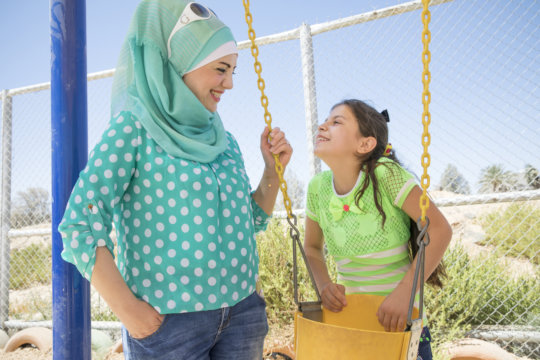 All photos: Ezra Millstein/Mercy Corps
As the war in Syria drags on and its humanitarian cost continues to grow, we are often most focused on the suffering of families who are still in desperate need. There are so many Syrian families who still need our help — and so many who have endured tragedy upon tragedy in their search for safety. And yet, in our work throughout the region, there are reasons to hope.
As refugees have sought shelter in neighboring countries and resources have been stretched thin, Mercy Corps has been there to help refugees build new lives and help host communities come together with their new neighbors. Because of caring people like you, our response has kept growing — and now, there are so many ways we are working together to help Syrian refugee families.
Mercy Corps' supporters are the key to helping Syrian refugees build better lives.
1. Giving youth a chance to grow
In the coastal Lebanese city of Saida, a diverse group of young coaches — some Syrian refugees themselves — are gathered together to drink coffee and attend a training. Soon, at this Mercy Corps Bussma Center, they will be teaching adolescent refugees and Lebanese youth dancing, cooking, photography, language and barber skills.
This youth center is just one of many in the region, and the goal is to make young Syrian refugees feel less alone, and connect them to others in the community. Coaches Manar, Mohammed and Mahmoud have a contagious energy, and they want nothing more than to give vulnerable young people the chance at a better future.
Mahmoud is a first-time coach and will be teaching photography when the center opens. "I'm really excited," he says. "These children are under stress, under pressure. They can find ways to express themselves and have a voice."
Manar, a Syrian refugee who has been a language coach for three years already at other Bussma Centers, finds joy in connecting the young people in her classes. "I'm teaching them things to enhance their relationships with other people," she says. "Now they have friends, and importantly, friends from different backgrounds. It's something beautiful, and it means I did something good in my life."
When the center is bustling with teens and staffed by passionate coaches, it will be a place of refuge, relief and possibility. For young refugees who face a future full of uncertainty, this center may be the difference between despair and hope.
2. Helping families get the healthcare they need
Way up in the hills of Lebanon, close to 7,000 Syrian refugees live near the town of Hasbaya, where a small hospital does its best to serve the 20,000 Lebanese people who live there and the relatively new influx of refugees. Dr. Ibrahim, who runs the hospital, has a reason to be proud — because of Mercy Corps' help, his hospital is running smoothly again.
As Dr. Ibrahim explains, this small but busy hospital had been suffering from issues with their water supply. The filtration system wasn't working properly, putting services at risk, and the hospital was even forced to buy bottled water for patients to drink. The repairs were becoming costly and the hospital didn't have the resources to replace the system.
Nearly everything in the hospital relies on clean and safe water: the kitchen, the operating room, the laundry, the sterilization center — even patients being able to bathe themselves. A hospital doesn't run without clean water. "It was our duty to provide clean water. We were really in desperate need to fix the water," says Dr. Ibrahim.
The Mercy Corps team in Lebanon saw how important this hospital was, for Syrian refugees and locals, and decided to step in to help. With a brand new water filtration system up and running, the hospital is once again a safe place for refugees to get the medical care they need. "We are thankful to Mercy Corps," Dr. Ibrahim says. "Now that the water is working, it's making our lives a lot easier."
3. Helping communities come together
Since the war in Syria began in 2011, millions of refugees have flooded into neighboring countries seeking safe shelter and refuge. With such a massive shift in population, tensions are seemingly inevitable. That's why across the region, Mercy Corps brings Syrian refugees and their host community neighbors together to participate in conflict resolution trainings.
Through this program, refugees and community members learn together how to solve conflicts productively and how to improve their now-shared community. But the trainings aren't all business — a key part of the program focuses on encouraging the two groups to come together, get to know each other, and see each other as individuals.
Alyamama is a Syrian refugee who participated in the program and has become a leader for other Syrians, particularly women, in her community in Lebanon. At the end of the training, her group decided that what their community needed most of all was a library and community center — a public place where people could gather to learn and grow. "We decided it was very important to have a cultural center, including a library, that benefits both Lebanese and Syrians," says Alyamama.
Alyamama is excited to be a part of something that is bigger than herself. "At the center we will have the opportunity to teach women new skills and how to be independent with what they have," she says. And she's grateful for the Mercy Corps program that started it all. "The most beautiful thing about the program was meeting people from other villages. We all came together."
4. Empowering youth to create change
Watching Islam play with his team, outfitted in sleek black and white uniforms, you might think this is a soccer field in Europe somewhere — but just beyond the edges of the bright green astroturf is desert as far as the eye can see. Islam, 15, and his family are refugees who now call the Azraq refugee camp home.
Like so many others, Islam's transition to life as a refugee in a new place was anything but easy. There are many minority groups living in Azraq, including refugees now, and tensions were high. Before Mercy Corps helped the community build this soccer field, the kids had nowhere to play. "I was lonely and I didn't know anyone," says Islam.
Before the field was built, many of the adult community members participated in Mercy Corps' conflict resolution training. The outcome of their hard work has helped Islam adjust to his new community. His best friend is Jordanian, and it's clear they are happiest on the soccer field. They play every day in the summer and on weekends during the school year, and he's grateful for his new team. "I feel like I own my own power when I put on my jersey," he says.
The camaraderie of Islam's team has had a ripple effect — as the kids get to know each other through sport, so do the parents, and Islam says that the whole community has changed for the better. "They start to know each other and love each other," he says. It's amazing to see just how much positivity and change a single soccer field can create.
5. Giving parents and kids a place to gather
Not far from Islam's soccer field in Azraq is a new playground — another product of this community's hard work in conflict resolution training. Hilda and her three young children, Renad, Majeda and Yazan are at ease here, and the kids love to play on the new swings and jungle gym.
Hilda's husband is still in Syria, and she made the difficult decision to leave with the children. She had never left home alone before. She ended up in Azraq town, lonely and struggling to take care of the kids on her own. After a tough year in their new home, Hilda began to reach out and get to know her neighbors. She also applied to join the conflict resolution training.
Since making those changes, Hilda says her life has improved dramatically. "I'm very happy to be a part of this success," she says. "The relationships between communities have become so much stronger." She brings her young kids to this playground at least three times a week, and says it's so much easier to get to know her neighbors now that they have a common space to meet and relax.
Hilda says that this playground - and Mercy Corps - has had an impact on her life. "Now I don't feel like a refugee," she says with a smile. When her two daughters are asked through a translator if they are proud of their mom's hard work, they reply in unison in English: "Yes!"
6. Helping kids with disabilities stay in school
Life in a refugee camp isn't easy for anyone. But for children with disabilities, everyday tasks like going to fetch water, or getting to school, can feel impossible. Jordan's Zaatari refugee camp is huge, with only rough dirt roads and pathways separating the sprawl of tents and other services like playgrounds and classrooms.
Because of these difficulties, children like Ahmad, who suffers from a form of cerebral palsy, often stay home — isolated, lonely and unable to continue their education. Mercy Corps saw the need to help children like Ahmad, and developed a program to identify children with disabilities in the camp and make sure they have everything they need to get to school and keep up with their studies.
For Ahmad, that meant a new wheelchair and special teachers who work with him after school to help him make progress in his studies. The wheelchair he received isn't just any wheelchair. Mercy Corps staff noticed that because of their disabilities or small stature, often the students in the camp were getting by with wheelchairs, desks or other equipment that didn't fit properly.
With only an idea and collected recycled materials, the Mercy Corps team started a small workshop to create customized equipment for their students. When we visited the tiny shop, a young boy whose wheelchair broke was being measured for a new one — one that would be customized just for him.
7. Helping women transform their communities
Inside a small building in the Jordanian town of Kharja, not far from the Syrian border, a bubbly Jordanian woman, Leila, and her quieter close friend - and Syrian refugee - Lena, have built Kharja's first women's gym.
Previously, the nearest gym took two hours round trip to get to, and so the community leaders, even the men, agreed that a gym for local women is what the community needed most of all. Together with Mercy Corps and their local conflict resolution group, Leila and Lena went to action. "Every project has people who go against it, but we rallied them to our side," Leila says with a charming smile. They explained that the negotiation skills they learned during the training helped persuade anyone in the community who was unsure of their idea.
Now, the gym is open and welcoming to all women in the community. "Women should dedicate time to themselves," Lena says. Leila jumps in to echo her sentiments: "As community leaders we are trying to empower women. We are brainstorming with both women and men together."
The gym includes exercise equipment and a brightly lit room for exercise classes. In the summer months, the women who use the gym get together every month to go on excursions to some of Jordan's historic places. In the winter, they gather as a group to chat and relax.
The seeds of change start small. And right here, in a town near the Syrian border, Leila and Lena's project is in full bloom.
You're transforming lives around the world
These stories of progress in Jordan and Lebanon are just a sliver of the incredible work that people like you make possible in more than 40 countries around the world. Because of your support, we are helping families survive crisis and overcome hardship — and empowering them to build better lives and transform their own communities.
Thank you for supporting Mercy Corps' work around the world. Together, we can transform lives and be there for those who need us most.
Donate today. Every single contribution helps us provide even more food, water, shelter and support to Syrian families and families in crisis around the world.
Tell your friends. Share this story or go to our Facebook page to spread the word about the millions who need us.
Sign a petition. Tell Congress that we must continue to support Syrian refugees. Add your name to the list to stand in support with refugees.