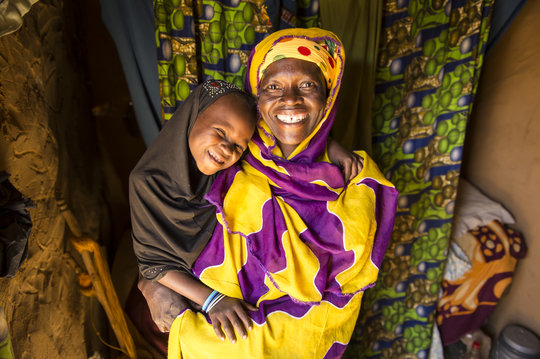 Hawa and her 6-year-old daughter, Ramatou, are bracing themselves for what's to come: the grinding pain of hunger and the weakness and vulnerability to sickness and disease that come along with it.

Drought has ruined their crops. The lean season between harvests is always difficult, but the millet they rely on for nutritious porridge and pancakes barely grew last year. The family has already eaten what little they were able to salvage from the meager harvest. Many days there is only a bowl of wilted lettuce for Hawa to feed her little girl — and it will be six long months before any crops grow again. Hawa says, "Every day, we will have to just eat less if we don't find food. We are very hungry, that's why we are asking for help."
In the West African nation of Niger where they live, their situation is all too familiar. Sixty-six percent of the population faces severe food shortages. Over 13 percent of children under five are acutely malnourished. To save lives, please act now.

Join us by donating today to prevent hunger from claiming countless lives — and destroying families' hopes for a healthy future.

You have already brought lifesaving relief. Thank you! Your donations have saved lives by providing stronger seeds suitable for drier conditions that yield new crops like beans and peanuts and help families eat a diverse, nutritious diet. Your support helped deliver goats that became a vital source of income and milk, and helped launch village saving and loan groups that ensured women have a financial safety net to buy the food they need.

With your help, Hawa started a business selling peanut oil and has been growing her herd of goats. But now she's worried. The persistent droughts have destroyed the crops she depends on; she has nothing to sell and little to keep her goats healthy. Not only does she wonder every minute where her daughter's next meal will come from, but she also fears that her hard work to better their lives will be lost.
That's why Hawa and millions in Niger need help again. "If we are in good health and if we have enough to eat, then I am happy. We're very grateful to Mercy Corps. They helped us before so we could be stronger." Together, we can continue to put lifesaving resources like improved seeds and food into the hands of hardworking women like Hawa.
When you join us with a gift of $35, $75 or $150 you'll help give families the stability they need to survive until the next harvest. Whether it's emergency food aid to nurse a malnourished child back to health, or improved wells to help the land recover from drought — you can save lives in Niger, and everywhere that hunger plagues families on a daily basis.

In times of crisis, when hunger, war and poverty threaten so many people around the world, your support couldn't be more important.
Sincerely,


Dan O'Neill
Mercy Corps Founder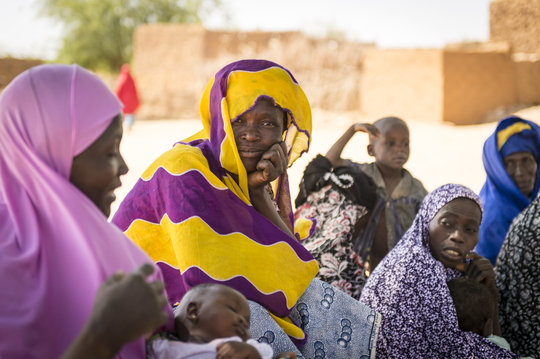 Links: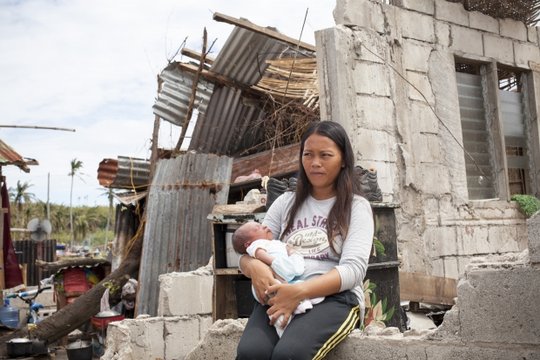 I want to share with you a miraculous story of survival.
Just hours before Typhoon Haiyan crashed into tiny Kinatarcan Island in the Philippines, 24-year-old Hazel was giving birth at the local health center. When the storm descended she knew they were in danger. She bravely forced herself from her hospital bed and ran with her newborn in her arms.
She found shelter in a house, but winds ripped the roof off as she huddled in a corner, clutching her baby. At times, she was certain they wouldn't survive. After the storm, her husband and their 3-year-old daughter were overcome with relief when they found Hazel and the baby alive.
But the health center, their neighbors' homes, and their own home were devastated beyond recognition. Hazel remembers "when we saw it, we cried and cried." Before the storm, her husband was a fisherman, like most people on the island. Now, even that little income is gone — because the boats were destroyed. With nowhere to go and no income, so many families, including Hazel's, were forced to live among the rubble.
But your compassionate support is lifting the spirits and improving the lives of thousands of survivors.
When Mercy Corps teams responded with lifesaving food packages and basic relief supplies, it was the first hopeful moment that Hazel had experienced in a long time. She said "my baby is very precious and this helps my baby" — nicknamed Baby Yolee after the storm (known locally as "Yolanda").
Your generosity is helping us scale up long-term recovery efforts. You're giving families clean water and food. You're helping families build safer shelters and return to work. And you're giving kids a place to play safely and heal.
There is still so much work to do and so many other families in need of urgent help. You can help more mothers, fathers, and children recover by sending your generous gift through our GlobalGiving Philippines page
here
.
Thank you for changing the lives of so many resilient survivors.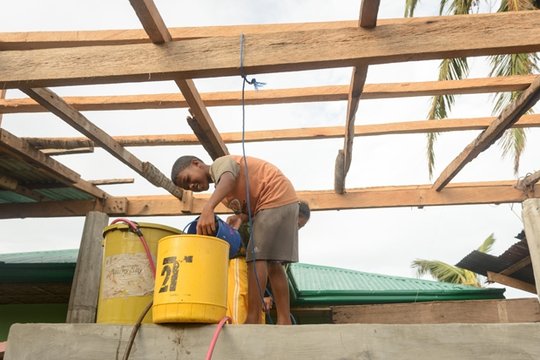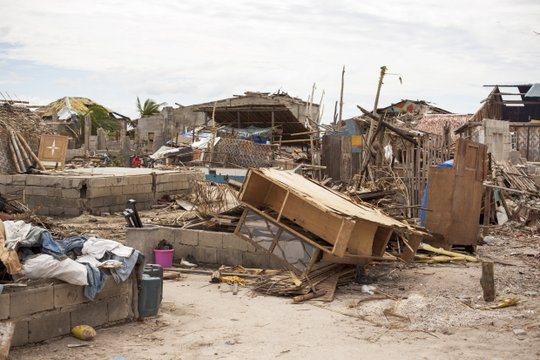 Links: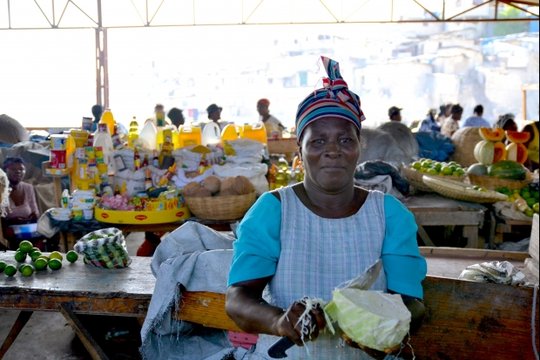 The January 2010 earthquake, the subsequent storms, and harmful agricultural and environmental practices took a great toll on the people of Haiti, particularly the poorest and most vulnerable populations. With 55 percent of the country living on less than $1 a day, hundreds of thousands of families were in need of aid. But because of you, we have helped nearly half a million families transform their lives and thrive. Our project in Haiti received tremendous support from donors like you and is fully funded at this time. Thank you!
Together, we have:
Provided more than 1 million people with emergency supplies, clean water, cholera prevention and temporary jobs
Spurred economic opportunity by giving Haitian women the tools they need to start successful businesses to support their families
Helped local farmers prosper, protected the land from soil erosion, and increased crop productivity and food security through our reforestation and soil conservation programs
Protected roadways to secure access to local markets
Reopened businesses and schools
Helped more than 100,000 children recover from the traumas through soccer programs that teach leadership, gender awareness, conflict resolution skills, and HIV/AIDS prevention education
Because of your loyal support, the people are recovering from these devastating shocks and are better equipped with the tools they need to continue building stronger communities into the future. Thank you!
If you'd like to continue learning about or supporting our work of turning crisis into opportunity, please check out our other projects here.
With gratitude,
Carlene Deits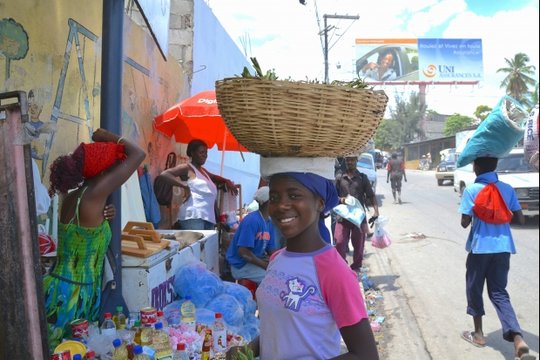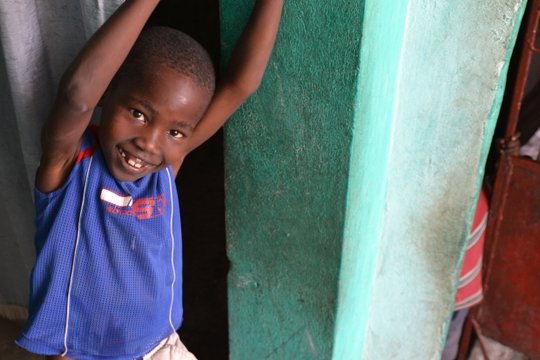 Links:
WARNING: Javascript is currently disabled or is not available in your browser. GlobalGiving makes extensive use of Javascript and will not function properly with Javascript disabled.
Please enable Javascript
and refresh this page.