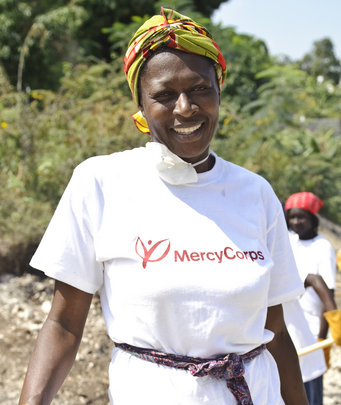 A year-and-a-half has passed since the devastating earthquake shook Haiti, already the most fragile country in the Western hemisphere.
With the donation you sent last year, Mercy Corps was able to deploy a team of disaster professionals within days after the disaster struck and provide critical aid to survivors. Today, Mercy Corps' strategy in Haiti addresses two simultaneous realities on the ground: the need to continue to assist those still living in camps and the need to help Haitians begin the longer term work of building a stronger, more self-sufficient country.
After the earthquake, an estimated 140,000 people fled Port-au-Prince to take shelter in rural, agricultural areas. The new arrivals strained the resources of local families. That's why Mercy Corps has focused its efforts on the Central Plateau and Lower Artibonite Valley, where development can be a magnet for new investment and long-term recovery.
Thanks to your generosity, Mercy Corps' programs in Haiti have improved the lives of more than 830,000 people over the last year.
Your Donation Helped Mercy Corps:
Support 172,000 people with temporary employment, including improving roads and helping mitigate rainy season flooding by cleaning drainage canals and building levees.
Work with women heads of households to resume or take up new income-generating activities.
Organize market fairs and provide vouchers people can use to purchase the goods they need–shelter materials, tools and water–from local vendors, infusing cash into the local economy. These vouchers improved the living conditions of 7,000 people.
Work with small-scale farmers to improve yields, reduce post-harvest losses and increase incomes.
Customize and implement our signature "Comfort for Kids" program that trains educators and caregivers to understand and respond to the emotional and physical needs of children affected by the earthquake. Our program reached 61,400 kids.
Develop an innovative partnership to launch the country's first mobile money solution, turning cell phones into "mobile wallets" that offer a safe and convenient way for the poor to access financial services.
Great challenges lie ahead to build a functioning economy in Haiti that offers opportunity to all. We're enthusiastic about the innovative projects proposed by our Haiti team and others. And we've seen the entrepreneurial spirit of the Haitian people. They are determined to seize the work opportunities that will enable them to take care of their families. We believe it is up to us, along with the Haitian government and our colleague organizations, to help them succeed.
Thank you, again, for your generous support.
Links:
Mercy Corps began working with Village Savings and Loan Association (VSLA) groups in Central African Republic in 2008. Mercy Corps facilitated the formation of 30 VSLA groups, of which about 72 percent of membership was comprised of women. During the pilot phase of the program, VSLAs saved a total of $26,863, 448 percent of the expected target. The average saving amounted to $41.45 per person. Drawing off this capital, 979 loans were taken out and more than 97 percent of them were repaid. All of the interest went back into the fund and was paid out to the VSLA members at the end of the cycle at an average annualized return of 32.7 percent.
Building off its initial success working with VSLAs, Mercy Corps now works with 165 groups with 3,417 members. The average savings per member is $54.74 and the average loan size is $78.76. A total of 2,487 loans were in circulation as of the end of January 2011, and approximately 90% of members have taken loans since the start of the program. Members can use the capital repeatedly and monitoring data shows that there is a 48% profit on business enterprises and 180% profit on original capital.
Mercy Corps has developed and conducted a training module on basic business skills for VSLA members. The module, called Participatory Budgeting, enables beneficiaries to plan their business cycles, including the use of limited human resources and other assets, and leverage their loans to invest productively in their enterprises.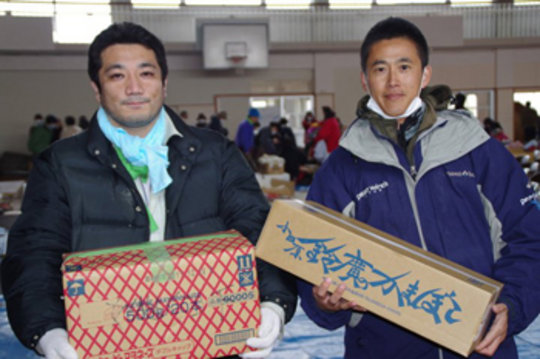 It's been two months since a deadly earthquake and tsunami hit northeastern Japan. Since then -- alongside our partner, Peace Winds -- Mercy Corps' emergency response team has been delivering food, water and other critical supplies to displaced survivors. Your support has truly made a difference after one of the worst disasters in recent memory.
Here's some of the important work we are and will continue to do in the coming weeks:
Continuing and expanding our Comfort for Kids program to provide psychosocial support to children
Delivering household goods and supplies to displaced families who are moving into temporary housing
Distributing cash vouchers to survivors to help them buy much-needed supplies at local stores, which also helps stimulate struggling local economies
Supporting hard-hit fisheries and fishing cooperatives to help the region's biggest industry to get going again destroyed local businesses with mobile shops
Providing a bus service for survivors in Rikuzentakata to run to nearby Ofunato, where evacuees and other locals can purchase basic goods, and take care of essential needs like doctor or bank visits
Boosting the capacity of local Chambers of Commerce to support local businesses
Rebuilding and restoring this part of Japan is an enormous task that will take a very long time -- but we feel proud to be part of a team that is leading that recovery. You're part of that team, too.
Thank you for your help.
Links:
WARNING: Javascript is currently disabled or is not available in your browser. GlobalGiving makes extensive use of Javascript and will not function properly with Javascript disabled.
Please enable Javascript
and refresh this page.