We've just received a new report from Mercy Corps staff in the Horn of Africa about the dire situation that's continuing to spread.
Because of your donation, we've been able to quickly ramp up our response and provide hundreds of thousands of people with clean water and nutritious food. Details of our life-saving work in the region are bulleted below.
But first, we wanted to share the story of one toddler's visit to our mobile health clinic:
Hibo's Visit to the Mercy Corps Clinic
Hibo — a tiny, chubby-cheeked three year old — seemed to take great delight in looking everywhere except my camera as I tried to take her photo. From her mother's hip she giggled, turned away and made faces, to the amusement of all around.
Hibo is tiny for her age because until recently, she was classed as having "severe acute malnutrition," the most serious of its kind. Hibo's cheeks have grown chubby thanks to one of Mercy Corps' mobile emergency clinics where she was able to get the food and treatment she needed to recover, put on some weight and get back to being an ordinary, mischievous toddler.
"She had many pains from drinking bad water and not enough food," her mother, Zainab, told me. "She had diarrhea, fever, no appetite. We have only flour and oil to eat and all the pasture has died with no rain, so our animals died too. I brought her to the clinic because it is the only place for such help. They gave her special food and medicines, and took us to a center nearby where she stayed and got better. Now she is very well and happy. I bring her here often to make sure she stays healthy."
Mercy Corps' mobile health and nutrition teams travel around remote parts of Ethiopia, checking for and treating malnutrition in pregnant and nursing women, as well as children under five. The mobile clinics, which can each see up to 150 people every day, are often the only health facility available to the communities they reach.
After a nine-hour drive on dirt roads from the nearest major town, I met Hibo and Zainab as they waited, along with more than 100 others, for their turn to see the Mercy Corps nurses and nutrition specialists. The land around them, while normally among the best in the area, was dry and harsh, with red dust blowing everywhere and camels wandering in the distance.
The team assessed everyone, looking for signs of malnutrition. Those with moderate malnutrition are given food supplies, advice on how to recover, and follow-up check-ins. Those with severe acute malnutrition are given special fortified foods, medicines when needed, and, in some cases like Hibo's, taken to a recovery center. Mercy Corps also trained and supplied two local centers so they can continue giving much-needed support to hungry children and mothers.
Between the mobile clinics and recovery centers it's clear our teams are making a real difference. But the nutrition team told me that the spike in the rates of malnourishment they've seen lately will make meeting the huge and very real need incredibly challenging, especially as the drought continues and the situation gets much worse.
Later, as I turned to leave the clinic and begin the long drive back to the nearest town, I looked back at Hibo. She was pulling her mother's scarf and gurgling merrily, like a happy child anywhere else in the world.
With your help, we can make sure more toddlers like Hibo and their families can get the clean water, nutritious food and medicines they need to survive this drought.
Below we outline our work in the region, so you can keep up-to-date on our efforts during this ever-changing crisis.
Mercy Corps' team in northeastern Kenya has started programs in 20+ villages in bone-dry southern and western Wajir County.
We are helping 120,000 people gain life-saving access to water. In communities where there is no water, we're trucking in hundreds of thousands of liters. Where there are existing water systems, we're bringing in emergency fuel to keep water pumps running.
A likely next phase of work will be the provision of food vouchers. We have found that there is food – especially basics like rice and maize – on the market in northeastern Kenya, but people don't have money to buy it. Vouchers provide food and boost local markets.
The drought has been building in Ethiopia for nearly a year, and our team has been working to prepare and make communities more resilient for 10 months. We've been helping more than 625,000 Ethiopians gain access to food, water, income, nutrition and health education, and better farming resources and information.
We've helped feed 20,000 people in Ethiopia with emergency food distributions including corn-soy flour and cooking oil. We're reaching thousands more with health clinics and education.
We've also delivered clean water to more than 55,000 people in Gashamo, a region in eastern Ethiopia hit hard by drought.
Mercy Corps runs programs in Puntland, Somaliland and the Central region. We work directly with local communities to ensure that aid gets to the people who need it most.
Our Somalia team's work will help more than 260,000 drought-affected Somalis fill vital needs like water, food and other essentials. More than 3 million Somalis – a third of the population – face starvation.
These emergency operations build on our work to provide education to Somali children, improve governance, and build more peaceful communities. Mercy Corps also have a history of providing food, water and income in this war-torn country.
Again, thank you for your donation to Mercy Corps' life-saving work in the Horn of Africa. Please share this update with your friends and family and encourage them to give what they can to help more children like Hibo.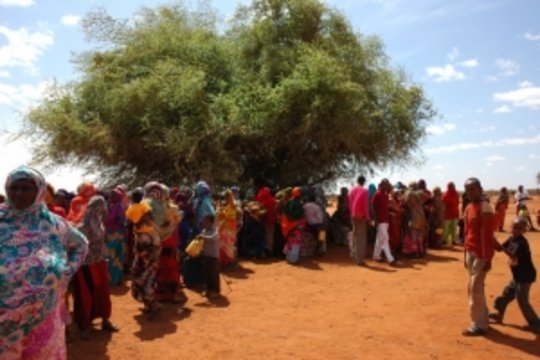 Links: