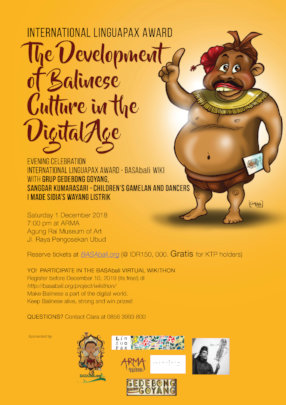 Dec 1st in Ubud, Bali
Come celebrate with us as the Linguapax International Award, the world's top prize for language revitalization, is presented to all of Bali for developing a Balinese-English-Indonesian wiki dictionary and virtual library. There's only one award per year and this is one of the few times that the award is being given to a community knowledge-sourced initiative.
To celebrate this honor, BASAbali and ARMA invite you to join with us as the people of Bali receive this award. Grup Gedebong Goyang will perform as will I Made Sidia's WAYANG LISTRIK. The latter uses an oversized screen, six puppet masters on skateboards and numerous lights to create a new world of puppetry. The former is a comedy group of three expat women who perform in their own version of Balinese, commenting on Balinese culture as they go.
Don't miss this rare opportunity to see both Wayang Listrik and Gedebong Goyang on one stage!
Tickets can be booked directly here. The celebration will be held at ARMA at 7:00 pm on Dec 1st.
Dec 14th-15th virtually and on the ground
On Dec. 14th, BASAbali, @america (the cultural center of the US Embassy in Indonesia) and Bali's Udayana University will kickoff 12 back to back two hour wikithon competitions -- for a total of 24 hours - where teams from all over the world will compete to enter data into the Balinese-Indonesian-English Wiki Dictionary and Virtual Library. The competition will be held virtually and on location at Udayana University, Stiki Bali, Livit Co-working space in Sanur, Kul Kul Connection of Bali's Green School, and at USINDO in Washington, DC.
In just two hours, you can become of the history and evolution of the Balinese language, regardless of whether you've mastered all the levels of Balinese or whether you speak "everyday" Bahasa or something in between.
Register your team of 1-5 people here (note: at least one person on your team needs to speak Balinese or we can match you up with a Balinese speaker).
You'll be contacted to review this quick and fun training video so you'll be all set for the Wikithon.
May 24-May 31, 2019
And, looking ahead, delve into Balinese Culture for 8 days and 7 nights with some of Bali's top cultural luminaries. Details and registration materials are here.
Choose at least one to usher in UNESCO's 2019 Year of Indigenous Languages!