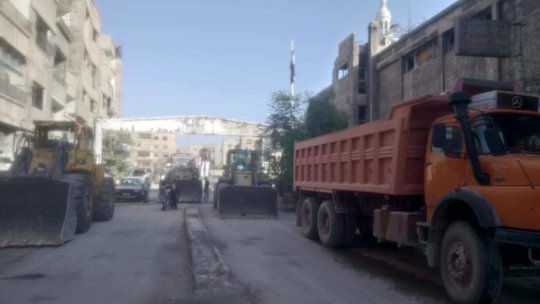 The offensive on Yarmouk camp, located 8 km south of Damascus city, have caused considerable damage in buildings, facilities and infrastructure. It is estimated that the vibrant camp that once hosted around 300,000 Palestinians suffered up to 80% of destruction. Nonetheless, as soon as conflict ceased, Palestinians from all over Syria expressed their desire and willingness to return to the camp that was once dubbed as the "Capital of Palestinian Diaspora" in Syria.
Jafra Foundation for Relief and Youth Development have launched a GlobalGiving project "Rebuilding Palestinian Livelihoods in Yarmouk" in July 2018. Donations have helped to pave the way for returnees by conducting rubble and debris removal, as well as solid waste management activity.
With the relentless work of more than 35 workers and volunteers, and the rental of bulldozers and trucks, an average of 15 tons of rubble was removed daily. Several main roads and sideways were cleared, after which workers and volunteers conducting thorough cleaning. Notably, all rubble and waste collected are being transported to a dumpsite outside the camp, located remotely from buildings and facilities. Jafra Foundation is also liaising constantly with relevant authorities and local coordination bodies to ensure effective planning and activity implementation.
The benefit of the project is a three-fold one: re-opening roads to allow for returnees to easily access their houses, diminish the presence of insects and rodents which cause the spread of diseases and allow for the implementation of livelihood projects. Notably, while approval for returnees is yet to be fully granted, around 300 households have managed to return and re-build their lives. Additionally, more than 100 households are accessing the camp daily to visit and assess the condition of their houses.
Jafra Foundation is continuing to explore all channels available to advocate for the permanent return to Yarmouk camp for Palestinian households. Jafra Foundation's Director, Wesam Sabaaneh, has written several articles, spoken directly to media outlets and has been working closely with other international humanitarian organizations to systematically outline steps for permanent return and rebuilding, and highlight Jafra's own capacity for reconstruction efforts required. Jafra Foundation welcomes new and recurring donations to our project and contributions to the "2018 Year-End Campaign". We continue to thank our donors for their generous contributions and reassure individuals their donations are making a significant impact to the lives of those affected on the ground (despite the huge task ahead for everyone affected), helping to rebuild Palestinian Livelihoods in Yarmouk camp.