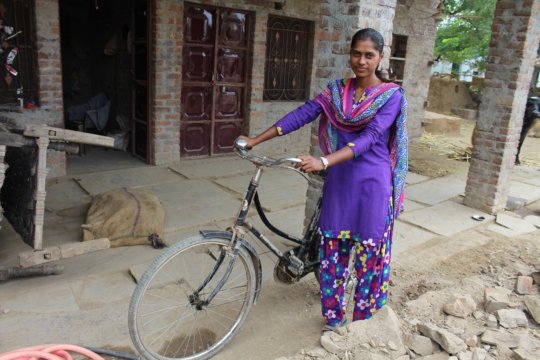 Bhoori belongs to a Rajput family living in Bijoliya block of Rajasthan, India. The Rajput community of Rajasthan stand distinguished in many ways when compared to other tribal communities – often they are financially more stable, may have educated elders, have smaller families and believe in imparting basic education to their children. Bhoori's father works as an artisan and has a steady income while her mother and grandmother jointly manage a small flour-mill setup at home. This fetches them good profits as there is no other flour-mill in the radius of a few kilometers.
So luckily for Bhoori and her brother, basic education was never a problem. Bhoori went to the government-run school in her village where she completed grade 8 with flying colors. She was among the brightest students and always made her parents proud. For her secondary education, she walked to a faraway school where she graduated in grade 10 with a first class and then went on to complete grade 12 with a first class again. Under a government scheme to appreciate and encourage girls to continue with their studies, Bhoori was awarded with a cash prize of INR 5,000 when she completed class 12 and previously had received a bicycle when she completed class 10. The bicycle is her most loved possession and today is a part of a beautiful new chapter in her life – volunteerism!
Sometime in May-June 2015, Educate Girls conducted a Team Balika (community volunteer) recruitment drive in several villages of Bijoliya block. The organisation was looking for young, educated volunteers who would champion the cause of girls' education in their respective villages. The team found 2 prospective candidates in a village named 'Narsinh Ji Ka Kheda' where Bhoori lived while another village called 'Bhatkhedi' found zero contenders. Bhatkhedi is challenging; it exists in a secluded geography, the houses are scattered and faraway from each other, the roads connecting the village are rough, rocky and difficult to travel on. The biggest problem being that the government-run primary school there has a single teacher who is so tied-up with other clerical jobs that teaching often takes a backseat. As a result, the parents in that village either see no value in sending children to school or send them to a school in another adjoining village.
However, Bhoori was willing take on the challenge and become a Team Balika for Bhatkhedi village and let the other girl take-up the role in her own village. "Are you sure Bhoori? Bhatkhedi is about 5 kilometers away from your home, besides the road to the village is a nightmare and I hope you know about the other challenges as well?" questioned an Educate Girls' staff. To which Bhoori confidently replied, "The journey is going to be difficult I know, but I have a bicycle and great passion for the cause." This was not a reply, it was a statement!
So now, every morning you will see a young lady on a bicycle enter Bhatkhedi village early morning. The ride in the scorching heat of Rajasthan is extremely tiring but her passion for the cause makes her forget her physical exhaustion. Her commitment shines through the fact that she has enrolled 17 out of school girls already. Additionally, a few children who went to the school in the nearby village have been brought back to the school in Bhatkhedi, all thanks to Bhoori's proactive efforts.
The scenario in Bhatkhedi village is completely different today- the school now has 46 students as opposed to 25 at the start of the academic year, it has many more girls now, the teacher may still be caught up in clerical jobs but the classroom continues to witness active sessions and chirpiness and the parents feel their children are beginning to enjoy learning!
Albert Einstein has famously said, "Life is like riding a bicycle, to keep your balance you must keep moving..." and that's exactly what Bhoori seems to be doing, quite literally!