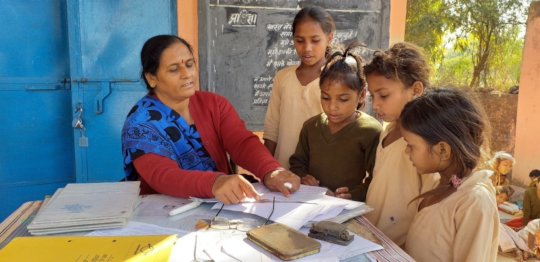 Manjula is the only teacher in the school in her village in Banswara district of Rajasthan, India. She has been working with the school for over 8 years. The school consists of 51 students including 29 girls and 22 boys.
After Educate Girls completed its door-to-door survey in Manjula's village to identify out-of-school-girls, they conducted community meetings among the villagers to make them understand the importance and benefits of girls' education. Despite single-handedly taking care of her school and being extremely busy, Manjula made it a point to be a part of all the meetings.
Most of the villagers were against the idea of educating girls and sending them to school and hence did not co-operate initially. Manjula being an influential person in the village advocated Educate Girls' work in her village which had a positive impact on the rigid mind set of the villagers. She not only worked actively with the field coordinator Vitthal in enrolment of out-of-school-girls but also joined hands with Renuka, our Team Balika (community volunteer) from the village in the implementation of Educate Girls' learning curriculum called Gyan ka Pitara Kits in her school. Gyan ka Pitara (GKP) kits which translates to 'Repository of Knowledge' is an innovative tool used in school to make learning easier for children.
GKP kits consists of colourful, activity based tools focused on building micro-competencies in Hindi, English and Math for children in grades 3, 4 and 5. The GKP kits have been created keeping in view, needs of the most marginalised children and uses interactive methods such as games, stories, visual tools, flash cards, etc. The kit also includes multiple worksheets for individual practice which helped the staff and even the school teachers keep track of every child's progress.
Benjamin Franklin has rightly said, "Tell me and I forget. Teach me and I remember. Involve me and I learn."
Manjula is indeed grateful for the 3,000+ piece activity based pedagogy as she said that, "Being a teacher, I already feel there's a huge responsibility on my shoulders to shape the minds and future of my students. It often gets difficult and tiresome to effectively manage a strength of 50+ students alone.
However, ever since Educate Girls' Team Balika Renuka approached me to implement the GKP kits in our school, my work has become much easier. The activities in the kit have drastically improved the learning levels of the children. Even those students in my class who could not comprehend the alphabet earlier are now able to easily recognise letters and form words and sentences. Students have also started taking a renewed interest in studies and are more interactive in class!
I am thankful to Educate Girls' team for introducing such an interactive curriculum in classrooms and taking the initiative to implement the same!"