Dear friends, dear donors,
We are happy to present you this, second report, and to let you all know about our progress so far and our plans for upcoming year.
Since we last wrote you have invested a lot of money, time and energy and we can all be proud on what we accomplished together.
We have also remained committed to hard work and constant learning and we maintained recognitions we were awarded previously. Furthermore, two of our members are attending yearlong online course organized by Global Giving in partnership with Lightful platform on the subject of marketing and promotion of organizations on social networks.
WHAT HAVE WE DONE SINCE OUR LAST REPORT
Works:
We have additionally decorated furnished our big classroom on 5th floor to be more attractive for children – we are still missing projector celling holder and book shelves
We have added some furniture to smaller classroom on 5th floor – we still need tables, chairs, whiteboard, etc.
We have finished renovation of one classroom, hallway and storage room on 2nd floor. The big conference / classroom is still waiting for construction works
Activities:
We have organized charity book promotion in big classroom on 5th floor:
We held a promotion, through storytelling, of book called "Story about friendship" written by the members of PHS organization that helps children and youth with pulmonary hypertension. Book was sponsored by Rotary Club Belgrade Skadarlija which paid for printing, distributing and promotion. After promotion ASK organized free creative workshop for all the children that have attended storytelling.
We have agreed with our friends which are managing and running children shelter that we will start classes and workshops for children visiting shelters, after winter break
We have our first group of language learners which started learning French language early in October
OUR PLANS FOR 2019
We have big plans and also hard work ahead of us. We retained and grew our positive "we can do it" attitude and we are eager to do even more than we did in 2018. Our goals for the coming period are:
Starting of the classes and lectures / workshops for kids form kids shelter in January
Finding corporate and institutional partners for funding even more activities in next years
Finish construction works and fully furnish our premises at 2nd floor
Reach organizational self-sustaining point
Apply for at least 5 project funding opportunities in first quarter of 2019.
We, at ASK, strongly believe that, partnered with all of you, we have performed a great work and that next year will be even better, that we will achieve even more together and that we will have much more impact on our community.
We wish you a Happy New Year and to have more ideas, success and love and we hope that we will together have beautiful moments, treasured memories, and all the blessings in the New Year
For all your questions or ideas we are at your full disposal at any time.
Kind regards,
ASK Team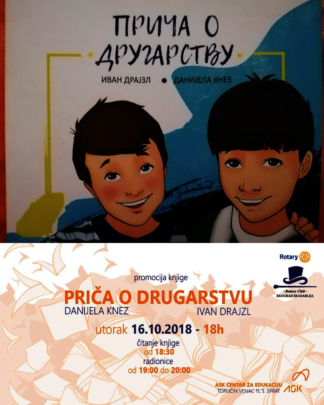 Links:
Attachments: