The onset of the COVID 19 virus has ripped through the world with a force beyond anything we have ever seen of its nature. Despite this situation, Unsilenced Voices is even more committed to forge ahead, as now more than ever, survivors need hope and assurance for their futures.
Unsilenced Voices in Sierra Leone was able to distribute 500 face masks and 5 bags of rice to three different communities... a village in Bo, the market women, and night workers. We also spoke to these communities about how to keep COVID-19 out of there communities and also about their rights regarding domestic violence and sexual abuse. We were well recieved.
In Ghana, we were able to purchase 12 mattresses for a safe house around Accra for survivors of domestic abuse through our partner The Ark Foundation and 16 bedsheets and 12 toys. This month we will also be educating about the pandemic.
In the USA, we are planning our in-person education seminar for August in Los Angeles to provide the community information regarding domestic violence, sexual abuse, and human trafficking. We are partnering with other organizations to provide resources to survivors.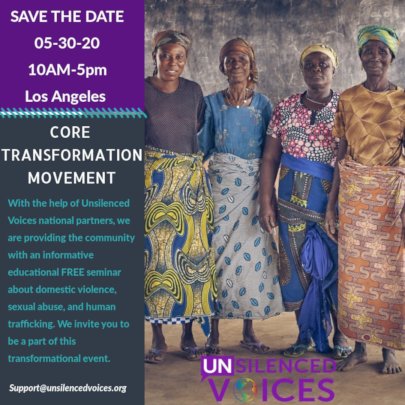 Unsilenced Voices will host our first event in the USA on May 30, 2020 in Los Angeles to provide assistance to the community and survivors of domestic violence, sexual abuse, and human trafficking.

Currently involved in this movement:
Two Wings
Alkamey Group
Beyond Freedom
Girl Friday
Lotus Rising
I Am Enough Movement
Warriors For Peace
Animaction
Robert Freeman Esq.
Marc Goldberg Esq.

We want to include:
Police
Housing specialists
Case managers
Survivors

Please contact support@unsilencedvoices.org to join the Core Transformation Movement and provide YOUR expertise to our local community

Location TBD
Time 10am-5pm (we will plan to serve lunch)

This is a pay-what-you-can event.
Please share
www.coretransformationmovement.com
On March 1, the CEO of Unsilenced Voices, Michelle Jewsbury will be traveling to Cairo, Egypt for the Women's Economic Forum. They expect 2000+ participants from 120+ countries over the 6 days she is visiting. She will share her story of survival and empower the many women and girls at the event.
Michelle is traveling to Ghana and Sierra Leone immediately after the WEF conference. She will visit Unsilenced Voices partner organizations and learn how to continue Unsilenced Voices growth. Watch our social media to see current updates.
Links: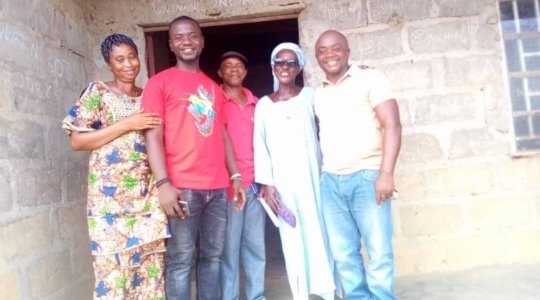 "Among other organizations in this field, Unsilenced Voices has been recognized as a an outstanding and a strategic partner by the ministry in dealing with SGBV issues.

The ministry of Social Welfare is incredibly impressed and holds Unsilenced Voices to a very high esteem for our strategic interventions in fighting against SGBV. This was expressed during an engagement we had earlier today with the Regional Director and other senior members of staff of the Ministry, in pursuit of an office space within one of their facilities in the center of town.

The structure is strategically located in the middle of town. It's approximately 250m from the Police and about 150m from the hospital. This will undoubtedly put an automatic end to the problem of accessibility by victims/clients who seek our help.

Given our valued contribution in the field of humanity, the Director and other staff of the Ministry on the ground, have given their consent to occupy one of their abandoned structure that will need to be renovated by us since we will not be paying rent. Below are pictures, during an assessment, of the structure with the Regional Director." Tejan Kabia Unsilenced Voices superviser
Pictures of November 25th launching of 16 days of Activism against Gender Based Violence at the Ministry of Social Welfare conference Hall with other organizations are also included in this report. Along with photos of our most recent school sensitization program with students in the community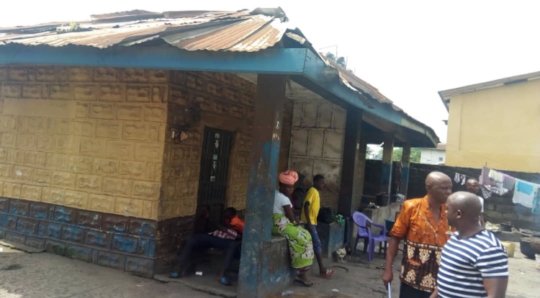 WARNING: Javascript is currently disabled or is not available in your browser. GlobalGiving makes extensive use of Javascript and will not function properly with Javascript disabled.
Please enable Javascript
and refresh this page.