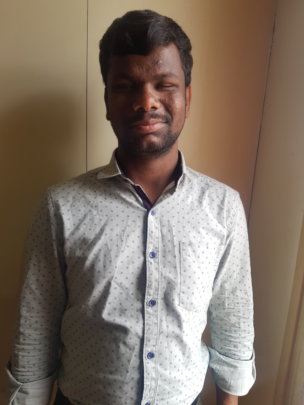 Veeresh, a 25 year old originally from Davanagere, Karnataka, shifted to Bangalore in 2012, with a strong will and a brave heart, willing to pursue his studies and to make something good out of his life. He completed his bachelors from First Grade College, Vijayanagar in journalism, sociology and optional Kannada in 2019. Blind since birth, Veeresh never had it easy but despite his struggles, he continues to hustle and get himself as further in his life as he can. Mitra Jyothi has proved to play a pivotal role in helping him through his difficult journey. He has been a member at the Mitra Jyothi library for 5 years now. He gets all his study material from the library in the form of audio CDs. He also gets books to study for various competitive exams such as SDA, RRB etc. from the library. Veeresh is also a braille reader and reads magazines converted to braille at the Mitra Jyothi Braille Press. He is also taking mobility classes at Mitra Jyothi. These classes have facilitated him to be independent by learning how to use a cane and walk with one. The passionate learner that Veeresh is, he has found a true companion in Mitra Jyothi. Currently, he is taking English classes and computer classes from Mitra Jyothi. These classes, he believes, will help him get a good government job. Veeresh sees himself become a playback singer in the future and hopes to get a government job soon. Very fond of Mitra Jyothi and grateful for all the resources that the place has provided him with, Veeresh hopes for a bright and happy future for himself.
Links: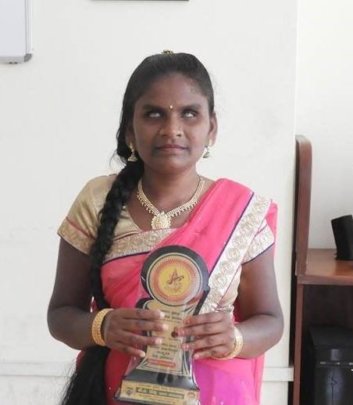 Vaishali
Imagine being perfectly sighted and one day losing it all to a disease. Nobody knows this plight better than Vaishali, the second of six children born to a KSRTC bus driver and a homemaker in rural Karnataka. After being afflicted with Typhoid and not receiving timely medical care, she lost her vision when she was just two years old. Scared for their daughter, her parents refused to send her to school and kept her confined at home till she turned ten. At an age when her peers spent most of their time playing outside, Vaishali was at home, feeling lonely and isolated. Things started getting better when her parents finally enrolled her into a residential school for blind girls.
After schooling, she enrolled herself into the Basic Computer Training course at Mitra Jyothi, where they recognized her potential and decided to support her College education as well. They enrolled her to study Arts at the nearest Government PUC and provided her with food and accommodation. From getting her a Daisy player to record classes and arranging mentors to guide her, to training her on Mobility skills so she could walk to college and encouraging her to participate in the Pinkathon, Mitra Jyothi made sure she received the educational support and access to resources she needed to do her best. She also made use of the wide range of audio books and Braille books available on the premises to prepare for her PU exams and ended up topping her class with a whopping 92.6%!
Imagine her family's delight on hearing the news- they distributed sweets to all the households in the village, and the entire village gathered together for a celebration. There's no stopping Vaishali now. She aims to do her Masters in Arts and become a lecturer. Her parents who were scared to let her out of the house when she was a kid, couldn't be prouder.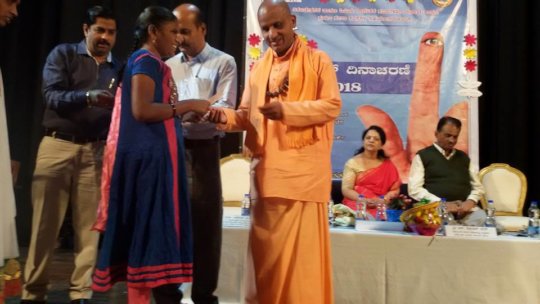 Links:
Summary: Main objective of the project is to provide accessible reading material in Braille format to people with any kind of visual disability (from low vision and complete blindness to people at risk of losing vision with time) from economically backward and marginalized communities to promote education. We also produce books which can help the blind people to get awareness about the various opportunities or benefits available for them. The highlight of last quarter is, we produced Maths primer, English primer, few basic story books and distributed to various institutions and individuals for their awareness. It was highly appreciated by the schools in Karnataka especially Sharadevi blind school.

As part of it with the support of funds received through GlobalGiving project we had produced the above specified braille books during this quarter and sent around 100 copies of each book to various institutions and individuals across country.

Activities covered at Mitra Jyothi under the project are listed below: Convert to Braille format, proof read and save master braille copy.
Convert PDF to word using PDF converter or OCR based on the type of file (editable pdf/image pdf).
Edit it to accessible format especially for tables, images, magazine format to normal and correct mistakes if any.
Add breaks wherever necessary to indicate paragraph, chapters and other logical breaks as per Braille requirement.
Print the braille books, organize and bind.
Proof read a copy and do random check of others for pages.
Pack and post to students across pan India especially Karnataka.

Background: Mitra Jyothi produced braille calendars in diary format every year and distributing the to the Visually Impaired people. This year we tought of producing it in a different format and hence based on the feedback received from many that they were not having wall calendars similar to the ones used by sighted people at home or institutions we produced and distributed. This formed another base for accessibility.


It is always a challenge for Visually Impaired kids to learn basic Maths, to encourage them to learn with necessary supporting materials our team produced a book covering basic addition, subtraction, multiplication and division along with basic shapes. Also developed the English primer for them to learn alphabets and sentence formation. Thanks to all our supporters for the help extended to achieve this, sure this is going to create difference in 100s of Visually Impaired kids.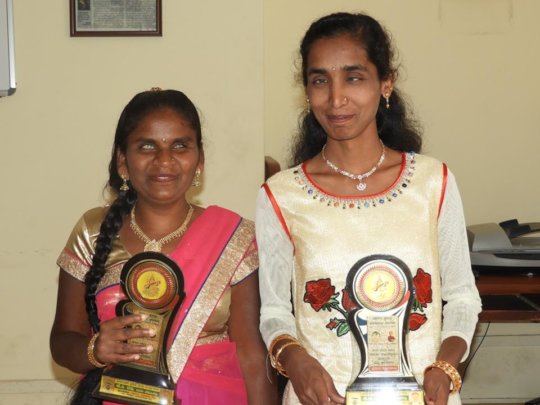 Links:
WARNING: Javascript is currently disabled or is not available in your browser. GlobalGiving makes extensive use of Javascript and will not function properly with Javascript disabled.
Please enable Javascript
and refresh this page.