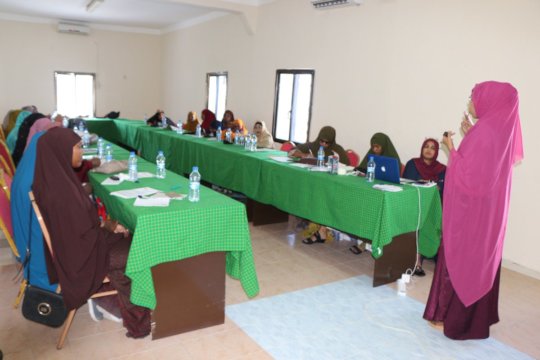 Conflict Dynamics' Somali Team has finally had a chance to unpack their bags and members are excited to update all of our GlobalGiving supporters on their work supporting Somali women for peace. In the last quarter, Conflict Dynamics, alongside partner Somali Youth Development Network (SOYDEN), has gathered 123 women from 17 districts of Mogadishu to join forces in addressing the challenges that Somali women face when participating in the political and peacebuilding process.
Experience sharing workshops are an important component of Conflict Dynamics' work with women in peacebuilding because they provide a safe space for women to discuss their challenges, mistakes, and successes while forming bonds with other powerful women in their communities. The objectives of the workshops are to bring together women members of local peace committees and other women leaders to learn; share experiences; discuss challenges, gaps, and successes as they relate to women's participation and rights; and identify best practices. Based on the interviews our team conducted with women across Somalia, the workshops also included sessions to increase awareness on United Nations Security Council Resolution 1325 and other international, regional, and domestic instruments/tools that support women's participation and protect women's rights.
Our team travelled to Mogadishu for two rounds of trainings, on April 8 – 17 and April 27 – May 2. In addition to women local peace committee members, women from civil society and politics also attended. This allowed women from all different levels of government and public organizations to describe how peacebuilding works in their context and what they have done to mobilize their efforts and make real change.
Our workshops were well received and these are messages that we have received from our participants:
"Despite all the threats and risks to our families, we are committed to bring peace and ability to the country" - Female member of a local peace committee
"Although, it is not possible for some of us to visit our constituencies due to security challenges, we do our best to remain engaged with our constituencies and are aware of their needs and priorities" - Female Member of Parliament
"We are unable to reach out to our constituencies due to security challenges; we thank CDI and SOYDEN for bringing our constituencies to us. We truly appreciate and request to continue facilitating similar platforms and invite other members of the society" - Amina Mohamed, female Member of Parliament
"I thank CDI and SOYDEN for; 1) facilitating a women-only meeting where we can share and discuss our challenges, achievements and way forward 2) establishing relations between women members of parliament and women district peace committee members, this was one of the biggest gaps, and we thank you for filling the gap" - Maryam Ahmed, female local peace committee member
What's next? The team is ready to pack their bags again and start another round of experience sharing workshops on the role of women in security and peacebuilding in June to ensure women from many different regions have a chance to share their story. Conflict Dynamics is also working under another project, establishing community peace committees in other regions of Somalia. This will expand the network of committees throughout the country, ensuring that women everywhere are involved in the process. With your help, we can include these women in our future experience sharing sessions and workshops, creating a larger and more powerful group of women leaders and learning more about their challenges and successes throughout the entire country.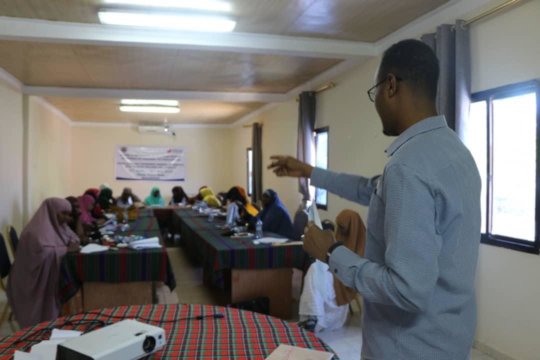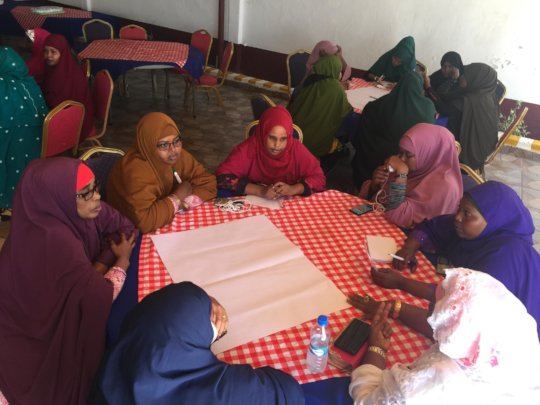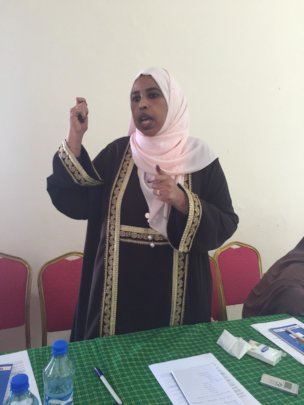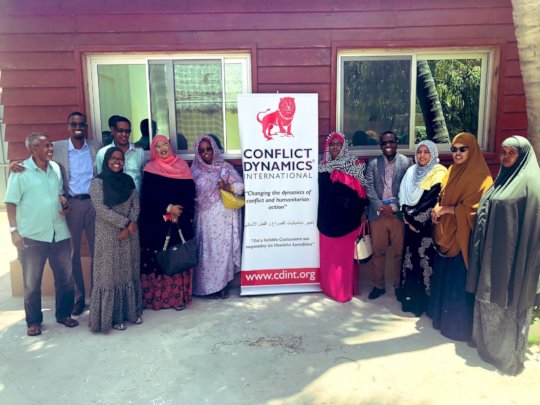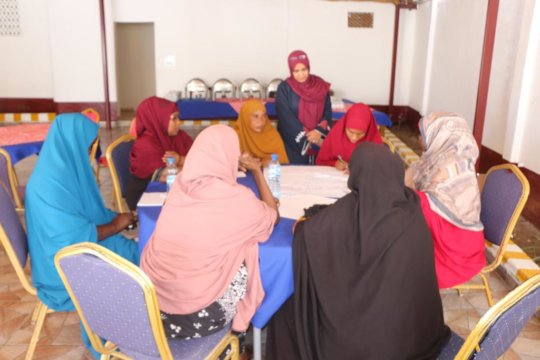 Links: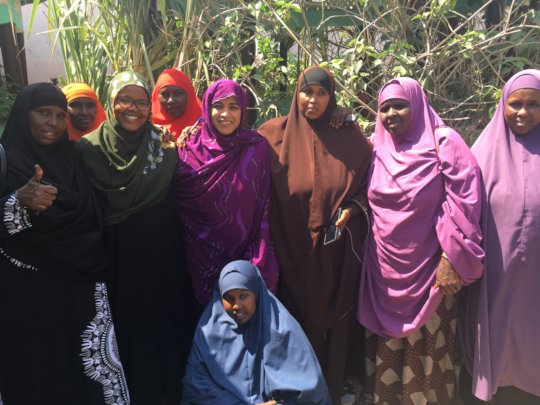 From the sunny shores of Mogadishu, our Somali Team Program Officer Rukiya Abdulrahman, greets our GlobalGiving supporters and provides an update on what we have been doing since the launch of our campaign. Growing up between Nairobi and Mombasa, Rukiya was exposed early on in life to Kenya's amazing multiculturalism and was encouraged by her parents and her Muslim faith to value service to humankind, equality, justice, tolerance, and forgiveness. Rukiya has used her education in Gender & Development Studies, Peace & Conflict Management, and Peacebuilding Leadership throughout her career with various organizations working to ensure people can live peacefully together despite their differences. She is passionate about empowering women and increasing their capacity to promote peace and reconciliation. She is the leader of Conflict Dynamics' project on Supporting Somali Women for Peace and travels across the country implementing workshops and activities.
Our Somali Team has been busy since the launch of our GlobalGiving campaign on Giving Tuesday of last year. In December 2018, the Team met with the Mudug Women Peace Committee in Galkacyo to discuss partnership and activity implementation. In the city of Galkacyo, contested between the Puntland and Galmudug administrations, women from both ends of the city are hard at work developing a peaceful solution to the struggle. These women have established a joint peace committee to mediate the conflict between both sides and this committee has given them a voice and space in the local peace process. The committee was excited to meet with Conflict Dynamics and has requested support for training in peacebuilding, leadership skills, and mediation skills. We look forward to a potential collaboration in the future!
What do we have coming up? Last week, the Team was in Mogadishu to plan for experience sharing workshops that will be held for local peace committees and other women actors. CDI will bring women members of these committees together to learn about best practices for addressing gender-related incidences of local conflict and learn from each other's experience as members and leaders of local peace committees. These workshops will facilitate discussions on the challenges and successes of Somali women in peacebuilding and will include the participation of women whose work focuses on human rights, gender, advocacy, and more.
In addition to gathering women members of local peace committees together to share their experiences, Conflict Dynamics is working to create a core group of dedicated women leaders in order to strengthen their skills to advance and advocate for women's rights and priority issues. Women have been left out in key decision-making spheres and CDI wants to make sure that they are participating in the federalism process through their knowledge and input. As active members of society, they need to have a voice in the process and a space to engage. We want to thank you for your support and for joining us on this journey!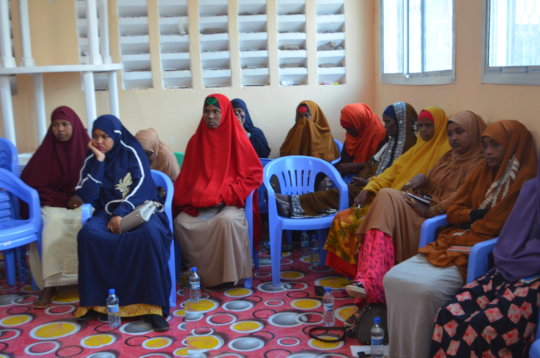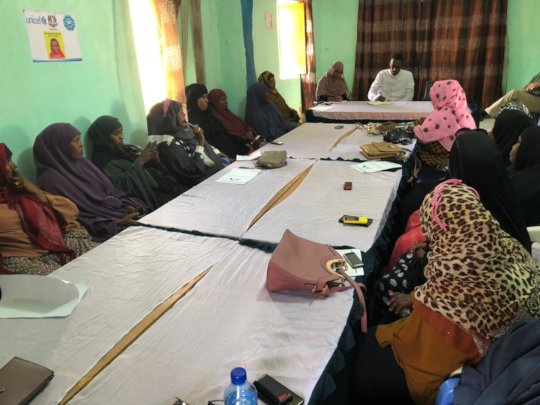 Links:
WARNING: Javascript is currently disabled or is not available in your browser. GlobalGiving makes extensive use of Javascript and will not function properly with Javascript disabled.
Please enable Javascript
and refresh this page.