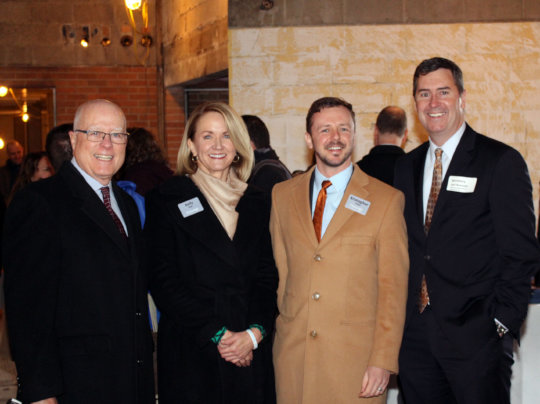 Dear Friend of the Tribune,
In 2018, you helped the Tribune achieve a permanent place on the GlobalGiving crowdfunding platform. Now in 2019, we are pleased to share our ongoing progress toward achieving the fundraising goals that will make the Tribune Building a reality.
To date, we have raised $9,436 through the GlobalGiving platform. Every resident who contributes to this campaign plays a critical role in advocating for community-led decision-making as to way to achieve our goal of inclusive economic growth in our community. We're excited to share these highlights summarizing how our continuing work is gaining momentum:
We were notified that funding for the Tribune Building Project has been included in the Governor's budget proposal for 2019-2021! While this is very good news, it is important to remember that the Governor's budget proposal is just the first step in the process of developing the state budget. We will continue working with the Governor and legislators during the budget process to ensure that the Tribune project can move forward to benefit current and future generations. This includes working with State Senator Pat Testin and State Representative Scott Krug to build broad legislative support for Tribune funding.
You can help by calling or emailing Sen. Testin and Rep. Krug to thank them for their continuing support for state funding for the Tribune Building: Sen.Testin@legis.wisconsin.gov & 608.266.3123, and Rep.Krug@legis.wisconsin.gov & 608.266.0215
We recently announced the Partnership for Sustainable Communities, an Incourage and University of Wisconsin-Stevens Point (UWSP) initiative, creating on-site collaboration at the Tribune Building with:
UWSP programs, including Wisconsin Institute for Sustainable Technologies (WIST), College of Natural Resources, fermentation sciences, nutrition sciences and design; and Small Business Development Center
Residents, including students, educators, entrepreneurs and investors
North Central Wisconsin Workforce Development Board
Mid-State Technical College
Private partners focused on innovation in paper, agriculture, food
We held a public meeting in March to provide attendees with project updates and a presentation by Lupke & Associates, Inc. Diane Lupke, an economic development expert, reported on our community's changing economic landscape and introduced an updated operating model for the Tribune.
In 2019, your voice and continued support will be critical in realizing the Tribune Building's success. Join with us in sharing our Tribune GlobalGiving page with friends and family who want to be a part of this important work.


Kristopher Gasch Kelly Ryan
Incourage Board Chair Incourage CEO
Links: