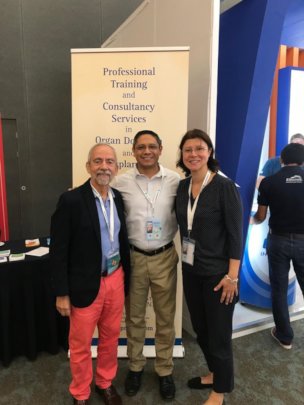 In DTI Foundation, our main values are based on education. We believe that by training doctors, nurses and healthcare professionals in the best practices of organ donation and transplantation, we spread these best practices around the world in the most effective way.
In our case, educating and training doctors translates into saving more lives. To promote education and training in organ donation and transplantation, we want to facilitate access to these courses to healthcare professionals who find themselves in developing countries. That is why we created our project on Global Giving, to raise money to finance scholarships and, ultimately, save lives.
Last October 24th, DTI granted a brand-new scholarship to the Mexican healthcare professional Santiago Martínez Bernal. The doctor received the scholarship during the celebration of a DTI Community breakfast in Mérida, México, during the XXV Latin American and Caribbean Transplant Congress.
Dr. Martínez, thanks to the recently granted scholarship, will be taking part in the TPM Advanced Course that is going to take place in February 2020, in Barcelona. There, he will get involved in the organ donation and transplantation process at national, European and worldwide level.
He will have the chance to increase his professional knowledge and skills in organ donation and transplantation, as well as raising public awareness regarding the importance of organ donation and boost the best practice exchange and the development of international networks.
The scholarship will allow Dr. Martínez to learn about donor detection and identification, brain death diagnosis, donor management, family approach for organ donation, organ recovery and preservation techniques, donation after cardiac arrest (DCD), living donation, ethics and legislation, and much more.
DTI Community is looking forward to planning more of these DTI Community breakfasts and grant more scholarships to healthcare professionals around the world thanks to the donations received in our project in Global Giving.