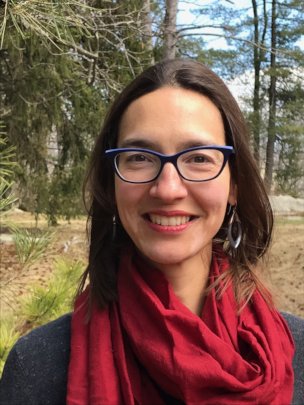 The Access Nature Team is proud to welcome Deanna Novak, as our new outdoor coordinator. As an environment educator, Deanna brings a wealth of experience, knowledge, and enthusiasm to AN. Deanna is as thrilled to join the Lewisboro Land Trust and support the Access Nature program*, as we are to welcome her! She is looking forward to spending time on the trail with those who need it most. Her hope is that together we can help each other articulate how time spent outdoors is beneficial for peacemaking, healing, and our sense of community and well-being.
With the help of the Global Giving Community Access Nature is doubling our outreach in 2019. This year we will serve over 200 disabled and underserved peoples to access the benefits of nature. Working with their organizations we will create safe, educational and enjoyable outdoor nature programs tailored to their specific needs and abilities. For the first time, we will work with blind adults, adding to our roster of developmentally disabled and the mentally ill.
"Access Nature is a wonderful opportunity for the Lewisboro Land Trust, to extend the benefits of our nature programs to people of various abilities. We guide our participants through positive experiences in natural areas, and bring awareness to positive changes in their sense of well-being." Deanna Novak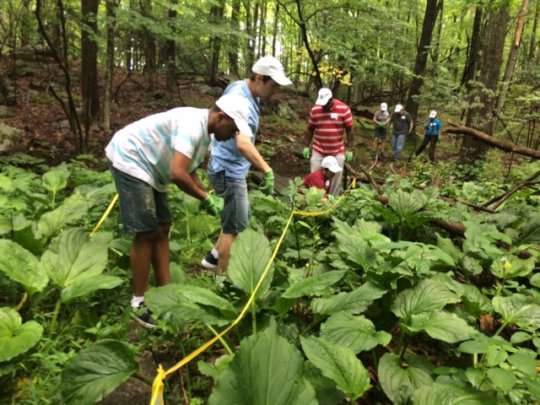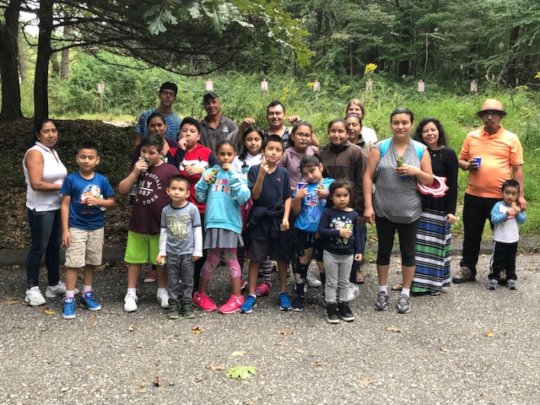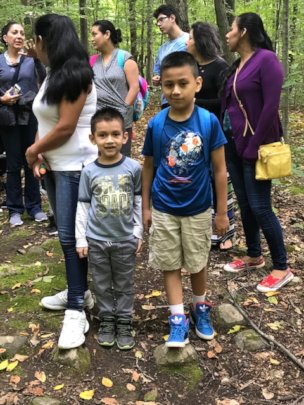 Global Giving Report-End of year Update
In the past year Access Nature, a division of the Lewisboro Land Trust, had defined an ambitious plan for growth and has initiated achieving its goals. With the help of the Global Giving community in 2018, Access Nature has been able to reach out to nearly 100 persons with disabilities, as well as the those of underserved populations.
Science has shown that the experience of nature brings many benefits, including reducing anxiety, depression and negative thinking, while increasing well being and cognitive function. Access nature believes that all people deserve to enjoy these benefits.
This year we have created outdoor nature programs for adults with developmental challenges, mental illness, and blindness, as well as youths from the Boys and Girls Club and families of first generation Hispanic immigrants.
With your help we are able to expand our programs outreach and effectiveness in 2019. In the coming year we plan to double the number of organizations and people we are able to serve. And by 2020 we hope to be able to triple it. We thank you for your generous part in this endeavor. We hope that you will continue to help us to grow and provide safe, educational and enjoyable nature experiences. We appreciate your kindness in providing this lifetime tool for those who need it most.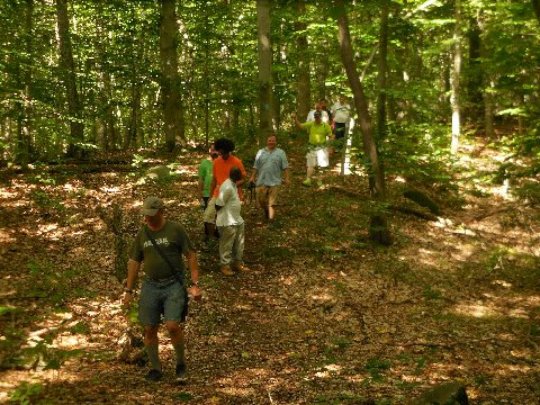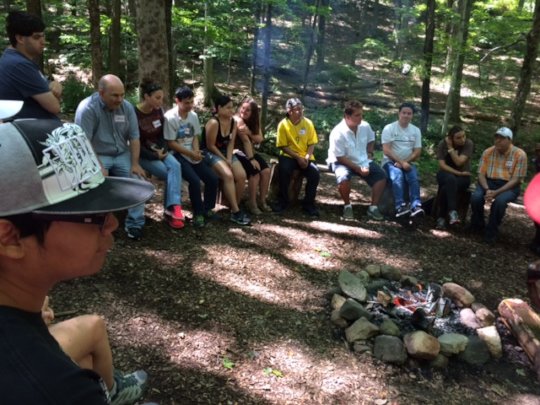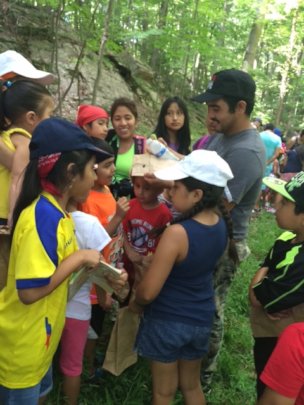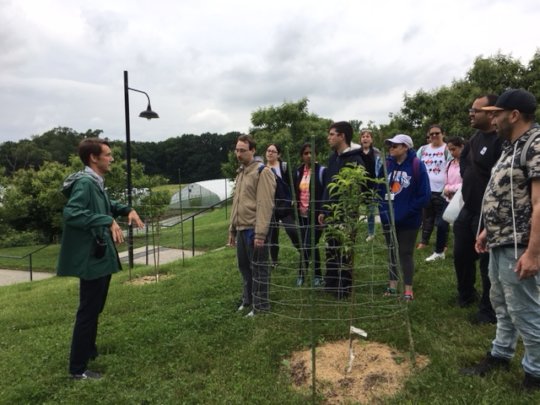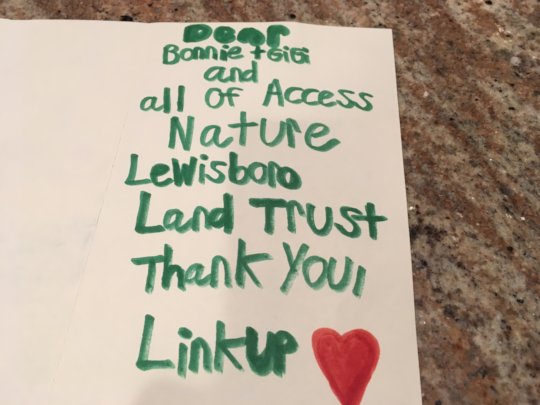 Links: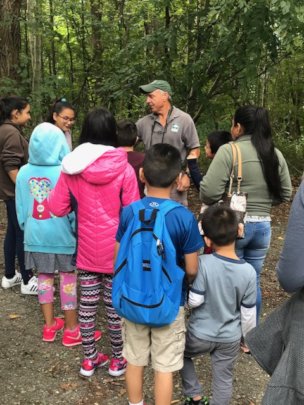 Dear Bonnie (Lewisboro Land Trust):
Thank you so ,much for hosting the families of the Community Center of Northern Westchester on September 22, 2018 at the Angle Fly preserve in Somers, New York.
Our twenty two participants came from six different families and four different towns. Spirits were high as we drove from the Center to the preserve aboard the beautiful bus the Lewisboro Land Trust provided.
Once the hike began, it was fascinating to see how interested the children and teenagers were...For our families, many have not had the experience of walking through nature with people who could impart as much information as they received that day-and the fact that we had four very kowledgeable guides with us was just amazing.
The biggest connection I saw made that day, was our families disovering (it seemed like for the first time), the fact that many of Westchester's parks are free and open to the families to explore. I believe that Lewisboro Land Trust really opened the door to utilizing parks and preserves for our families for the first time for many of our families who participated that day. A key piece of information that will be a lifelong beneift to all.
We can not thank the Llewisboro Land Trust enough for hositng this event as it was not only fun, but also educational for our families.
best,
Celeste Potash, Program Manager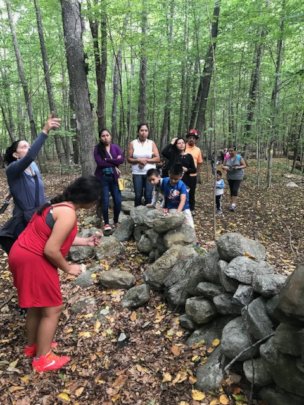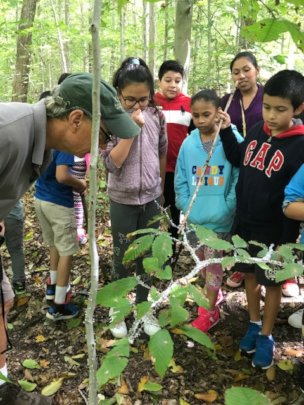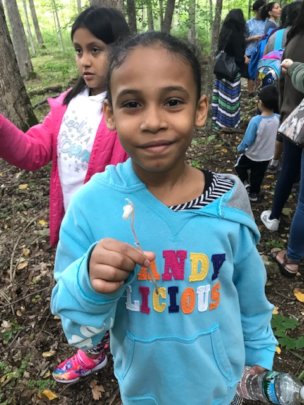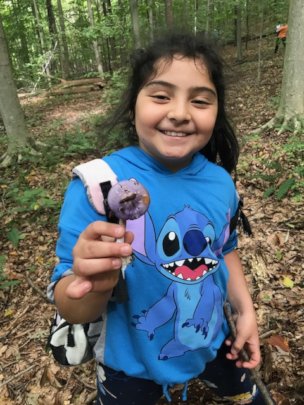 Links:
WARNING: Javascript is currently disabled or is not available in your browser. GlobalGiving makes extensive use of Javascript and will not function properly with Javascript disabled.
Please enable Javascript
and refresh this page.