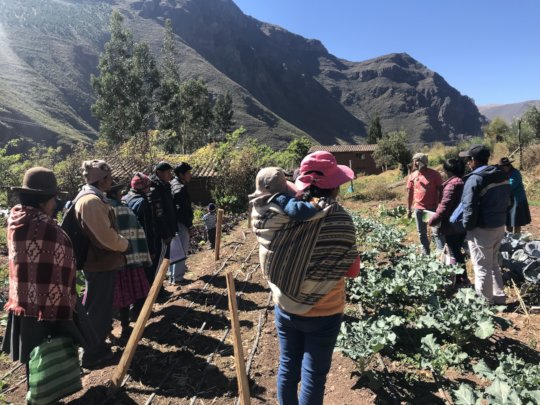 Greetings from sunny Peru!
The dry season here in the Sacred Valley is at its height. The hills are a beautiful yellow hue and farmers are preparing the fields for the annual corn planting. In fact, here in the Sacred Valley, August is the month of Pachamama (Mother Earth). In reality, the rythm of life in the Andes is deeply tied to honoring Mother Earth and the abundance she gives us as well as her role in managing the cylce of life and death througout the year. However, this month in particular is full of small celebrations and ceremonies giving tribute to Pachamama. It is a special time to give thanks and ask for continued abundance for the upcoming growing season.
While the farmers we work with are busy selecting and preparing corn seeds for the planting, AASD and Ecohuella farm are also planting seeds and growing the branches of community. This September marks the official launch of the Farmer Field School at Ecohuella farm. While we've clearly been holding workshops all year long, the clasroom space is nearly complete. Most of all we've been waiting to officially hold the launch of the Farmer Field School when we could schedule a visit from Juan Manuel of Ecopol. He is an expert from Mexico in ecological farming with extensive teaching experience in Latin America. Juan Manuel will join us to offer a 3 day biointensive certification at the farm. We're also getting a small seed bank prepared to foster seed swapping and storytelling around local seeds.
While the classroom space is nearly furnished, we continue to raise funds for the completion of our kitchen. The kitchen will be mainly used to:
make meals for visting groups
experiment with value added products with local farmers
expand our post-harvest processing workshops
host cooking workshops and recipe knowledge shares.
If this sounds like something you are exited about supporting, you can do so through our Global Giving project page!
As always, thank your ongoing support of our projects. Please keep in touch by:
Sign up for our newsletter via the sign up on our website
Share our Global Giving Project page with friends of family who may be interested!
If you're ever interested in visiting or organizing a group to join us here in Peru, just let us know!
Much love from the AASD family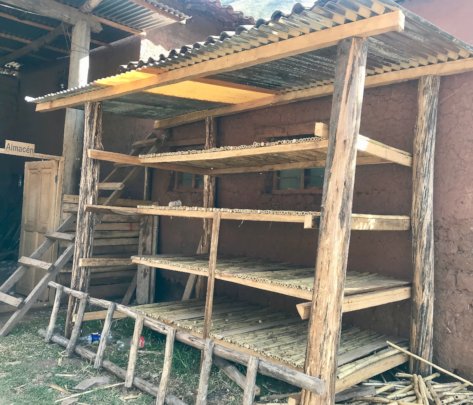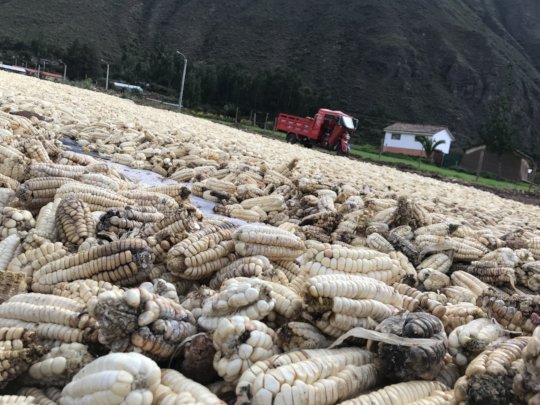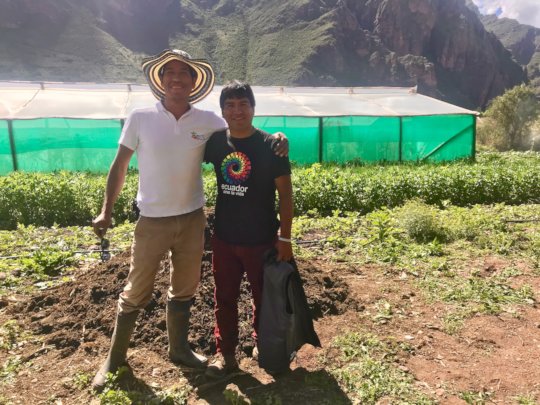 The rainy season is winding down here in the Sacred Valley. What started out as a slow trickle of rain turned into a lush rainy season, resulting in a booming harvest from the rain fed crop fields and a booming harvest. As you read this, the main corn and potato harvests are in full swing. Potatoes of all varities are coming fresh out of the ground and enjoyed midfield, buried underground with smoldering rocks in a traditional preparation called huatia. The large kernel corn, called choclo, is laying out in the sun to dry, dotting the farmscape with beautiful yellow spreads hues. In the next few weeks farmers all around the valley will be de-kerneling the corn. This process includes selecting the right corn for seed and packing the other less perfect grains for food product. Our crew will soon all be lending a hand for this at Eco Huella farm.
Our work here is about to pick up as well as we will host our Summer Development Practicum from June until early August. In the meantime, a lot has happened at the farm:
Eco Huella has expanded, adding a few hectares more of mixed vegetable production as demand from restaurants and locals grows. Plus the farm now has its own facebook page!
Eco Huella classroom space has been used to host several workshops including topics such as: market readiness, soil fertility, harvest and post-harvest production, greenhouse preparation, and a sustainable farming systems tour with the International Federation for Organic Agriculture Movements (IFOAM)
We launched a micro-project to furnish the kitchen space, dorms and classroom. Check it out here!
We are about to roll out a project for developing a seed bank at Eco Huella. Stay posted for more!
As always, we're so grateful for your ongoing support! Please stay in touch:
Sign up for our newsletter on the bottom of our website
Donate or share our micro-project with friends and family who may be interested
Interested in a visit or service learning project with us? Get in touch!
Much love from the crew here at AASD.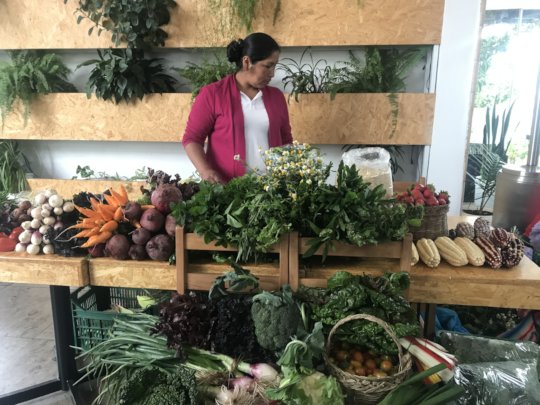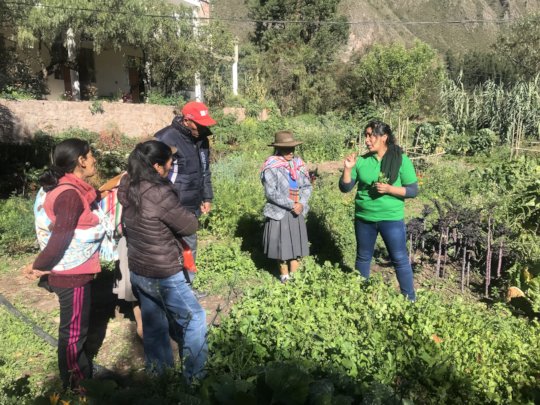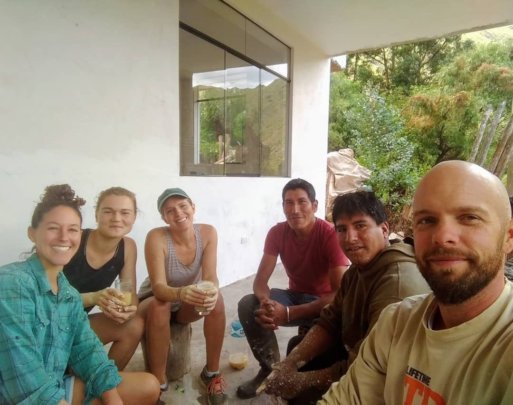 Rainy season is finally in full swing in the Sacred Valley after a slow start. As if the roaring rush of the river and lush green mountainscape isn't enough, we're admiring many a post-rain rainbows splashing accross the sky. These rains are so crucial to ensuring the success of the rainfed agricultural system. As the rains support the healthy growth of thirsty crops, we've also been nourishing our farmer education center. You may remeber from our last update that we just started building out these structures with the help of countless volunteer hours and locals alike (shout out to Surf for Life volunteers!). Now we're getting even closer to finishing.
The walls are painted, floors are in process, windows are nearly all installed and doors are in place for the classroom, kitchen, and dormitories. We can't wait to have a beautiful space to host visiting farmers and groups. But, we still have a lot more work to do, including completing the buildings and furnishing them. We want to close our resource loops as much as possible so we're thinking through this process right now, including installing a biodigester!
Currently we're looking for funding to finish up the spaces. Help us spread the word and keep an eye out for our micro-project fundraiser coming later this month!
How we've been engaging with the local farming community lately:
In December AASD's EcoHuella farm hosted a Slow Food Peru event. Local producers and farmers gathered to share ideas and a delicious farm fresh meal.
The Ministry of Agriculture sent us interns from La Salle, the local agrarian university, to learn about participatory, ecological farming extension practices.
This week we set some plans in motion to host more workshops, including facilitating converstations between restauarnts and market ready farmers. Some will be in parternship with Nuna Raymi restauarant which features EcoHuella produce on their menu in Cusco.
We're designing some nutrition and cooking classes with local farmers to launch in the Spring
As always, we're so grateful for your ongoing support! Please stay in touch:
Sign up for our newsletter on the bottom of our website
Share this campaign with friends and family who may be interested
Interested in a service learning project with us? Get in touch!
Much love from the AASD crew!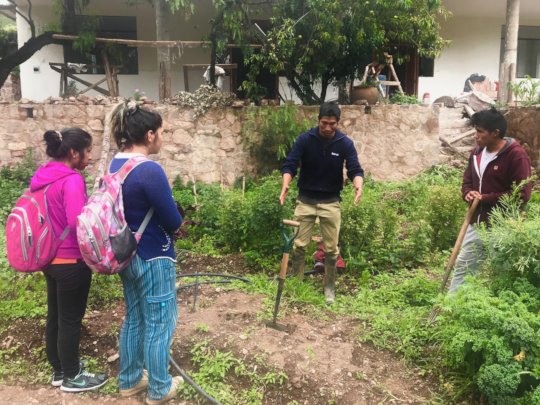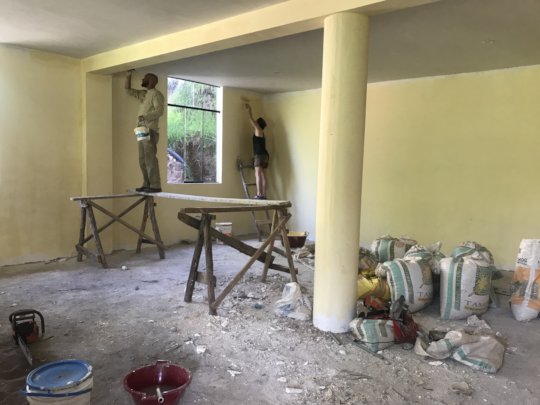 Links:
WARNING: Javascript is currently disabled or is not available in your browser. GlobalGiving makes extensive use of Javascript and will not function properly with Javascript disabled.
Please enable Javascript
and refresh this page.