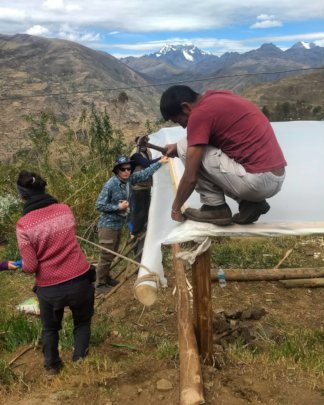 This summer we've made great progress working alongside rural Andean farmers and bringing more community to the Eco Huella demonstration farm. Here's a little bit of what we did:
Envision a group of international research students traveling winding roads to visit small Andean communities. Small farming parcels dot the steep slopes and the green mesh of greenhouses sways in the wind. A group of dedicated women farmers greets them, eager to share their experience growing crops for their families and markets. The students have come to analyze challenges and opportunities of ecological farming and market access. Quickly it becomes clear that to these women, this growth is about much more than earning higher incomes. It is about self-esteem and dignity. Victoria, a farmer from the group puts it best:
"In general, liberation is related to the difference between food sovereignty and food security. Food security is generally when you are just able to get any product to be able to feed your family, but food sovereignty is to be free: you make it, you produce everything that you have there, and you eat what you have. You feel free because you do not depend much on other people to do your things. That's what it is for me"
This is also what it is all about for the AASD and why support from our community is so important in joining Peruvian farmers on this journey.
This summer we focused on this journey by:
Hosting a summer research program: International students worked with local farmers to identify challenges and opportunities for accessing higher value markets.
Interviewing farmers, restaurants, and potential markets. Students and farmers co-designed catalogues of farmers' crops and prices to improve communication of their offerings to potential markets.
Students worked alongside AASD's agriculture technicians at the demonstration farm to organize the flow of farm based educational activities and created a system for gathering feedback from workshop participants. This will help improve future educational activities with local farmers.
Our agriculture technicians and service learning groups worked alongside community members to roof over 50 family greenhouses in the month of July alone!
On average we have hosted at least two weekly workshops or farm visits at the Eco Huella demonstration farm. Visitors ranged from:
Local farmers and agronomy students sharing best growing practices.
Restaurant owners interested in purchase from EcoHuella farm and its cohort of local producers
Chefs learning about the connection between local food and the kitchen
19 Ministers of Agriculture learning about our educational model and farming methodologies.
Local farmers and agronomy students sharing best growing practices
We are incredibly grateful for your support in making all this possible. If you like what we're doing, help us keep up the momentum on this campaign! Here's how to keep involved and in touch:
Become a reoccurring monthly donor on this GlobalGiving project
Join our newsletter (sign up on the bottom of our website)
Suggest this campaign to people you think may want to support us too!
Stay in touch. Much love from our team at The AASD!