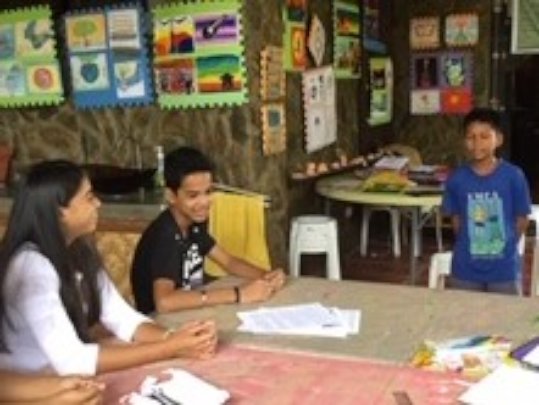 One of the central issues in dealing with the children in FPVI's care was their inability to speak in a voice that could be heard, and much more, voice an opinion. They were used to being talked to, recipients of instructions and orders at home and in school. Consequently, they were surprised and even alarmed at the idea of being asked what they thought of something they have seen, heard or read. FPVI made it one of its goals to find ways to help Fellows build self-confidence and overcome being timid.
"Open Mic" was introduced as one activity at every Sunday session. Fellows were encouraged to talk in front of the group about a topic of their choice and where they are required to respond to questions afterwards. The first few sessions were fraught with difficulties but persistence reaped rewards. After some time, Fellows began to feel relaxed and started to enjoy the Open Mic, even looked forward to them. The gradual induction to the weekly exercise where they had to prepare and deliver a talk and respond to questions from their audience instilled a degree of self-assurance and confidence. This had a positive effect on new Fellows who joined FPVI in the 2019 Summer Program who were quicker to adapt and rise to the challenge of the Open Mic session after watching 2 or 3 presentations of older Fellows.
The Open Mic sessions are now livelier, and the atmosphere more congenial and something everyone looks forward to. The questions at the end of each session are also now more substantive. Topics are diverse ranging from one's bullying experience in school; first 'teaching' experience on beekeeping to urban peers from a prestigious high school; recollection of an overnight visit to a university campus; hosting a barangay fiesta; one's concept on Friendship; and an experience representing the school in an environmental quiz competition far away from home. It is also heartening to note that the Fellows feel more comfortable now about sharing personal stories too. One particularly moving session was an intimate account of a family's disintegration.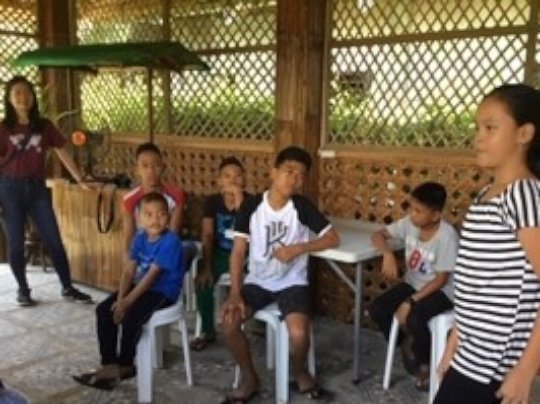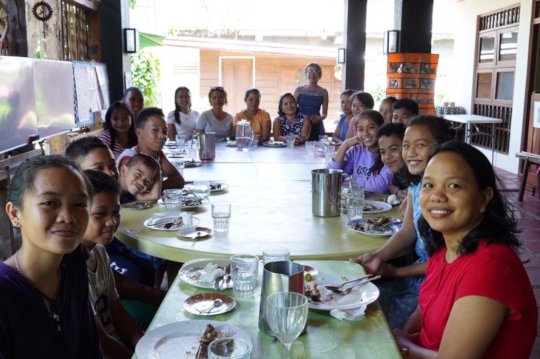 Grace Yu, Global Giving's Field Traveler for the Philippines, visited FPVI on July 20-21, 2019, giving Global Giving Foundation a close-up look at the FPVI operations, and the opportunity to meet and speak with the Fellows, teachers, parents, volunteers, and graduates from the Program. On her first afternoon, Grace visited Beengo Farm and met with Gary, beekeeper and entrepreneur, and an FPVI partner in its community-related Outreach Programs.
On Day 2, Grace had a tour of the FPVI Bee Garden and later, participated in the regular FPVI Sunday session - exercises in reading comprehension, doing school homework and projects with FPVI graduates and older Fellows supporting the younger ones and the Open Mic session where Hannah recalled her unforgettable visit to Naval in Biliran Island. As questions were fielded, others ended up sharing their own unforgettable trips, including Grace who by then had endeared herself to the Fellows who called her Ate (honorific for older sister), instead of the more formal custom of address, Ma'am. Grace also had an informal interaction with the parents and guardians of Fellows over lunch, allowing her to understand the children's lives beyond the Sunday session at FPVI Center.
The visit from the Field Traveler enabled FPVI onsite team to learn useful knowledge about Global Giving Foundation. We trust that it was just as useful and productive for Global Giving.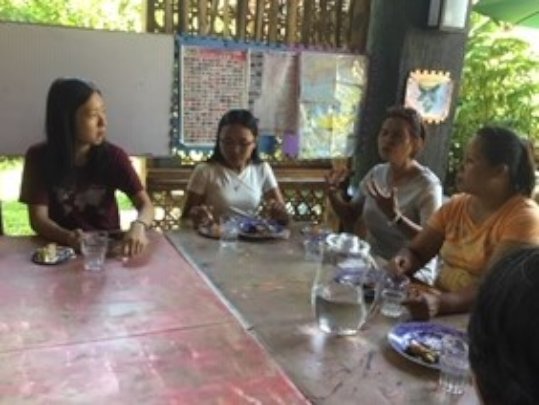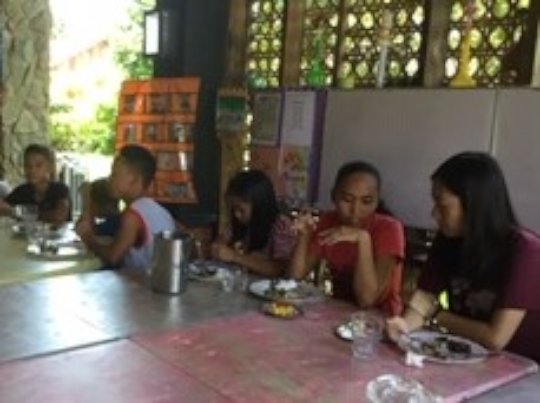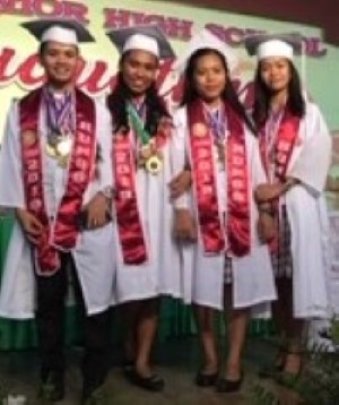 A Harvest of Medals: Four students under the FPVI Learning and Development Program graduated from Grade 12 with a harvest of medals/awards and ranking as the top four students in their graduating class. Mary Rose received the most number of awards, 15, including the prestigious Philippine Senate Gold Medal Award for Academic Excellence. Jhon Patrick and Mary Grace each received 11 awards, and Miracle Joy, 7. They are now poised for greater challenges in college, with support from government and private scholarships.
Promoting a Health Eco-system through beekeeping: Among the FPVI fellows, 14-year old Jhonrey has shown serious interest in beekeeping. To support and bolster his interest, FPVI sent him to a workshop on beekeeping for beginners and he was subsequently mentored by a leading beekeeper who tutored him to be a trainer and resource person to young people from various schools in Leyte. In April, Jhonrey hosted a group of 16 students from the Philippines Science High School in Tacloban City. He gave an introductory talk on bees and their role in a thriving ecosystem, showed them an actual colony of bees, and took the group on a tour of the FPVI Bee Garden with bee-friendly plants, flowers, vegetables and trees that he and the FPVI family helped to build, plant and maintain.
Summer Program: During the April and May summer break, FPVI had its 2nd Summer Program for its fellows. In addition to English literacy classes and arts & crafts sessions, we introduced Theater Arts as a means of helping them develop self-confidence and encourage them to find and use their voices, literally and metaphorically. The highlight of the End-of-Summer Program celebration was role play of the "Mini-ASEAN Ministerial Meeting on Environment" where all 8 FPVI Fellows, each representing an ASEAN member-country, got to speak on his/her country's stance on the environment. The performance delighted and surprised teachers, parents, and guests who attended the program. The 'ministers' were pleasantly surprised and pleased with their performance and their newly-acquired self-confidence. And more importantly, they had fun!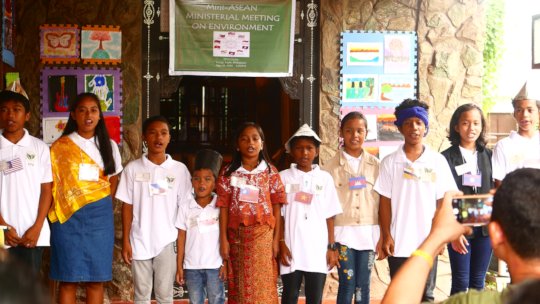 Links:
WARNING: Javascript is currently disabled or is not available in your browser. GlobalGiving makes extensive use of Javascript and will not function properly with Javascript disabled.
Please enable Javascript
and refresh this page.