In Leyte, Eastern Visayas, Philippines where FPVI is located, there was a period when Covid-19 regulations were slightly relaxed. This window of easing-up of rules allowed FPVI to plan for an alternative activity for the FPVI students during their school break in July and August. The project would not contravene existing health and safety protocols but still make up for the much anticipated summer activities planned in pre-pandemic times, including mentoring of 60-70 village pupils in reading and creative work by the FPVI students.
This short video https://www.youtube.com/watch?v=37I6x1W5-AA was put together after the conclusion of the 2020-2021 school year in June with technology and expertise available in a rural setting. Perhaps, it is short of the magic of real Christmas but nonetheless is full of all-out effort and enthusiasm. This is part of FPVI's efforts to keep the children in its care motivated and optimistic. It also recognizes and celebrates their resilience in the face of many challenges in the past school year. As it turns out, our swift planning paid off as August brought us to another surge in cases of the Delta variant, and with it a return to more stringent health and safety mandates. We completed the video just in time!
The art pieces in this video were done by the FPVI students.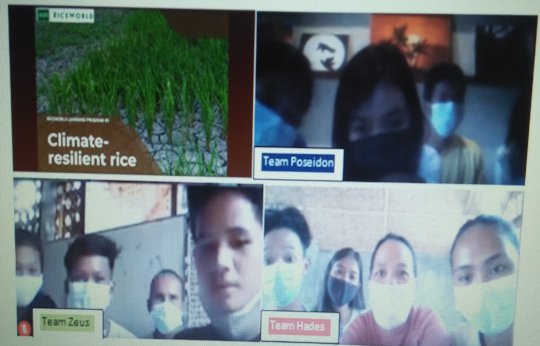 Remote print-based modular learning continues to be the new norm for students in the Philippine public school system. As with most of the 22.3 million students in the country, our FPVI Fellows struggle with a weekly set of new subject materials to tackle, regardless of whether the previous week's lessons are grasped or understood. Summative Exercises and Performance Tasks are the means of assessing a student's progress. The absence of in-person lesson delivery and the inability to access help from the school leave many anxious and stressed.
FPVI reduces and alleviates the distress caused by modular learning by providing tutorial support to its Fellows. This Mentoring Program ensures that everyone has sufficient mobile phone credits and mobile data weekly for remote tutorials through group chat. This and journal-keeping and independent creative arts projects continue to be the lifeline for the FPVI Fellows in pandemic times, as well as a more practical type of learning---collaborative and learning to be more resilient in the face of many challenges.
Once a month though, the Fellows come to the FPVI Center to collect care packages and school supplies, and to receive in-person tutorials on subjects they need help the most, within the bounds of health and safety protocols in effect in the municipality. To add to the monthly learning support provision, the Fellows are participating in a series of game-based Virtual Visit Sessions to a science facility on topics relating to rice. Rice is central to the lives of everyone in this part of the world so there is interest and curiosity to the novelty of a virtual visit to RiceWorld. The April 4th topic was Climate-resilient rice. Most of the students are from farming families so they were interested, excited and surprised that there's more to be learned about rice. A second virtual session is set for June.
This 23-minute film https://vimeo.com/495587293 chronicles how the FPVI fellows spent some of their time during the first 10 months under the Covid-19 lockdown.
Despite the unprecedented challenges facing them, they proved to be resilient---discovering new innate talents, harnessing known ones, and staying engaged in their learning journey. The lines in their narration in this film were taken from their journals and the art pieces, from their own growing "portfolio".
Resuming face-to-face sessions in schools remain uncertain so the children, with great difficulty, are continuing with their remote modular schooling. FPVI supplements their remote learning and remains available to support them when specific help is needed.
WARNING: Javascript is currently disabled or is not available in your browser. GlobalGiving makes extensive use of Javascript and will not function properly with Javascript disabled.
Please enable Javascript
and refresh this page.